Outdoors
My Own Private Utah
In Search of Serious Snow and Winterized Relaxation in the Mormon State's Wasatch Range
Though it's exhilarating to go at breakneck speed down a powdery mountain with the cool winter air slicing across your face, few human states are as satisfying as the aprs-ski syndrome, in which the sore body, over-stimulated mind, and rejuvenated soul commingle over drink, grub, and conversation. Though I've reached this exalted condition countless times in my life-indeed, become somewhat addicted to it over the past decade-I'm pretty sure that a post-snowboarding afternoon last February in the canyons east of Salt Lake City amounted to my purest dose of aprs-ski perfection yet.
Four friends and I were perched in the Aerie Lounge, the 10th-floor bar atop the Cliff Lodge at Snowbird, overlooking the steep faces we'd tracked all day. With just the right amount of tasteful flirtation, we'd managed to convince the waitress to serve us the last of her doppelbocks-such high-alcohol ales can be hard to come by in the semi-teetotaling Mormon state of Utah-and ordered some small sushi plates as the setting sun turned the snow-white mountains shades of purple and pink. It wasn't long before our collective exhaustion eased into relaxation and then a buzzed-out bliss. Though we'd later gobble fried food, beers, and free tequila shots down at The Tram Club (the best deal in town), return to our Aerie couches to cheer on a live jazz band (we were by far their biggest fans), and convince the staff to let us ride garbage bags down the bunny slopes (we weren't the first), it was that sunset moment of aprs-ski heaven that's burned in my mind, calling me back to Utah's slice of the Rocky Mountains.
Park City
Last year's lack of Golden State snow is what prompted our trip to Utah, but the ease and affordability of making it happen is what sealed the deal. With spring approaching and no Sierra storms in sight, I booked a direct Thursday-morning flight from Santa Barbara to Salt Lake City for less than $300 and caught the convenient $35 bus from the airport straight to the Hotel Park City; [435] 200-2000). Inside this Lincoln Logged-out ode to modern luxury, where a fully equipped spa, outdoor hot tub, and Ruth's Chris Steak House stand at attention for off-slope diversions, I jumped into my snow gear and took the courtesy shuttle to The Canyons; [888] CANYONS), one of the three resorts that tower over the quaint former mining town of Park City. Consisting of relatively mellow but long rides and short lift lines, The Canyons proved the perfect half-day warm-up for the three full days of snowboarding to come.
That afternoon, my buddy Chaz rolled into town on the afternoon flight (the other three didn't come until Friday a.m.), and we settled into one of Hotel Park City's executive suites, with full kitchenette, marbleized bathroom, and deck overlooking the steaming pool and moonlit mountains. As a Sundance veteran, Chaz knew Park City well, and suggested Cafe Terigo; [435] 645-9555), where my herbally enhanced citrus butter trout and cauliflower puree got properly washed down with a bottle of Louis Jadot Pouilly-Fuisse. Some hand-crafted, albeit low-in-alcohol, ale at the legendary Wasatch Brew Pub; [435] 649-0900) followed, as did our first lesson in Utah's liquor laws: Basically, depending on the time of day, people working the door, and establishment you're frequenting, it's totally variable whether you need to buy a special day/week/month pass, just pay a cover, or simply walk right in. In short, they don't make it too hard to drink, just a little confusing.
The next morning, after a serious buffet at the hotel, our quintet united atop Park City Mountain Resort; [435] 649-8111), which has been attracting skiers from all over the country since it opened in 1963, including the Olympians who conquered its giant slalom slopes in 2002. We proceeded to bomb down the backside on what turned out to be a relatively snow-less, tree-covered face, where I was left hanging upside down with my snowboard pinned between two trees and Chaz made friends with a shrub that stole his skis. After those fiascos, we located better snow, found our grooves in the deep mountaintop bowls, and adventured through the trees until our legs gave out.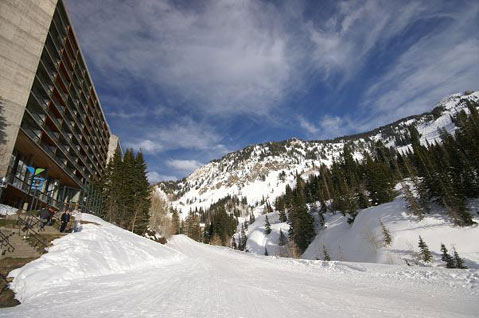 Snowbird
After spending the night at a chain hotel in Sandy, Utah, we headed about 25 minutes up the road toward the tightly boxed-in Little Cottonwood Canyon, home to the legendarily steep-and-deep Snowbird and Alta resorts that outdoor magazines frequently name the best in the country. Despite ski trips throughout California and Montana, I'd never experienced the all-encompassing atmosphere offered by Snowbird, particularly the car door-to-slope services provided when staying at the Cliff Lodge; [800] 232-9542), which seems to have perfected the ski hotel experience.
Once checked into my mountain-view room and lift-level locker, I was back on the slopes, overlooking more double black diamonds than I'd ever seen. Upon taking the conveyer belt tunnel through the mountain atop Peruvian Gulch, we found plenty of soft stuff in Mineral Basin, the backside refuge that was nicely sheltered from the winter winds. That night, we experienced the aforementioned aprs-ski bliss at the Aerie Lounge and late-night snowy shenanigans outside The Tram Club, with only one of us scraping his nose due to a Superman-style garbage-bag bunny-slope descent. The following morning, after a coffee-and-carb breakfast, we were back on the snow again, our weary legs enduring a final round of moguls, trees, and bowls before making the drive out of the Wasatch Range and back to non-mountain life.
Salt Lake City
Chaz ended his ski weekend by flying out Sunday night-three full days of Rocky Mountain skiing and only one missed day of work was enough for him-but the rest of us decided to explore the nightlife of Salt Lake City by staying overnight at the downtown Red Lion Hotel; [801] 521-7373). Turns out that there's not a whole lot going on Sunday nights-even the hotel's rooftop bar is closed on God's day-so we just made a moonlit drive around the downtown, checking out the brilliantly lit temples, statehouse building, and Delta Center of impeccably clean SLC.
Though the rest of my friends left Monday morning in time for a half-day at the office, I stayed a few more hours, figuring that I might as well take in all that the Mormon capital of the world has to offer. I walked from the Red Lion to Temple Square; [801] 240-2534), listened to the sonorous wonders of the Tabernacle organ, and joined a tour group led by two cute young Mormon ladies, one from Asia and one from the Midwest, both completing their mandatory two-year missions. It was an eye-opening experience, to say the least-did you know that Jesus visited the people of the Americas amid his resurrection and that non-Mormons aren't allowed to enter the temple?-making for one of the more bizarrely informative afternoons I've ever spent wandering around a religious monument.
With some time left to kill before my flight, I pondered my epiphanies at the Squatters Pub and Brewery; [801] 363-2739), alternating sips between the Chasing Tail Golden Ale, Captain Bastard's Oatmeal Stout, and Full Suspension Pale Ale over the wasabi-sesame-ginger laced ahi spring roll salad. Toward the end of my tenure there, a pilot and flight attendant arrived at the bar and were promptly told that to imbibe martinis or any hard liquor, they had to sit at a table and order dinner. Lucky for me, their flight wasn't until the next morning. Lucky for us all, getting a stiff drink is the only thing that's hard about winter fun in Utah.