News
Weekend Chill Kills Three Homeless
County Lobbied to Open Warming Centers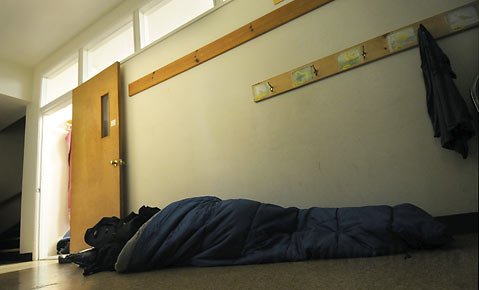 According to reliable (if unconfirmed) reports, two homeless people died Friday night as temperatures plunged, and a third died around midnight on Sunday. One of the deceased, reportedly named Mike, died under the Milpas Street onramp near the homeless shelter. One report indicated he may have died from a drug overdose. That was the same site, however, of yet another death — a middle-aged male who was reported dead late Sunday. Little is known about the deceased.
According to various reports, Mike may have been in his mid-40s, a vet, and just released from state prison. His death has been reported by at least three separate sources, though not yet confirmed by Santa Barbara Police. In addition, a homeless woman named Christin reportedly died by Pershing Park the same night. Paul Ambrose, a homeless man who lives nearby, said he saw the paramedics show up and leave, only to be replaced by a vehicle from the coroner's office. "How many more is going to take?" demanded Ambrose. "We need the whole community to get riled up about it. All these politicians get up there and say, 'Too bad. Sorry about that.'"
The three deaths would bring this year's homeless death total for the City of Santa Barbara to five, six in the past six weeks. Last week a homeless man named Greg died at the Santa Barbara pier. And county social service worker Ken Williams said he's heard reliable indications that a homeless person died in Isla Vista last week as well. Just before Christmas, a homeless man named Freedom was found, frozen to death.
[UPDATE: Lt. Paul McCaffrey of the City Police Department confirmed this morning that Christin (her last name and the last names of the other victims have not yet been released) was found at around 7 a.m. on Saturday behind JJ's Liquor near Pershing Park, but not in the park itself. Christin, 43, was well-known to police and was reportedly found with a number of empty vodka bottles around her. According to McCaffrey, Mike did in fact pass away under the Milpas Street overpass where he slept with a number of other homeless; he was found just after 9 a.m. on Sunday. Mike had purportedly spent the previous night drinking and taking methadone tablets. The third victim, a 52-year-old male, was found on Sunday at 12:20 a.m., but little is known of the circumstances surrounding his death.]
With the sudden onslaught of extreme weather, homeless people are the most immediately vulnerable. South Coast shelters are operating at capacity with the largest, Casa Esperanza, having to turn people away. Church groups and volunteer homeless service providers have opened up three warming centers in churches throughout the South Coast. Two nights ago, Williams said more than 40 sought refuge at the Unitarian Church in downtown Santa Barbara. Several were forced to sleep outside under the eaves. Williams said that the recent storms are chasing a number of homeless people out onto the streets that hitherto have stayed out of sight and kept to themselves. "I'm seeing people I've never seen before," he exclaimed.
Williams said he and Dr. Lynn Jahnke spent a portion of Friday morning downtown looking for homeless people to give ponchos and gloves to. "In one hour we gave stuff to 45 people," he said. "That's amazing." The numbers should come as surprise to no one, said Williams. "We're in the second year of a severe recession," he said. "I talked to a guy on the street recently who nine months ago ran his own small machine shop. We're seeing lots of people with serious mental illnesses. But we're seeing lots of people who until recently had been doing okay."
Jahnke and other homeless providers have been lobbying county administrators to take over the day-to-day responsibility of running warming shelters, overflow facilities opened up during times of extreme weather for those who would otherwise be exposed to the elements. With a strong storm predicted early this week — and a host of other storms possible after that — the need for warming shelters appears greater than ever. But the administrative protocol dictating when such facilities should be opened, and who should run them, remains the subject of bureaucratic buck passing, according to Jahnke. She has argued that the county is legally responsible for providing emergency housing. But the county is deferring and referring to a protocol hammered out three years ago among nonprofits and government agencies dealing with the homeless.
At that time, the Red Cross was designated as the go-to facility, but only when all shelters were booked to capacity two nights running. Since that protocol was adopted, the Red Cross reportedly backed out, contending that it should not be in the business of providing homeless care. In addition, there appears to have been some disagreement about whether all the shelters have been booked to capacity.
Because some homeless have expressed reluctance about entering the Rescue Mission — citing alleged mandatory religious indoctrination coupled with overly strict rules as their complaint — some have said the Rescue Mission has not been full enough to require the County Health Department to jump in. Two nights ago, that may have been true. (Rescue Mission officials have strenuously denied reports that they require guest to attend chapel services.) But Williams said that in the past couple of nights the Rescue Mission has been full. "We really need the county to step up," said Williams. "Not only does the county have the resources, but it has the trained personnel who know how to respond in such situations."