Opinion
Janet Rution: Businessperson and Indomitable Spirit
1950-2009
When I first met this beautiful young girl, I had no idea that behind the quiet, stunning façade lay a rare combination of wisdom, compassion, and strength of character. I'd later hear stories: how this demure schoolgirl would drop her books and fly to the rescue of a bully's victim, stranger or not, and humiliate the culprit verbally or physically. I'd eventually witness how, in an era of moral chaos, she navigated simply by doing unto others as she would have them do unto her, and remained true to herself. How she'd turn disasters into opportunities for a new adventures.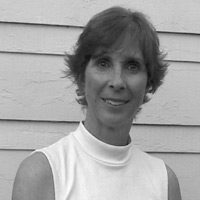 The 39 years I spent with her were indeed a blissful adventure. The many folks in this community who experienced her magnetism will never forget our Janny.
Her wisdom was profound and unique: It was the wisdom to recognize that her adult life's first order of business was to find a place to settle so ideal there'd be little temptation to leave (even though it entailed a year-long search and living in the converted backseat of a 1962 Chevy); the wisdom to invent a livelihood involving both of us, instead of separate soul-consuming professional careers; the wisdom to recognize that child-rearing was such a commitment that it should be left to those whose desire to have kids was great (hers wasn't, so she enjoyed other people's kids). In spite of this seemingly hedonistic agenda, Jan epitomized selflessness and generosity.
Her career path kept life interesting. Together we ran a golf shop (her idea) that acquired a worldwide reputation directly creditable to her wood-finishing skills. (Persimmon golf clubs were the rage until the mid '90s.) Tennis was her game, but to S.B. golfers and a number of prominent pro-tour players, she was known as the gal who knew more about golf clubs than almost all of the guys.
After her family moved from a French Canadian enclave to the suburbs, they abandoned the native language; in her mid forties, Jan set about recapturing it, enrolling in Santa Barbara City College and graduating from UCSB with highest honors in French. She spent graduation summer backpacking, solo, all over France.
In school, she discovered an affinity for computers and was recruited as an instructor. After graduation, she made a livelihood of computer tutoring, before corporate nerds started running around in little red cars. She amazed her clients with her tenacity and her generosity with her time, often staying up all night chasing intractable computer glitches, usually refusing compensation.
Her zest for life made boredom a foreign concept to her. If she had a "bad day," it was impossible to detect. Her acute appreciation of the brevity of life, the need to cherish—never waste—each minute, led her to a simple yet sublime blueprint for living that went something like this: The short time we have on Earth holds the potential for joy or misery, so it must be nurtured wisely. Some events bring frustration, anger, and grief, but none justify regret, much less guilt. The greatest sin is to squander precious time on a past event over which we have no further control—time that could be devoted to the joys of life. Jan proved that this could be a practical philosophy by actually living it.
She would deal with pain and frustration in the moment, never carrying it forward as regret, resentment, or bitterness. She'd cry, scream, beat the wall, and color the air blue—but then it would be over. When I'd mention such incidents from the past, she'd barely remember them: She'd dealt with them at the time, then let it go for all time. Was this some magical, saintly talent? I asked her. "No," she'd answer. "It is only common sense; I am nothing if not a very practical girl."
This simple yet powerful philosophy enabled her to extract the maximum measure from an all-too-short life. It served her in dealing with an incurable disease and its brutal treatments: Jan died of multiple myeloma—bone marrow cancer. She was diagnosed in 2005. The only time the disease occupied the front burner of her consciousness was when it was absolutely unavoidable, and no other time; her attention she turned instead to entertaining her doctors, nurses, caregivers, and friends.
She simply would not be intimidated by fear, would never yield to suffering until it totally incapacitated her. Shortly after her last of three stem-cell transplants, I got home to discover her not in bed gripping a barf bag, but immersed in a bathroom remodel project, still in her pajamas, unbolting a toilet. Looking up, she said, "What are you looking at? Change your clothes and bring me the big wrench."
That was our Janny!