Living
Ventura Kids Ride Green
School District Receives South Coast's First Plug-In Hybrid Bus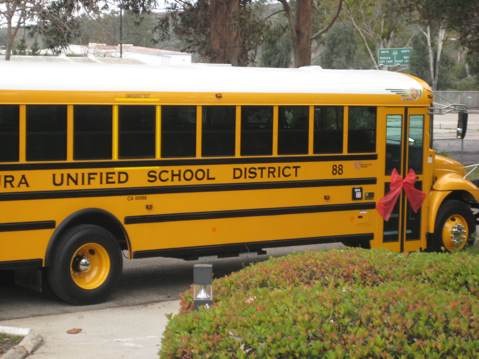 Tuesday, January 26 marked an important date for environmental change as the Ventura Unified School District received the first plug-in hybrid electric school bus in Southern California. Tuesday's ribbon-cutting ceremony celebrants not only announced this bus to be one-of-a kind in Southern California, but more excitedly, that it was given without cost.
The Community Environmental Council, one of Santa Barbara's oldest and largest nonprofit environmental organization, worked tirelessly to fund this meaningful project and achieved it through two funding sources. The bus was funded through the Federal EPA's Clean School Bus USA Project and the incremental cost of the plug-in hybrid system was funded by Ventura County's Air Pollution Control District. To top it off, Tuesday's event participants announced that Planet Solar, a local solar installer, donated a 2.5 kilowatt solar array to Ventura United. Not only is this innovative bus reducing emissions and improving mileage, but now it will have sufficient electric power provided by the sun.
The Santa Barbara Environmental Council selected Ventura due to its large school district and the use of school buses that date back to 1970. These school buses are not only out-of-date, but also are the highest priority to get off the road. Buses and trucks emit about 34 percent of the total vehicle ozone-precursor emissions, and each school bus, in its tenure, will consume 20,700 gallons of fuel and emit more than 500 tons of air pollutants. Yet with large batteries and advanced electronics, these plug-in vehicles are able to use clean electricity and efficiently run on renewable energy. The new Ventura bus may achieve increased fuel economy of up to 65 percent and decreased emissions of up to 40 percent.
"This bus is the advance guard of new technology," said Michael Chiacos, the Transportation Specialist at the Community Environmental Council, "And there will hopefully be more in the future."
Chiacos explained that there are 20 hybrid plug-in buses on the road now and, due to the reduced prices new manufacturers are offering, more are in production. Chiacos also predicts an increase in heavy-duty hybrid vehicles with the ground-breaking California project that offers vouchers that help offset costs and encourage use of clean hybrid trucks and buses.
Being the first of this bright future, the Ventura Unified School District is providing safe, healthy, and environmentally sound transportation to students and are now supporting technology that improves air quality and fuel economy, reduces gas emissions, and decreases dependence on imported oil.
Who would have thought that Ventura could make monumental environment changes by taking children to school? It just shows that sometimes the ticket to big changes is in the collection of small things.