News
Perfume Fights
Less Is More
Dear Ask a Stylist, What is the proper way to apply perfume? Thanks. —Michel
Dear Michel,
Researchers have long said that aromas hold a strong connection to past experiences. So true! As I walk through the perfume counters in any department store, I am instantly reminded of being a kid and having "perfume fights" with my siblings. Taking a "more is more" approach to applying perfume, we walked through the department stores, snuck up behind each other and doused each other with sprays of as many perfumes as possible. All the while, giggling, choking, and trying to catch a gulp of fresh air. My poor mom; having to sit in the car with us on the way home. Our old Caddy (wherever it is now) probably still smells of 101 perfumes! We'd all inevitably get headaches and have to go home and shower.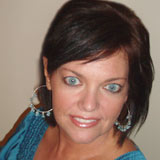 My grandmother gave me my first bottle of White Shoulders when I was about 10 years old. I still remember that little pink bottle with a woman's gold silhouette on it. When I opened the bottle on Christmas morning, my mother told me the proper way to apply it. She explained that I should dab a little on my pulse points: Behind my knees, in the crook of my arms, on my wrists, and finally, just behind my ears. If it was a spray, I could spray a little in the air and walk through it. I was hooked! I felt so elegant wearing my new signature fragrance.
You should not apply it to your clothes as it may damage the clothing, and be too strong. In addition to the pulse points, some women like to spray some in their hair.
My second signature fragrance was Anais Anais. In high school, I upgraded to Poison. (It was the 80's: Think big hair, big fragrance!) My mom's choices were much more mature and sophisticated than mine. Chanel No. 5, Giorgio, and Carolina Herrera. Wearing more complex fragrances is like eating stronger, stinkier cheese—you have to work your way up to it.
These days, I take pleasure in seeking out a new signature scent every year or two. I still haven't graduated to Chanel No. 5 or Carolina Herrera, but if I get a whiff of it when a woman walks by, I fondly remember Mom!
As I progressed with my fragrances, I learned that when it comes to scent, less is more. That means if I can smell you before I can see you, you are wearing too much!