Raw, revolutionary, and intensely passionate, Dead Prez captured the crowd at the Hub Thursday night with their high energy performance and powerful lyrics, leaving spectators fanatical and screaming for more. Known for their confrontational lyrical style and deeply rooted involvement in social revolution, the group's strong political beliefs and fresh hip-hop vibe generated an exceptionally impressive turnout. The duo's relentless philosophy, as reflected in their music, includes lyrical flirtation with taboo topics like activism against government repression, reinstating power to the common people, corrupt police, institutional racism, anti-capitalism, corporate control over the media, and prison systems, in addition to critical pedagogy, veganism, and education. Needless to say, it all made for a particularly interesting performance… and entourage. With an array of old and new album cuts, Dead Prez blew away their fans, triggering an undeniable furor that lasted throughout the night.
Keeping in line with the outspoken hip-hop theme, Ise Lyfe opened the show and, despite a rather sparse audience, seemed to have a very loyal standing with those that were in attendance. As an upcoming premier artist and emcee, Ise Lyfe is rapidly garnering national attention as both a visionary artist and community leader. Using a blend of hip-hop and spoken verse, Ise's powerful subject matter and unique delivery had the small but amped group of viewers moving along to the emcee's bold beats.
Not long after, the crowd poured in as Dead Prez took the stage and electrified the floor. Dancing an arm's distance apart from a sea of ecstatic admirers, M1 and Stic Man activated the space by describing some of their challenging times in "Hell Yeah (Pimp the System)" and then moving on to more revolutionary pieces such as "Gangsta Gangsta" and "Let's Get Free." Even more powerful live, the sounds of M1 and Stic Man's sultry and commanding voices echoed through the Hub, leaving the masses to fall victim to their undeniably fluid, adrenaline-boosting, synergetic mélange of fiery rhymes and dominating rhythms.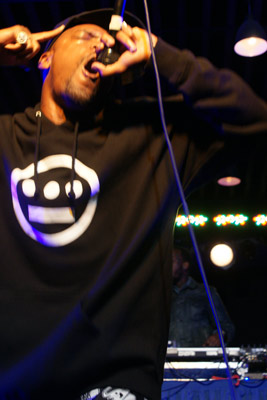 As a stand out anomaly in an overwhelmingly cash-, money-, and hoes-dominated mainstream rap community, Dead Prez bestows a breath of fresh air with their impulsive, uncut, irrepressible, soulful sonic funk. Honest and insightful, the group is true to their roots and gives a voice to the hearts and minds deep inside the trenches of the lives of the overlooked. As the show came to an end, the crowd was left longing for more and waited at the stage cheering even after the group left.
Seeing Dead Prez live for the first time, as well as being able to spend some time with them during a quick dinner, has brought to forefront how truly unique this group is. The validity of their intentions is revealed in a genuine desire to challenge people to think for themselves and offset the conventional balance instilled in the system. This particular show could quite possibly be one of the most exhilarating nights the Hub has seen, and I for one hope to see them back in Santa Barbara again soon.