Voices
Exit GATE
Good Idea Gone Wrong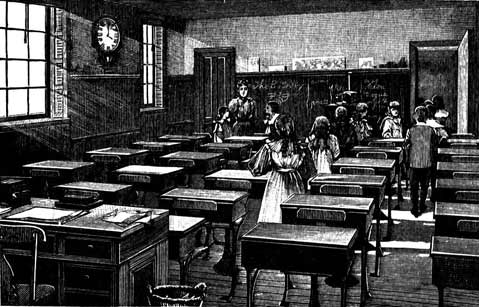 As a 20-year high school teacher I soundly support our district's decision to abolish the Gifted and Talented Education program. GATE was a good idea that went wrong.
The program was meant to serve students who are completely unchallanged by the standard curriculum. Students who would actually suffer and feel stifled and held back should they have to follow the same coursework, and do it at the same pace, as 95 percent of their peers.
But, like so many good ideas, GATE was manipulated until it ended up creating classes made up of maybe five to 10 truly Gifted and Talented students (as determined by cognitive abilities testing administered in elementary school to select students) and another 20 or 30 hard-working students. These traits should not be confused. GATE was not created for students with strong work ethics; it was created for extremely bright and creative students who would actually suffer, and feel stifled and held back, should they have to follow the same coursework, at the same pace, as 95 percent of their peers.
In my 20 years as a public school teacher I've seen the number of GATE classes grow until close to half our ninth-grade English classes are GATE. Were there truly that many young Mozarts and Shakespeares out there? It turns out there weren't, but there were that many parents who, of course, want the best for their children.
One of the loopholes with GATE is the fact the students can fail, or simply not take, the GATE test, but enter the GATE program through teacher recommendation. Obviously, teacher recommendations can be politically influenced, subjective, and used motivationally. In other words, subject to error. Teachers can, with the best intentions, believe a student has great potential and later be proven wrong.
GATE was set up to set apart and teach, at an accelerated pace, a very small and special section of the student population, and initially that is just what it did. But now the numbers don't add up. Nearly 50 percent of a school population simply can't be Gifted and Talented, and (odder still) in a school like SBHS that is 60 percent Latino, that 50 percent can't all be white.
So what happened? That's right: More and more parents wanted their children in GATE, more and more students received teacher recommendations, and eventually my school had a plethora of GATE classes with—here's the rub—a very small percentage of actual GATE students in them. And, here's the rub again, a very small percentage of Latino students. Coming from a different culture and set of values, Latino parents did not know how to push their children into GATE, or simply chose not to follow that path. Whatever the reason, GATE classes ended up being almost all white, and not truly GATE at all.
Was the course work still rigorous? Absolutely. And do the brighter students and for that matter the hard-working students inspire and help their classmates? Again, absolutely. But even so, are students left behind because they simply can't keep up? Yes again, and even though the GATE policy is that any student who does not maintain a C or better is to be removed from a GATE class, it rarely happens. No teacher wants to face off with angry parents, and no school counselor or administrator does either, so the students with the low grades stay.
I have been asked again and again, "Will Honors now become the new GATE?" I hope not. I'd like to see our students placed academically by their own merit, desire, and ability—not simply by the desires of their parents. Even more importantly, I'd like to see Latino students equally represented in our rigorous classes and academies.
I am often at odds with my school administrators and with the school district, but not this time. The concept of GATE is solid, but its actual implementation is full of leaks.
Paul Forster is a teacher in the English Department at Santa Barbara High School.