Education
Parent-Child Workshop Discussions Continue
SBCC Board of Trustees Work Toward Drafting New Course Outlines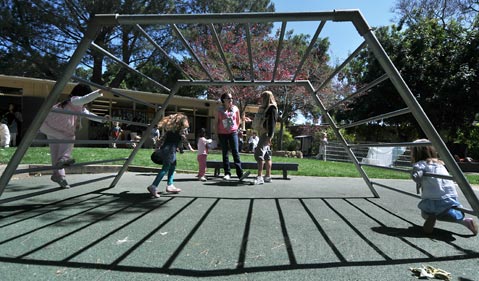 An army of parents turned out Thursday afternoon to hear SBCC's Board of Trustees continue its ongoing discussion around the restructuring of the hugely popular parent-child workshop program. While no official action was taken — negotiations between the City College and the workshops (Starr King, Oaks, San Marcos, and Lou Grant) are ongoing — the packed audience had a chance to hear where things stand.
According to SBCC President Andreea Serban, the City College is still working to draft course outlines for the workshops that will allow them to not only conform to State Chancellor's office standards, but also permit them to receive the highest possible amount of state-apportioned funds. (She contends that, over the years, the workshops have morphed into a program that inappropriately utilizes allocated funds.) Once the course outlines are drafted, she said, they must be approved by a curriculum committee, then passed to the board for go-ahead, before they make their way to the State Chancellor's office for final consent.
Parent supporters of parent-child workshops — who worry possible changes, brought about by budget cuts, will negatively impact the program's overall effectiveness and value — emphasized during public comment that the four workshops serve a critical role in the lives of many area families, and that to cheapen their value would be a disservice to Santa Barbara's "culture." Highly organized and clearly impassioned, the contingent of parents on more than one occasion stood, waving PCW (parent-child workshops) signs, in a unified show of support. The trustees, for their part, say they are doing everything they can to ensure the program runs as well as possible next year, albeit with palpable changes that are, says Serban, mandated by the State Chancellor's office.
Both sides showed a desire to move past feelings described as "mutual distrust," which seemed to stem from conflicting reports on conversations multiple people have had with Dean of Academic Affairs LeBaron Woodyard in Sacramento. While Serban insists that she has written — and definitive — statements from Woodyard that spell out what changes can and cannot be properly made to workshop course outlines, attorney Michel Schley (who is representing the workshops) said he has heard otherwise. Serban termed Schley's stance that the board is able to get "creative" in aligning course guidelines to state standards as "not at all accurate."
The next board meeting is scheduled for April 22.