Food & Drink
Developing a Yen for Yen Ching
The Old-Time Chinese Restaurant Goes Beyond Its Buffet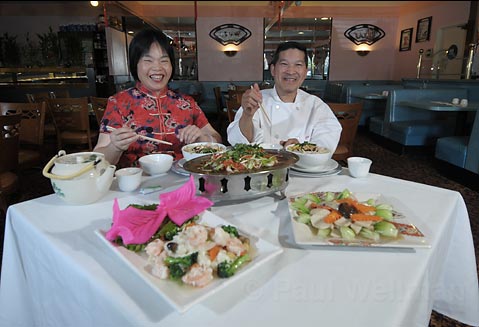 The regular menu has 147 items, but there are another 30 items on the Chinese-language menu, plus a generous buffet line every day. But when you go to Yen Ching, it's wise to ask for something not on any menu. "It's a special dish; it's beef, a really good cut. You can get this dish here and nowhere else," says Jerry Tzeng, son of Yen Ching's owners Chef Joe and his wife, Mei-Li. "We used to have it at Madam Lu's [where Joe was head chef from 1998 to 2005], and one day we had 22 orders of it. It really doesn't have a name, but it's served on a sizzling platter, so some call it sizzling beef. After you try it, you can give it a name."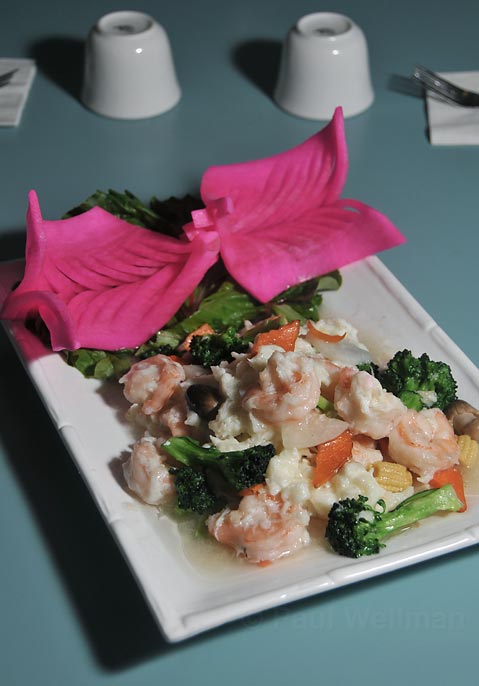 After devouring the oh-so-tender beef — still medium rare with its piquantly peppery sauce and vegetables, including large slices of a mushroom edging toward abalone in its texture — I'm a bit stumped for a name, so figure Delicious Beef is good enough. And then I go for seconds.
Jerry stresses how hard it is to cook the beef so precisely, saying, "You have to know the timing of it. That stove, the fire is so big it's like a jet engine taking off. When you cook it on the wok, it's all about the timing." Of course, Chef Joe has had years to perfect that timing, having cooked 15 years in Taiwan and 20 in the U.S. "My dad learned at a very young age, since he was 14, from a traditional teacher in Taiwan," Jerry explained. "Since then, he's worked at five-star hotels, and, in the military service, he cooked for top generals."
When they first came to the U.S., the Tzengs started out in Oklahoma and also spent about four years in Nebraska. "My dad had a friend living here in Santa Barbara who said it was great, you have to come here, so we did," recalled Jerry, at which point his relatively reticent, particularly in English, dad Joe blurted out, "I like Santa Barbara," with a satisfied smile that was deeply convincing.
The feeling is mutual, thanks to dishes like the simply prepared and simply yummy sautéed ong choy, a green between spinach and watercress so fresh and tantalizing that it needs nothing but some garlic. Mei-Li serves it to us herself, as if it's mom's job to make sure we eat our vegetables. "A lot of customers just go for what they know," Jerry lamented, commenting that about 70 percent of their customers come for the all-you-can-eat buffet, probably because it's a tasty bargain at $9 at lunch and $12.95 at dinner. But Chef Joe and Yen Ching are eager to up their game, for as Joe later says in Chinese with Jerry translating, "We're known for our buffet, but there's a lot more."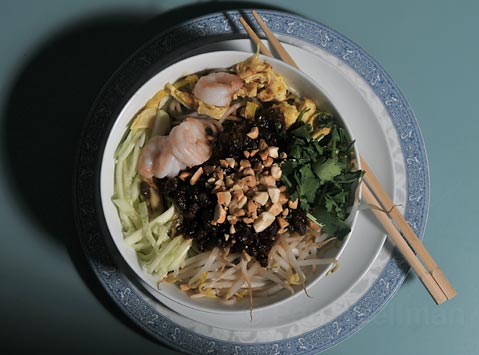 That "a lot more" extends to where Jerry is headed. After helping with the business for a stretch when his dad had some back problems, this CalArts graduate is moving to Taiwan to teach art and animation. Meanwhile, Joe is healthy again. "Dad is the man," promised Jerry. "He's the main guy in the kitchen who makes things happen." Things happening might also include nightly specials, as Yen Ching expands its adventurous menu even more. "If people don't know what to order, they can do what old customers from the Madam Lu days who don't read Chinese do," Jerry explained. "They can describe dishes they've had before, or let us know what they like, whether seafood or pork or spicy or sweet, and we can recommend dishes."
While joining us at the table to eat, Jerry even eschewed chopsticks, explaining, "Traditionally, you only use chopsticks with a bowl," pointing out the edge of the bowl is part of the method of eating. It's all about adaptation. "McDonald's in Taiwan is a lot different — it has to make the hamburger fit Chinese tastes," Jerry said. "It's the same for us. We have to make Szechuan food fit American tastes."
4•1•1
Move beyond the buffet into serious Szechuan and Mandarin eats at Yen Ching, 2840-C De la Vina Street, 682-7191, yenchingsb.com.