News
Budget Bomb Dropped
$8.9 Million Worth of Pain on Way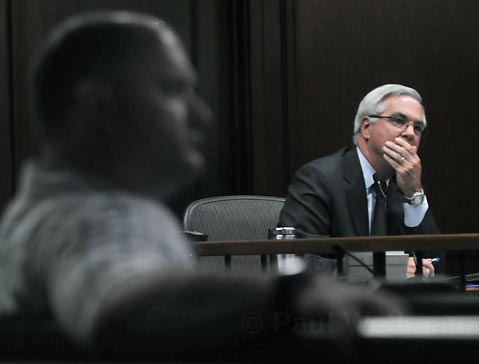 After considerable dread and anticipation, Santa Barbara City Administrator Jim Armstrong finally dropped the budget bomb on the City Council, leaving the mayor and councilmembers $8.9 million worth of painful choices to make. On the table for elimination are 41 positions — out of a total of 1,000 — many of which are currently vacant. But if Armstrong doesn't get $2.6 million in wage and benefit concessions from the labor unions representing city workers, he warned another 17 positions would have to be axed. Should that happen, according to the quick-and-dirty PowerPoint presentation the councilmembers received, city residents would experience "dramatic service impacts." Even with such concessions, it won't be pretty. The Police Department will be forced to eliminate positions for seven sworn officers (currently vacant) and three non-sworn employees; the sober center will be closed, PAL, DARE, and beat coordinators will be history, and funding for school crossing guards could go up in smoke. That's just for one department.
While details vary from city to city, the fiscal turbulence now afflicting Santa Barbara is tormenting every city, county, and vector control district in the state. In tourist-dependent Santa Barbara, revenues have dropped by nearly $10 million over the past two years while salaries and benefits have increased by $3.6 million. Sales tax revenues are down to 1999 levels. Bed tax revenues have posted modest increases over the past three months — after 16 months of decline — but they're still roughly one-half of what they were two years ago. Last year, the City Council managed to bridge a $10-million shortfall without any involuntary lay-offs. This year, that feat may be much harder to accomplish.
Bargaining units are being asked to make major sacrifices. The supervisors association agreed to take a 10-percent cut in pay and benefits. The Service Employees International Union (SEIU) Local 620 has proposed a concession package, reportedly in the neighborhood of 8 percent. The firefighters union has yet to make any specific offer, and the Police Officers Association (POA) proposed a 5-percent cut in pay and benefits two weeks ago. That offer was rejected by Armstrong and the City Council. They'd asked for a 10-percent cut from public safety departments and 12 percent from the rest. Since then, however — with good news creeping around the economic edges — the real target has dropped closer to 8 percent. (Union chief Sgt. Mike McGrew insists that such numbers are not real, that Armstrong has privately said 5 percent was the target.) That the POA made any offer at all was historic.
Of all the city's unions, the POA has been most skeptical that the city's fiscal hole is as deep as Armstrong claimed and the most keenly suspicious Armstrong was hiding money while crying poor. For their part, administrators have been quick to blame the city's escalating labor costs on the 25-percent pay increase the POA won at the bargaining table three years ago. That contract expires this June, and negotiations between POA — which endorsed the mayor and three of the current councilmembers — and City Hall have not been for the faint of heart.
When Armstrong told Chief Cam Sanchez to notify departmental employees who might be laid off that their jobs could be at risk, McGrew accused him of Al Qaeda-like bargaining tactics. (Other union leaders, like George Green of SEIU — which also endorsed the mayor and three of the councilmembers — have shied away from such language, saying such notices have become an unfortunate part of the budget picture.) When police brass went ahead with the notices, the POA's attorney sent Armstrong a letter demanding that he cease and desist.
Sometime before June, negotiations between the two sides have to resume. Between now and then, countless public hearings will be held on proposed cuts and what impact they will have department by department.