Columns
Historic Selections
Classical Could Be Fresh
The best part of KCSB, as I've repeatedly emphasized, is that you never can quite know what you'll hear each quarter. On the flip side of all the entertaining sonic surprises is the fact that you can't really tune in expecting to hear any particular thing. A glance across the station's current schedule reveals offerings from blues to public affairs to gospel to cultural arts, but one absence seems particularly notable: classical.
No doubt there are reasons for this. Classical music is a vast field which demands a substantial amount of difficult-to-acquire knowledge from any DJ hoping to spin it every single week. Even if they reach that point, they'll have to compete with KDB and KUSC, the two all-classical stations already available in Santa Barbara. It would be a brave challenger indeed who would take on no less august a broadcasting figure than Jim Svejda. Though many "eclectic" music shows do admit the occasional classical recording, can I be alone in arguing that the world needs more of the enthusiasm-driven on-air obsessives such as KCSB can provide, for classical music and classical music alone?
As New Yorker music critic Alex Ross once wrote, "I hate 'classical music': not the thing but the name. It traps a tenaciously living art in a theme park of the past." The term and the subculture to which it gives rise can indeed be aggravatingly limiting. Perhaps they've kept KCSB's radio minds from turning toward the actual music for any extended period. Yet my digs through the historical archives have turned up old schedules and newsletters that reveal quite a bit of classical programming in KCSB's past. In the early 1960s, some of the station's founders have told me, when their broadcasting license didn't stand on ground as solid as it does today, it was a much safer choice than that volatile rock-and-roll business. Today, you might say the situation has reversed: It's a "safe" choice to play rock in that there's always an audience for it, especially the indie variety. But classical? A riskier proposition.
Fortunately for aspiring classical DJs, KCSB hasn't taken this temporary lack of relevant programming as a prompt to dismantle the classical section of its music library. By my rough estimation, at least 6,000 classical albums remain on the shelves, and that's just the vinyl. Nor, in my explorations there, have I found it to be particularly staid or rigidly defined. Sure, there's a lot of the stuff you'd hear on anonymous classical stations across North America, but the selections extend far, far beyond that, across distances, sub-styles, and time periods alike. Since the reaction to my previous KCSBeat column on the music library turned out to be so positive, I shall heed popular demand and return there to find out what, exactly, the classical shelves have in store.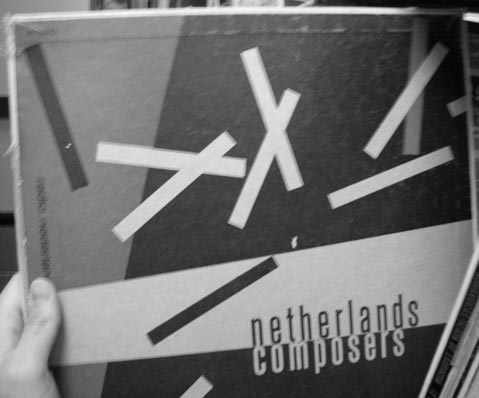 Though the reason for it is probably lost to time, this section contains a startling amount of records produced and shipped over by Dutch national radio. I'd venture to say that a truly enterprising programmer could build an entire year's show out of nothing more than Radio Nederland releases from the years 1965 through 1975. (But what would they call it?) One case in point is Netherlands Composers, a seven-album box set focusing on Dutch contemporary classical pieces.
Encased in the finest high-modernist cover art 1967 had to offer, the discs' contents are actually presented as radio programs in and of themselves. Accompanying the music, composed by the likes of William Pijper, Hans Kox, and Hendrik Andriessen — surely you're on intimate terms with the oeuvres of all three — are actual introductions, lectures, bits of commentary, and even promotional spots. Can you imagine what an especially creative KCSBer could do with something like this? I, for one, can't easily, but I know I'd be surprised and delighted to hear an attempt.
Even if the arrangement with Radio Nederland remains a mystery, I do know that, for quite a few years, KCSB shared programming with the Canadian Broadcasting Corporation (CBC). Plenty of classical albums from our neighbors to the north are thus also to be found in the music library. I couldn't resist pulling out the CBC Winnipeg Orchestra's Concert Performances from the 1974 CBC Winnipeg Festival, both for the cover's surreal collage and for the mental image of an entire orchestra having to bundle up to play a festival somewhere as cold as Winnipeg. (Yes, they more than likely perform indoors, but it's still funny.)
Those who consider proposing a classical program to KCSB, but get spooked at the last minute by the prospect of hitting the books and choking down tome after dry musicological tome in preparation, would feel relief looking at this album's liner notes. Like many on the sleeves in this part of the music library, they're copious and informative about the material, its composers, and its performers. Plus, the CBC being the CBC, they're dutifully replicated in French one column over, so if you're dreamt of a Francophone showcase of Canadian-performed classical compositions, here's your head start.
While obscurities definitely abound in the classical aisles as elsewhere, it's always nice to run across a familiar name. In this case, the name was that of the Kronos Quartet, a group whose dedication to eclecticism conveniently mirrors KCSB's own. Such has been Kronos's willingness to explore, experiment, and get it out there that their discography requires its own dedicated Wikipedia page. Hence the tendency for even casual Kronos fans to routinely happen across albums of whose existence they weren't even aware. 1987's White Man Sleeps was my own Kronos finding in this expedition, an album of the group's inimitable interpretation of works from the likes of Béla Bartók, Charles Ives, and—"Hey, why not," they probably said to themselves—Ornette Coleman. Its strongest appeal, though, might be its cover photo, on which the Quartet looks just about as 1987'd-out as it's possible to be. If you think Ives's scherzos are weird, look at all that hair.
Does this journey answer any questions about KCSB's momentary lack of classical shows? Hardly. In fact, it only raises more of them and prompts me to ask them longer, louder, and in an Independent column. If you suspect you could do something great with these records or the 5,997 others I didn't write up, get in touch with KCSB. All these albums are just screaming to see airtime, whether in a straight-ahead presentation, a retro-radio revival, or, most promisingly of all, some sort of freakish audio-collage. Freeing "classical music" from its chains begins with you.