Briefs
'Superpowers' Featured at Sea Center
Each 'Superhero' Specimen Boats Amazing Adaptation to Battle Manmade 'Villains'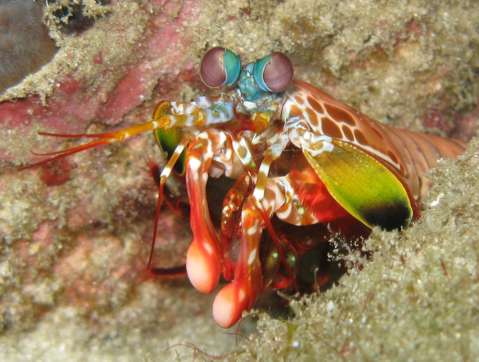 Fantasy fans and ocean lovers, brace yourselves: Classic comic book themes and remarkable sea creatures have joined forces for "SUPERPOWERS!," the Ty Warner Sea Center's newest exhibit.
SUPERPOWERS!, which is constructed to resemble a 3-D comic book, features 12 sea "heroes" and five "villains" (plastic bags, dog poop, oil, carbon dioxide, and trash). "The superheroes boast extraordinary adaptive features to survive, but even with these powers, ocean pollution puts them at risk of dying," said museum spokesperson Easter Moorman. "Our goal is to empower visitors to become real superheroes who fight for conservation and the lives of these creatures."
Upon setting foot in the interactive exhibit, visitors are hit with an introduction reminiscent of the original Batman T.V. series. Psychedelic graphics and comic strip speech bubbles flood the entrance, except the featured characters are octopi and urchin rather then men dressed up as bats and robins. Next, museum-goers come upon a phone booth, where they can quick-change into a cape, a la Superman.
Ty Warner's bilingual exhibit is a testament to community teamwork and a passion for ocean conservation. The staff that was responsible for putting the exhibit together numbered fewer than ten, and an extraordinary amount of work was done by local volunteers.
The Sea Center's Director, Amanda Hendrickson, pointed out her favorite "superhero" — the mantis shrimp. "They have the ability to punch predators with their powerful claws and can detect wavelengths on the electromagnetic spectrum that humans can't see."
The mantis shrimp is one of a number of creatures in the exhibit that have never before been featured in the Sea Center. Other notables include the eel-like hagfish, which can exude copious amounts of mucous and tie itself into an overhand knot in self-defense. Also featured is the California Two-spot Octopus, capable of squeezing itself through extremely narrow cracks and openings, and the monkeyface prickleback, another eel-like fish that can survive out of water for longer than a day.
Visitors can also check out the strength meter which displays the crushing power of a crab, and feel a toned-down version of the shock delivered by an electric eel.
SUPERPOWERS! is now open to the public at the Santa Barbara Museum of Natural History Ty Warner Sea Center located on Stearns Wharf. It is open daily from 10 a.m. to 5 p.m. Admission is free for museum members, $8 for adults, $7 for seniors and teens, and $5 for children.