Visual Arts
Max Neufeldt: New Works at the UCSB Faculty Club
Welded Metal Sculpture and Mixed Media Collage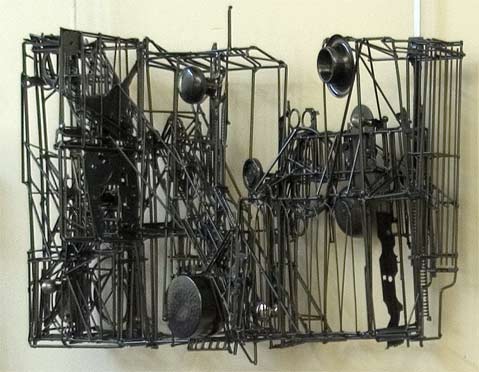 This exhibit showcases Max Neufeldt's recent work in two arenas: welded-metal sculpture and mixed-media collage. The sculptures, which make up the larger part of this show at UCSB's Faculty Club, range from horizontal wall hangings to freestanding towers composed of sturdy wires. Some incorporate an assortment of tools you might find in a catchall kitchen drawer: safety scissors, keys, cheese graters, melon ballers, hole punches, and whistles. Arranged in a static montage and finished in uniform gray, they are quiet relics of a pre-digital age.
Other sculptures rely on a loose lattice framework of scaffolding, sometimes topped with clock faces. In many, there's a comfortable coexistence of hard, industrial metal elements and softer, more domestic touches: wooden shelving, ceramic cabinet knobs, silver slotted spoons. Then there are works that combine Neufeldt's structures with digital clock faces designed by Bob Roan. There's an occasional touch of whimsy in these pieces—a wooden bird perched atop one clock peers down at the inscrutable series of numbers flicking past. It's a fun twist, but also an acknowledgement of the perplexity of a post-modern world, where time bends and mutates.
Though they are less numerous, it's the collages of early-20th-century family photographs, pen and ink sketches, scraps of fabric, and mementos that really make the viewer linger. Neufeldt has pooled black-and-white snapshots, taken from his mother's scrapbook, and elaborated on them, using his pen to extend their boundaries. Beneath an image of picnickers in a forest glade, he adds a basket nestled in tall grass. He extends the branches of the trees beyond the frame so that they reach out toward other ephemera: a faded postage stamp of Buffalo Bill Cody, a scrap of looped rug, the inner workings of a watch.
Within the confines of frames hardly more than two feet square, these nostalgic fragments evoke much larger stories—the careful, looping script on a slip of yellowed paper records a budget "for cutting wheat and rye, alfalfa seed"; a girl in an empire-waist dress squints from beneath her short bob; and a miniature racecar suggests a long-forgotten game of Monopoly. Like quilts sewn from the remnants of aprons and curtains, these works are silent testaments to an entire family history. In fact, one piece seems to include a tiny quilt, though on close inspection, its squares alternate between actual fabric and meticulous sketches on paper. Every one of these eight works carries the musty mystery of a hope chest discovered after many decades—precious, compelling, and redolent with stories we can only half know.
The show runs through Monday, May 31 at UCSB Faculty Club, Ocean Rd., UCSB Campus, CA
805-893-3096