News
20th Time's the Charm
Council Finally Passes Medical Pot Ordinance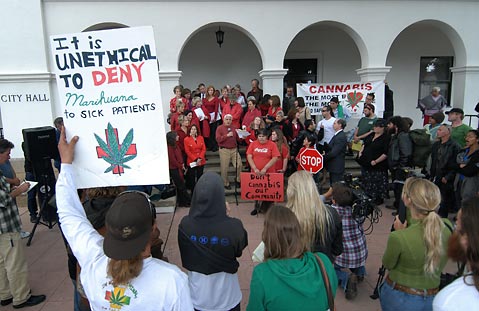 After no less than 20 meetings over the past two-and-a-half years, the Santa Barbara City Council finally approved a new and more restrictive ordinance on medical marijuana storefront dispensaries in Santa Barbara by a vote of 5-2. The vote came after four hours of intense public testimony and council deliberations. And those deliberations followed a loud, rambunctious, and testy gathering in front of City Hall involving about 150 people. About half, wearing red shirts, held a rally in support of an outright ban on any dispensaries. These included county schools Superintendent Brian Sarvis, who complained that because City Hall had rejected his pleas to enact a 1,000-foot buffer between any dispensaries and any schools, he now supported a ban. Others included City College President Andreea Serban and host of movers and shakers active with the recovery community. (Currently, there are five legal dispensaries operating within city limits.)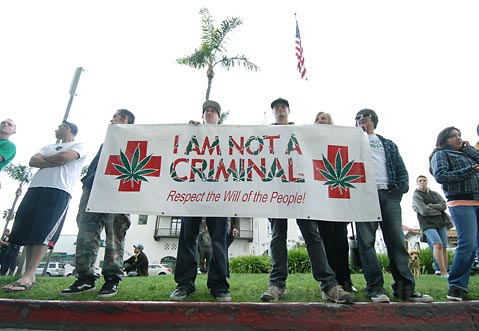 Opposed were a crowd of pro-pot activists wearing "Don't Criminalize Me" T-shirts. Several jeered and cursed angrily in response to comments from the anti-dispensary activists. When Bob Bryant — founder of the Daniel Bryant Center — stated that his son died of a drug overdose, a few skeptics from the pro-pot contingent shouted loudly, "What drug did he take?" Their point was that no one has died from a marijuana overdose yet. Another pro-pot advocate kept screaming, "I took Ritalin!" as if to make the point that marijuana offered a preferable alternative to pharmaceuticals, and repeatedly shrugged off all efforts to shush him. Mari Mender, a red-shirted nurse from Cottage Hospital, impatient with the shouting and interruptions from the pro-pot crowd, shot back, "[Marijuana] certainly does nothing for your manners."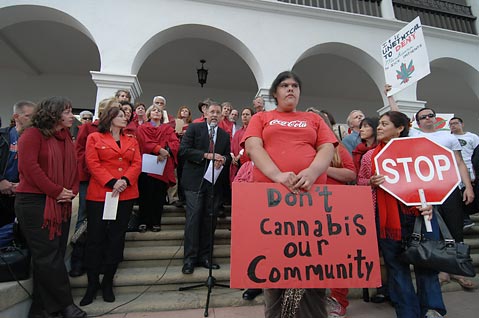 Inside the council chambers, the feelings were just as intense, but far more controlled. Councilmembers heard impassioned pleas from educators, recovery advocates, and even city cops to shut down dispensaries once and for all. Their presence, they argued, encouraged drug abuse among teens, created new crime problems, and spawned a new cottage industry predicated on the illegal resale of legally "prescribed" medical marijuana. Councilmembers also heard from people who testified that medical marijuana helped them cope with debilitating medical challenges far better than prescription medications could. Without storefront dispensaries, they argued, they'd have no safe, convenient way to access the relief pot provided.
The councilmembers had heard it all before, but the intensity on both sides has been growing with each new hearing. People who'd argued in favor of bigger buffers before now urged an outright ban. The conundrum confronting the councilmembers was that a five-vote majority was required for any measure to pass. On the table was a proposal hashed out during four meetings by the council's Ordinance Committee that would limit the number of dispensaries citywide to five. It would require operators to screen their employees, hire a top-flight security firm, and allow their books and membership lists to be audited by city inspectors. But for Councilmember Dale Francisco, these restrictions constituted to tinkering around the edges. Storefront dispensaries, he declared, are simply illegal under state law, and it's only a matter of time, he predicted, before the California Supreme Court rules accordingly. However, the law, he said, did allow people seeking medical relief to join collectives that grow weed for medical consumption. Joining Francisco in support of a ban was Councilmember Michael Self.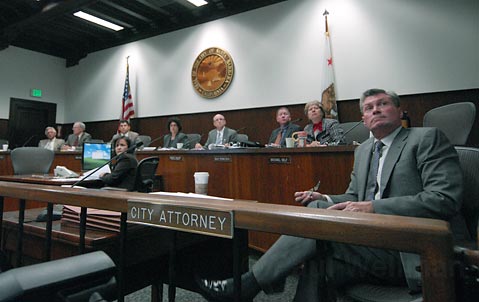 Councilmembers Das Williams and Grant House argued strenuously in favor of the new regulations hatched by the Ordinance Committee, contending that a ban would merely chase the pot trade underground where it could not be easily regulated. They both took exception to Francisco's legal analysis. "I'm a bit tired of amateur attorneys interpreting state law," declared Williams. Mayor Helene Schneider noted that she'd been approached by numerous people in private who told her how medically beneficial pot had been for them. They did not feel comfortable speaking out in public, she said, for fear of alienating associates or jeopardizing their jobs. For Schneider, access meant that people in times of need had someplace safe and clean where they could purchase their pot. A ban, she said, would not address the concerns voiced by many about teenage exposure to marijuana.
Councilmembers Bendy White and Frank Hotchkiss provided the key swing votes, and at their insistence, the measure crafted by the Ordinance Committee — on which they both sat — was ratcheted down even tighter. At White's insistence, no dispensaries will be allowed anywhere downtown. Hotchkiss required that Santa Barbara's dispensaries be limited to Santa Barbara County residents. Likewise, he demanded a 24-hour waiting period from the time a recommendation is issued to the time a purchase can be made. In addition, dispensaries will not be allowed to operate on Sundays. In deference to School District concerns, Williams asked that the buffer zone separating schools from dispensaries be increased from the proposed 500 feet to 600 feet, the same requirement for liquor stores. Barring unforeseen eventualities, the matter should be resolved conclusively when it comes back for final adoption at next week's council meeting.