News
City College Defends Stadium Spending
Officials Say La Playa Stadium Renovation Projects Necessary and Appropriate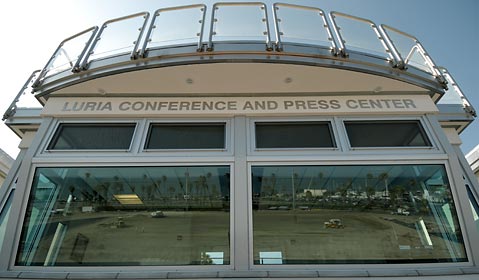 Ever since Santa Barbara City College announced last year that a sizeable chunk of its $77.2 million in Measure V money would be funneled into La Playa Stadium renovation projects, students and residents have openly questioned whether that is the best use of valuable cash earmarked for campus improvements. Many argue that the projects' expected $4.25 million cost — spent to replace the track and synthetic field and construct a new press box — could and should have gone toward upgrading "academic" facilities especially, they contend, now that the school is no longer receiving adequate matching state funds because of the budget crisis.
However, after SBCC's presentation last Thursday to the bond's citizen oversight committee — tasked with reviewing expenditures and informing the public of the bond program's status — Program Manager Steve Massetti and Vice President of Business Services Joe Sullivan wholly defended the allotment during a conference call with The Independent. They argued La Playa Stadium is one of the most used facilities in the school (and the city), that it is indeed in need of repair, and that physical education classes are, for all intents and purposes, academic.
Ahead of the June 17 meeting — held, coincidentally or not, in the stadium's newly minted press box and conference center — 15-year SBBC adjunct professor Celeste Barber sent a letter to the committee and College President Andreea Serban voicing a worry echoed by many others: "My concern is that the committee has approved expenditures that while meeting the technically legal requirements of Measure V, nonetheless skirt the spirit of this bond measure."
The legal requirements she refers to say that Measure V funds can only go toward "improving the campus's physical environment" and cannot be used for operational expenditures or salaries. The money itself comes from property owners paying an additional $8.50 per $100,000 of their property's assessed value.
In her letter, Barber argues that the Ballot Proposition — written for the public when the measure went to vote — "clearly prioritizes projects that sustain and extend 'academic facilities,' as in those projects that ensure our mission to educate and train students for transfer to four-year institutions or for employment." She states that while the school may be within the letter of the law in doling out cash to La Playa Stadium, it's not spending the way the public was expecting.
"While it is true that there is wording that allows bond money to be spent on physical activity and other extraneous projects," she wrote, "this text does not appear until the following page and is pretty much hidden in the middle of a paragraph that lists first those projects that support the academic mission. I honestly believe that had the public any idea of how the bond money is currently being spent, many would not have supported the parcel tax for Measure V."
In defense of the stadium projects — specifically the completed construction of the 971-square-foot Luria Conference and Press Center which cost $1.75 million — Sullivan noted that not just the athletic department will have access to the state-of-the-art conference rooms that flank the press box, but that all instructors and departments will be able to take advantage of the new space. In fact, he said, the athletic department doesn't even have priority over the rooms; its instructors must schedule times through the president's office just like everyone else. "It isn't an athletic facility," he promised.
Sullivan also noted that the old, rickety, 65-year-old press box — which had stood in place since the stadium's original foundation was poured — was classified as a safety hazard. Riddled with termites and retrofitted as much as possible, the box could no longer safely support the film crews that perch atop it during games. "The fact that it was standing up was literally a miracle in and of itself," said Sullivan. And in response to what has been called the structure's unnecessarily large price tag, Sullivan noted that donor Eli Luria pledged $500,000 toward the project and that another $150,000 came from other donors.
Both Massetti and Sullivan took issue with the claim that the track and field projects don't align with the academic slant of Measure V's guidelines. "Those are educational facilities," noted Sullivan, pointing to the school's 17 sports teams and dozens of physical education classes offered. (A quick search of physical education classes offered during this year's fall semester turned up 72 individual courses.) He claimed that the stadium sees 36,000 student hours of use per year and — because it's open to the public all day every day — it gets heavy, heavy use. Basically, to ensure the safety and playability of the surfaces that are used extensively by not only SBCC students but also the Santa Barbara community, said Sullivan, they needed to be replaced.
Specifically with regard to the synthetic field, Sullivan explained that the black rubber and sand fill had become compressed over time. It had been "fluffed up" a few times, he went on, but it's come to the point where quick fixes aren't going to work anymore. A 2009 Gmax study carried out by an independent lab, which measures cushion and bounce when an athlete falls on the "grass," noted that three of the nine locations tested "failed" and three were "borderline." Sullivan said that the eight years the school got out of the turf was about the expected lifespan.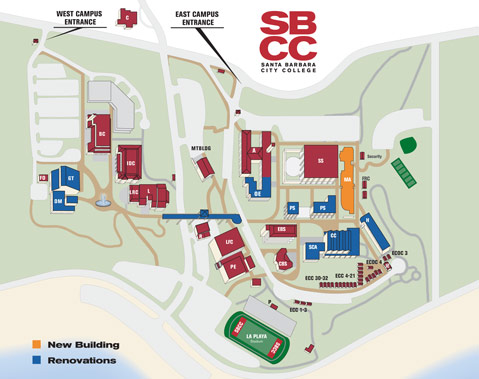 And speaking to the track, Sullivan said that while the 24-year-old surface had been shaved and resurfaced twice, it was pretty much at the end of its useful life as well. The school decided to do both projects at the same time, he said, so as to not close down the stadium twice. As of now, it is closed until August 31 when it will reopen for a short while, then close again from December 20 to January 31, 2011. The expected cost of the two projects is $2.5 million.
While some of the public's skepticism of the projects' necessity seemed to stem from a lack of obvious, visual damage to the track and field, Sullivan noted that the tests don't lie. "Even from walking on it," he said, "you or I probably wouldn't know that it needed replacement. But when they did the testing, it was clear it needed to be replaced."
Meanwhile, other Measure V-funded projects are moving along, some more quickly than others. Even though the bridge that connects the east and west sides of campus has been successfully repaired, its final price was more than $2.2 million more than originally projected. Because of extensive dry-rot and termite damage that was discovered late in the game, the originally $1.9 million project wound up costing more than $4.2 million. Similarly, the softball facility upgrade in Pershing Park was expected to be over budget by $500,000 after the lowest bid came in way high, but SBCC is now reducing the scope of the work and will rebid the project.
The drama and music center's modernization — which started on June 15, 2009 — has also hit a couple of snags, reported Massetti. Work has been "significantly delayed due to unforeseen conditions," he said, including the discovery of asbestos in the nearly 50-year-old building's walls. The project's steel subcontractor, Diani, also went out of business and it's taken some time to get the new contractor up to speed. The good news, though, said Massetti, is that the school finally received 60 percent of state matching funds for the project.
Messetti was upbeat about how construction was going in general: "We're actually excited about all of the projects," he said. "Even though it may sound like the projects aren't going well, when you do construction and modernization projects, you find things when you open up a building that's 35 to 50 years old that you never expected. And you always have to deal with those issues. You can't anticipate everything."
State funding has yet to come through, though, for the Humanities Building and Campus Center improvements, said Massetti. But once construction is complete on the Administration Building and Schott Center, it's the school's hope that the two will get back in line for funding because, noted Massetti, they have good bond ratings. "By pushing those out a little bit, by completing these other projects first, we're hoping that by then the state will have funding again," said Massetti. "If not, we may delay them a little longer." But those decisions, he said, aren't for another three to five years down the road.