Voices
Reflections on a Raid
Marijuana Dispensary Founder's Letter to Supporters
My name is Joshua Braun, and for those who don't know me, I was one of the founders of Hortipharm, and the executive director of the collective when it was raided. Last week I was released from Santa Barbara County Jail after six days of incarceration stemming from these raids. It has been an interesting couple of weeks, to say the least, but I want you all to know that I am in good spirits, and absolutely confident in my defense. I hope I can say the same for my co-defendants. To my co-defendants: I love all you guys, and I will do what it takes to see to it you don't pay for mistakes you did not make!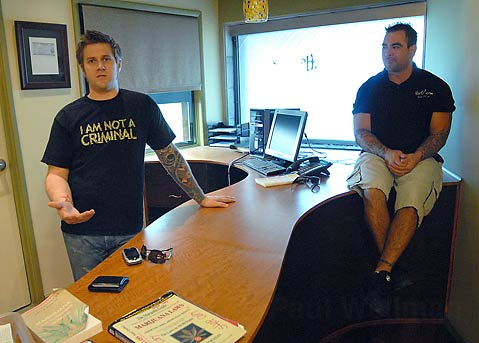 During my stay with the county I was able to squeeze a few moments into my busy schedule there to think of how something like this could happen, after all the extraordinary steps we went through as an organization to ensure the highest level of integrity and transparency for our patients, for my co-workers, and for the community at large. As this is an ongoing investigation, I will not speculate publicly as to the answer to this question. All I will say is that if more could have been done to ensure compliance, it would have been done.
We set out to create a model dispensary. Despite recent events, I humbly hold my head high, as I consider the work put in by our Horti team a complete success in this regard. It pains me greatly to see the public humiliation and criminal charges that have been put on my co-workers, who dutifully carried out their jobs with the utmost integrity. Equally so, it devastates me to see what they did to my innocent wife, Dayli, who is not involved at all with the collective. Her strength over the past week was inspirational.
A bail hearing was set for Monday, June 20, to reduce the excessive bail set for us. However, an unfortunate "mistake" that sent us to the Santa Maria Courthouse instead of the Santa Barbara Courthouse, coupled with a court furlough on Wednesday, kept society safe from us until late Thursday evening, when our $1,000,000 bail was reduced to release on our own recognizance. I have yet to be informed as to why a charge with a bail schedule of $20,000-$60,000 reached such astounding heights, or how, specifically, we were "outside the scope of the Compassionate Use Act." Over time details will emerge.
The case against all employees and volunteers of Hortipharm will be vigorously defended.
Regarding the allegations of money laundering through Pizza Guru, there is simply no truth to them. The prosecutor has informed me through my counsel that they have developed evidence that Pizza Guru was "not an ongoing concern," but rather a shell through which we would route skimmed funds from Hortipharm. All one needs to do to learn that this is patently false is to go sit at Guru for an hour from 7-8 p.m. or so. The lines speak for themselves: Guru's fresh, local, and organic ingredients, along with our sustainable business practices and vegan and gluten-free specialties have helped to raise the bar for pizza in Santa Barbara. I am proud of my wife, and her involvement in this hot mess is unconscionable. For her, Pizza Guru is a mission to provide better diet alternatives to those who care how they feed their body.
I regret to inform our patients that one of the conditions of our release was that Hortipharm is not to reopen until the outcome of the trial. That stipulation, coupled with the new storefront collective ordinance, effectively marks the end of Hortipharm. Thank you all for your loyal support over the past five years, and I hope that our displaced patients find a new collective that you are happy to be part of.
In the meantime, if you haven't already, come give Pizza Guru a try. Though our bodies are innocent until proven guilty, our finances are not. Law enforcement has frozen each and every personal and business account we hold, and we can use the support of our community to help rebuild what they have unnecessarily crushed, and to pay for the defense we will require to see this through to the end.
Any patients who would be interested in supporting us at trial through letters or testimony can email me at 3domfighter@cox.net. Even opponents of the Compassionate Use Act can feel free to email me your questions, concerns, comments or complaints. I'd love to hear from all of you, and I will miss the amazing things we did together as an organization over the past five years.
Keep up the good fight in peace and light!