Briefs
Old Spanish Days Fiesta Events Announced
El Presidente Michael Dominguez Highlights What's New for 2010
After serving on the board for 10 years, Michael Dominguez has been named El Presidente of this year's Old Spanish Days Fiesta, set to take place on August 4-8. The theme — A Gathering of Friends — was chosen by Dominguez to capture the community-minded nature of Fiesta, and is just one part of his mission to continue the festival's 86-year tradition of collective celebration. At a recent press conference, Dominguez declared that "no major changes" will be made to the festivities this year; however, in keeping with the Old Spanish Days tradition of blending the old and the new, this year's events are publicized on Facebook and Twitter. With an impressive lineup of events and support of local nonprofits, Dominguez is confident that Fiesta 2010 will be "just as wonderful, if not better" than its predecessors.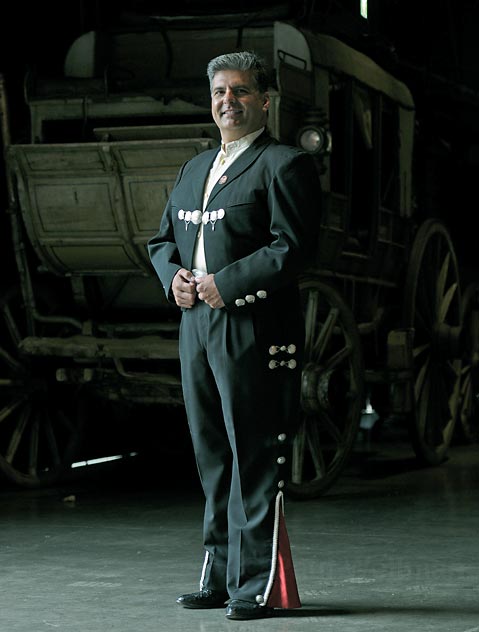 Dominguez's decade-long involvement with Old Spanish Days has been a labor of love, for which he has gladly worked his way up to the esteemed position of El Presidente. In addition to selecting a theme for the 2010 season, El Presidente is also responsible for the poster, and Dominguez—who is on the board for the Courthouse Legacy Foundation—wanted to include the iconic Santa Barbara building in this year's image. After spotting a colorful painting by Theodore Van Cina on the first floor of the Courthouse, Dominguez decided the colorful depiction of costume-clad revelers underneath the building's arch perfectly reflected the 2010 theme. The painting was adapted by Debbie Oquist to become this year's poster, and is being sold—for the first time in Fiesta history—in two colors, burgundy and blue.
In addition to its foray into the social networking world, this year's Old Spanish Days is partnering with Borders bookstore to host two days of additional fundraising. On July 17 and 18, the Spirit and Junior Spirit of Fiesta—Erika Martin del Campo and Tatum Ortega Vestal, respectively—will dance at both of the bookstore's locations. A portion of the proceeds made during the performances will benefit Fiesta. This event falls in the middle of a full month of festivities, including a costume sale at the Carriage and Western Art Museum on July 10, "Fiesta Ranchera" at Stow House and Rancho la Patera on July 15, and the Reception of El Presidente at Fess Parker's DoubleTree on August 1. Rumor has it, back in the day, El Presidente himself moonlighted as a bartender at the annual "Celebracion de los Dignitarios," which takes place at the Santa Barbara Zoo on August 8.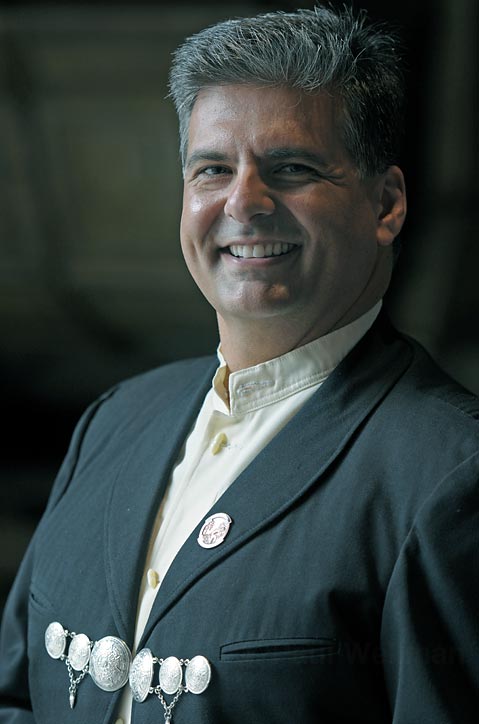 No Fiesta would be complete without the Old Spanish Days Stock Horse Show and Rodeo, held at Earl Warren Showgrounds on August 5-8. According to Davia Montoya, PR coordinator for the event, this year's is sure to be bigger than ever: up to six lucky spectators will have the chance to view the rodeo from inside a shark cage, smack in the center of the arena. On the less exhilarating end of the spectrum, there is also a new youth goat-tying event and early morning horse show. The weekend is a throwback to the "deep seated tradition" of Fiesta, as Montoya puts it, due to the exclusivity of local entries — and is the "only event of its standard close to Santa Barbara."
Beyond its staying power as a citywide celebration, Dominguez stresses the value of Old Spanish Days as a way of giving back to the community. In addition to numerous free cultural events, each vendor at the Mercados will represent a local nonprofit, to which all funds will be donated. Even in an economy that necessitates "cutting the fat where we can," Dominguez is certain that this year's Gathering of Friends — an experience that he calls "special and meaningful" — will be one to remember.