Food & Drink
Kiddo Puts Squeeze on Kids' Treats
Beth Bailey's Snacks Are Delicious and Nutritious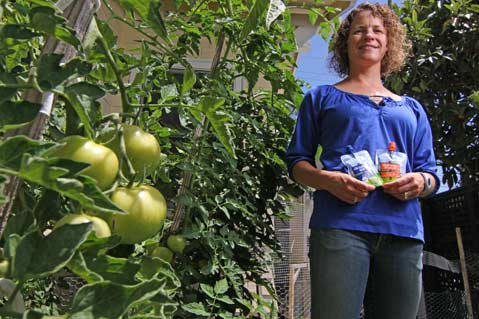 Despite her all-natural, mostly local, organic product, Beth Bailey, the Santa Barbara woman behind Kiddo, has a secret. "There are a lot of adults having them," she laughed. "It's a lot of fun when an adult asks, 'Can I buy it for myself?' I reply, 'Of course you can.' We have kids in mind, but it's more like string cheese—originally meant for kids, but it's so convenient parents eat them, too."
What Bailey has on the market is the Kiddo Squeezie, a handy, 2.5-ounce (that is, safe for airplane travel) foil-ish packet that looks like a cross between an IV bag and astronaut food. While the packets, once emptied, are returnable, it's what is inside that counts—either Wild Blueberry Apple or Super Sweet Potatoes. "Kids want to eat healthy, so give them healthy snacks—they'll eat them," Bailey insisted. "A treat can be healthy, too, and fruits and vegetables are a key to a long and healthy life."
Bailey makes sure her products are seriously good; the sweet potato is 72-percent sweet potato, for instance. She joked, "Most veggie snacks in the grocery store, it's like they throw veggie dust on them." Even the things she does to increase the nutritional content are as natural as can be, to the point that she goes outside the U.S. for only one ingredient: acerola fruit. "It's a cherry from Brazil, and you can use it instead of ascorbic acid to increase the Vitamin C," she said. "That way it's from a fruit and not a factory." Thanks to the acerola addition, the blueberry flavor provides 70 percent of an adult's daily requirement of Vitamin C; the sweet potato provides 90 percent.
It's not that Bailey, a mother of two who admits to having "made my own baby food" and "having taught all my friends to do it, too," had a particular aha moment that made her decide she needed to save children from their bad eating habits one Squeezie at a time. "New parents are very intense with their baby's food, and then their kids grow out of the baby-food phase into what I call the cracker phase," she said. "And then when you get to the lunchbox phase, it's all bad. Parents want to do what's good for their children, but they don't have the time to go to the farmers' market, buy broccoli, steam it, pack it up."
Though Bailey does grow her own tomatoes and is raising three chickens, she explained, "I'm trying to reach people who aren't quite into it. Those kids eating Cheetos every night, I'm trying to reach them. It's going to take a lot of stepping stones." Bailey herself has taken many steps to becoming a healthy snack creator. It's not like she studied nutrition in school—she has an engineering degree and an MBA, and she worked for Procter & Gamble. "My love of food started as a kid in Cincinnati, when I wanted to own a restaurant and my parents had an organic garden in the backyard," she explained. "But these products aren't made in my kitchen. They're made in a production environment and are put together so they'll be shelf stable."
The original product development, however, did take place in Bailey's home. "I made it up," she said. "The flavors are what my kids liked, what my friends' kids liked. I even had children taste them from a cup because the packaging is fun. It was about a year of going through different recipes." More flavors will be on the horizon, although Bailey is currently a bit stuck in development. "I really want to do something green [as in vegetable], and that's really hard," she said. "I can make it so the adults like it and the kids don't, or it's good for the kids and too sweet for adults."
Bailey is sweet on Whole Foods Market and Lazy Acres, which both took to selling Kiddo quickly. "Because of my background with an MBA, I did lots of homework," she stressed. "I had a UPC code; I had organic certification. It's a huge, huge pain, but when I walked in the door, I had all that done." She cold-called John Jurey, Whole Foods' original team leader (who has already moved on to Austin, Texas), met him in the parking lot before the store opened, and she had a buyer. "When they say they support local businesses, they support local businesses," she confirmed. Lazy Acres was equally accepting, to the point of trying to figure out how well Kiddo sold based on what shelf height the product sat on.
"I get parents telling me 'I try to keep my kids to one a day,'" Bailey said with obvious glee. "We need to make sure Santa Barbara loves it and learn what works. Only then can we gear up and expand."
4•1•1
Let your kids put the squeeze on some Kiddo by buying the product at Whole Foods Market (3761 State St.), Lazy Acres (302 Meigs Rd.), and other outlets. See kiddofood.com.