Sports
S.B. Triathlon
The Swim, Bike, Run Race Isn't Just About Winning
Santa Barbara was made for triathlons. It has an ocean that is suitable for swimming most of the year. It has roads that test the mettle and skill of bicycle riders. It has a waterfront that is regularly thronged with runners and joggers.
The Santa Barbara Triathlon, in its 29th year, is one of the biggest participatory sporting events in the area. It will take place Saturday, August 28, and Sunday, August 29, starting and finishing near the East Beach Bathhouse. The first day will feature the long course (one-mile swim/34-mile bike/10-mile run), and the second, the sprint course (500-yard swim/six-mile bike/two-mile run).
In a testament to the enduring popularity of the S.B. Tri, event director Joe Coito said there were only a scant few vacancies this week, and he expects the paid entry list to be filled with upward of 2,000 athletes. "The economy has affected how fast we sell out," Coito said. "People have taken more time before committing."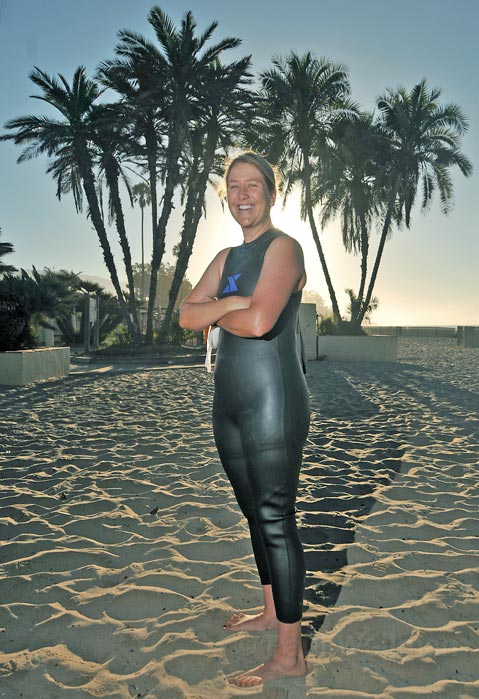 Megan Cotich was one of the first in line to sign up. The 32-year-old Santa Barbara schoolteacher decided a year ago, when she watched the finish of the 2009 triathlon, to attempt the sprint course this year. "I told everybody I was going to do it," she said. It was a radical statement on her part. "Even though I grew up here, I'd never swum in the ocean," Cotich said. "I had a bike, but I never rode it. And I never did any running." Oh, and she also figured she'd have to lose about 50 pounds.
"I do have an athletic background," Cotich pointed out. Her father, George Cotich, who died when she was 14, made tennis the family sport. Despite chronic knee problems, Megan played tennis at San Marcos High and UCSB. After undergoing surgery on her bad knee, she was a member of the Santa Barbara team that finished third at the USTA 4.5 Nationals in 2006. "I could play doubles tennis," she said, "but I was still out of shape and eating badly. I'd see myself in a mirror and think, 'That's not an athlete.'"
Just a week before she vowed to do the triathlon, Cotich enrolled in a strict diet program sponsored by the Sansum Clinic. During the past school year at La Colina Junior High, she became the incredible shrinking life-science teacher.
"There was a student who had been a thorn in my side the whole previous year," Cotich said. "At the start of this summer, he walked past me a few feet, looked back, and said, 'You've lost weight.' 'Yeah.' Then he gave me a thumbs-up and said, 'Good job.'"
Cotich joined Momentum 4 Life, a training program spearheaded by Dawn Schroeder, a triathlete whose son had been in Cotich's class. Schroeder deemed the teacher worthy to receive a scholarship donated by the Lewbel family. "Megan is charging through the training," Schroeder said. "In every event, she improves by a vast amount of time."
Santa Barbara's weekly Reef & Run and Nite Moves events gave Cotich her first ocean swimming experience. "The water was 57 degrees," she said. "It was like an ice bath. I would have jumped right out if other people weren't there."
Last week, Cotich tackled the Westmonster 5K, an exhausting run in heat and hills on the Westmont College cross-country course. "Running was my worst fear," she said. "I never thought I could do it. It's amazing that in a year I could change my life so much. I used to be on the sidelines watching. Now I'm in the same events with these active, inspiring people. There's no ego involved. I'll be competing against myself, trying to achieve my best time."
Coito said Cotich represents the majority of the participants in the S.B. Tri. "Only one percent are elite athletes," he said. "For the rest, it's not about winning. It's about a healthy lifestyle."
GAMES OF THE WEEK: They are listed as exhibition games, but whenever a Mexican soccer team plays UCSB, the action is furious and serious. Mexico's U-20 National Team will take its shots at the nationally ranked Gauchos at 7:30 p.m. on Friday, August 27, at Harder Stadium. It is the second match of a double-header that begins at 5 p.m., when the UCSB women face St. Joseph's University of Philadelphia. Both Gaucho teams got off to a good start last weekend, the men winning their exhibition against Westmont, 3-1, and the women scoring a pair of 2-0 victories over Cal State Northridge and Cal State Bakersfield. … A spectacular high-goal polo season at the Santa Barbara Polo & Racquet Club will conclude with the match for the 100th Bombardier Pacific Coast Open championship trophy at 2 p.m. on Sunday, August 29.