Sports
Karch Kiraly
S.B. Volleyball Legend Gets Roasted
Even in fun, it was awfully difficult to poke a skewer into Karch Kiraly during a purported "roast" of the volleyball legend at the Santa Barbara Elks Club last Monday evening. Kiraly's father, high school coach, and college coach said nothing to besmirch his shiny reputation.
Leave it to Kiraly himself to do the best job of portraying himself in human terms.
He told the audience of 250—who attended the dinner in support of the Goleta Boys & Girls Clubs—about the time he lost control of his emotions. It happened at the end of an intense UCLA-USC match. Throughout the three-and-a-half-hour battle, Kiraly said he was hounded by "the most relentless heckler I've ever dealt with." The man stalked Kiraly at both ends of the floor in the cramped USC gym and harassed him in a grating voice. After the Bruins prevailed in five games to preserve their unbeaten record, Kiraly said he screamed back into the face of his tormenter, who happened to be in a wheelchair.
"Unloading on a guy in a wheelchair was one of my most embarrassing moments in volleyball," Kiraly said. But, apparently, the man did not take offense. Kiraly said he later encountered him on a sidewalk, and the man thanked him for treating him "like any other heckler."
Regardless of his accomplishments in volleyball—a CIF championship at Santa Barbara High, three NCAA titles at UCLA, three Olympic gold medals, 148 beach tournament titles spanning four decades—Kiraly said it's his family that has anchored him in manhood. His older son, Kristian, gave him a poignant shot of perspective when Karch won the first Olympic beach championship at Atlanta in 1996.
Throughout the Olympics, Kiraly explained, his boys (ages six and four at the time) wanted to go to an Atlanta water park. But officials kept pulling Kiraly aside for drug tests when he intended to take them there. Then, during the prolonged celebration of the gold medal, when he was being interviewed on TV, Kiraly heard Kristian calling, "Dad! Dad!" He thought he was going to be smothered with filial pride until he heard, "Dad, the water park is closed."
Kiraly, 49, is currently on the coaching staff of the U.S. women's national team. The other speakers Monday were Dr. Laszlo Kiraly, his father and his first volleyball drill sergeant; Rick Olmstead, who coached him at SBHS ("I take credit for not screwing him up"); and UCLA's Al Scates, who has coached 19 NCAA championship teams and said the greatest were during Kiraly's years.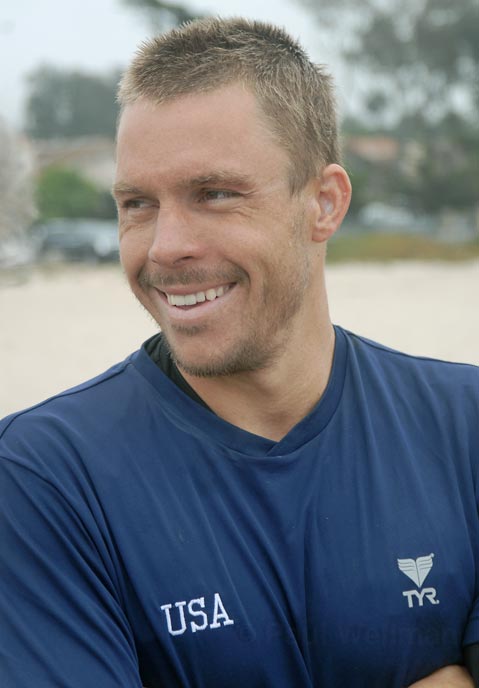 HE SWAM N.Y.: Mark Warkentin of Santa Barbara competed in the first Olympic open-water swim in 2008, but he said his swim around Manhattan Island last Friday established an even more special milestone in his career. The heart of New York City is an iconic location on the world map. "Manhattan's not going anywhere," Warkentin said. "I can always say I swam around it. That's a major joy in my swimming life."
It wasn't always a joy when Warkentin was contending with choppy waves and adverse currents during his counter-clockwise 28.5-mile circuit. The event was a match race between the American and one of his strongest international rivals, Petar Stoychev of Bulgaria. Warkentin pulled away in the last couple miles to win in six hours, 16 minutes, and 37 seconds. Stoychev finished 12 minutes later. They came up short of the record of 5:45 set by Shelley Taylor-Smith in 1995.
"The conditions were not ideal to break her record," said Warkentin, who claimed a $4,000 prize. The race started and finished at East 112th Street in the Harlem River. The swimmers rounded the northern tip of the island at the Spuyten Duyvil Bridge, followed the Hudson River to the south end, and proceeded up the East River. "It was a neat perspective to look up under the Brooklyn Bridge," Warkentin said.
The 30-year-old swimmer hopes to add the sights of London to his memory bank in 2012. He will try to qualify for the Olympic open-water swim at Hyde Park. "Maybe I'll top New York there," he said.
GAMES OF THE WEEK: If he takes after his father, a former Oakland Raiders sack artist, Beverly Hills High's 6'4", 240-pound defensive end Greg Townsend Jr. will pose a major problem for the San Marcos Royals in a Thursday night (Sept. 16) football game at San Marcos. … On Friday night, the Santa Barbara Dons will be playing at home against Lompoc. … SBCC picked up its first victory at Antelope Valley last week, and the Vaqueros will be back in La Playa Stadium at 6 p.m. on Saturday against Ventura College. … UCSB hosts Oklahoma in a women's soccer match at 1 p.m. Sunday. Last week, the Gauchos tied 13th-ranked UCLA 1-1, snapping the Bruins' 65-match home winning streak, the longest in the nation.