Voices
No Cure in Sight
Looking Back for 20th Anniversary of Heart & Sole AIDS Walk
It was a cold, misty morning in 1991 when 500 community members showed up for the first annual AIDS Walk in Santa Barbara County. Pacific Pride Foundation was called the Gay and Lesbian Resource Center/AIDS Counseling and Assistance Program in the early years of AIDS in our community. As is true today, the AIDS Walk was our biggest fundraiser, sustaining basic services and programs in our county. There were eight of us on staff in those early years, serving about 40 AIDS patients at any one time, most of whom had an average life expectancy of about 18 months.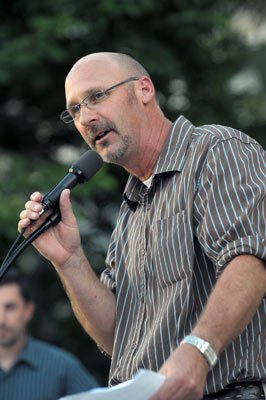 Little did any of us know, at that time, the enormous number of people in our county we would serve in the coming decades. Back then, people—mostly young men in the prime of their lives—would die from such horrible AIDS-related illnesses as cryptosporidiosis, Kaposi's sarcoma, and cytomegalovirus retinitis.
Such illnesses caused rapid blindness, open lesions on the skin, and in the throat and esophagus, constant unstoppable diarrhea, dehydration, and wasting syndrome. Remember, this was a time before the HIV-drug cocktails and doctors could offer little beyond slight physical pain management. For all of us doing AIDS work, attending funerals was the order of the day and part of the job description. So many of these young men were abandoned by their families, friends, and faith communities not just for having what was considered the "plague," but also for coming out as gay. In some ways, it was a very different time.
I remember so clearly being a part of opening our AIDS food pantries in both our Santa Barbara and Santa Maria offices. Our goal back then was to serve 90 men, women, and children with bags of groceries. As it was then, and still true today, after spending limited funds on rent and medications our clients had few dollars remaining for the basic necessity of food. Today our AIDS pantry client numbers are reaching 450 individuals countywide and growing.
The face of AIDS in Santa Barbara has changed since those early years, from when it was a disease that attacked gay men almost exclusively. Now it is attacking moms and dads with homes full of children; individuals struggling with chronic homelessness, mental illness, and substance abuse; young adults of every description. (Not too long ago we had an outbreak of HIV transmission among the student population at UCSB. Pacific Pride's HIV testing and education team worked with campus student health services and our County Public Health Department to enhance AIDS awareness among college students.)
The clients coming to our AIDS food pantry today and visiting our nurse and social worker represent the working poor. They come to us wearing hotel aprons or construction boots or wet jeans from working the fields. Sometimes on a Saturday, as I walk on State Street, they say hello to me or simply nod.
Back in those early years we had two case managers serving the entire county. As HIV infection rates grew (across California, the nation, and locally) our front line AIDS staff grew to six case managers, to keep up with the increased need. Though medications have prevented the rapid onslaught of the disease and longer life spans are possible, there is no cure in site for AIDS.
One year ago this very month, our governor and state legislature tore over $85 million dollars from AIDS programs across the state. With the stroke of a pen, they eliminated HIV testing and prevention programs, and AIDS case management, across California except in large metropolitan cities.
This resulted in a loss of over $700,000 to Pacific Pride Foundation's AIDS safety net programs. More than half the staff was laid off. With five times the client numbers of 1992, we are currently reduced to staffing levels of 20 years ago. What has sustained us through this year of massive state budget cuts has been our annual AIDS Walk and our ongoing supporters.
So when a young woman comes into our offices and needs an HIV test, fearful of a recent possible exposure—or when an HIV-positive pregnant mom meets with our nurse, in our pantry, to grapple with her diagnosis and wants to undergo medication regiments to prevent her baby from being born with HIV—there is a place for her to turn. At Pacific Pride in Santa Barbara and Santa Maria, the lights are on and the staff is here to help, and this is such a good thing.
Sign up as a walker, pledge money yourself, or form a team, with pledges from friends and family. The www.pacificpridefoundation.org AIDS Walk is Saturday, October 2, at 9:00 a.m. at Leadbetter Beach in Santa Barbara. Hope to see you there!
David Selberg is the executive director of Pacific Pride Foundation