News
The Big Kick-Out
Funk Zone Work Yard to Become a Parking Lot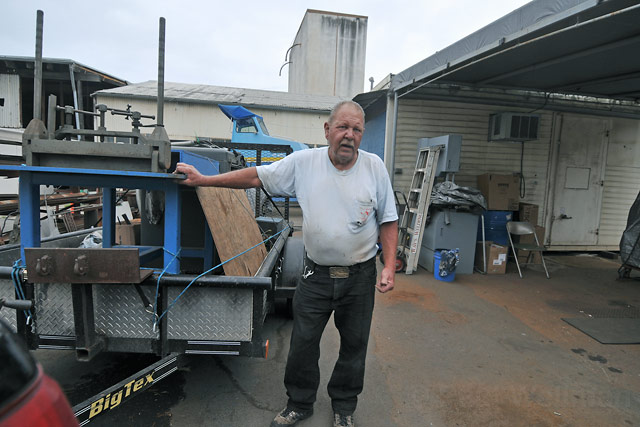 The era officially ends on October 17, but if you head down to 120 Gray Avenue today, it certainly seems like it is already over. A living, breathing work space for dozens of craftsmen since the Weber's Bread bakery that once occupied the property shut down in the 1950s, the longtime Funk Zone work yard — thanks to a city unwilling to look the other way and a property owner unwilling to fight — has been disbanded by eviction letters. Even worse, with a sputtering economy making work hard to find and affordable rental alternatives even scarcer, the kick-out is a de facto death blow for many of the evicted businesses. "The end result of this whole thing is people are being put out of work and out onto the street when none of us want to … And for what? So the city can turn this place back into a parking lot?" asked Geoff Blackburn, who, up until this week, ran his joinery business from the yard.
In fact, if all goes according to plan, a parking lot is exactly what is going to become of the once proud work yard. Thirty-day eviction notices — driven by numerous alleged zoning, fire, and safety and building code violations at the property levied by the city earlier this year following an anonymous tip — were served this past spring on 14 of the 20-odd businesses that occupy the lot by property owner Janet Nancarrow, the daughter of Elephant Bar and Carrows Restaurant founder David G. Nancarrow. However, after spending thousands of dollars toward remedying the situation and after getting a reprieve of sorts from the city, thanks in large part to the behind-the-scenes work of city councilmembers Das Williams and Dale Francisco, Nancarrow rescinded a majority of the notices.
While certain violations remained, the message from the city (at least in lip service) was pretty clear: Keep working toward resolution, and we will leave you alone.
Specifically, a zoning issue exists mandating that the outdoor space in the middle of the yard — which has, for several decades, been reimagined as a parking-friendly open-air work yard for welders, surfboard builders, boat builders, cabinetmakers, and others — be cleaned up and out and turned back into the parking lot it was intended to be back in the Weber's Bread days.
"[Nancarrow] fought to keep this part of the property a working yard, [but] the City has required that your yard space and shop space be returned to its original use as a parking area."
However, on August 17, for virtually all those who remained in the yard, the other shoe dropped. In a letter hand-delivered to tenants by property management company Lynx Management, a 60-day notice to vacate was announced. According to the letter, "[Nancarrow] fought to keep this part of the property a working yard, [but] the City has required that your yard space and shop space be returned to its original use as a parking area."
It was a bitter pill to swallow in and of itself, but when taken in the context of the surrounding area, including property owned by Nancarrow herself, where zoning violations and on-the-sly structures are essentially par for the course and parking space is rarely an issue, the news was especially tough to choke down. As one of the evicted, woodworker Skip Saenger, put it, "The city is choosing to enforce this archaic zoning law, but they aren't looking anywhere else around the neighborhood … I guess, that's the system, but it sucks. In the big picture, this doesn't do anyone in this town any good."
Things went from bad to worse for the evicted when they discovered that things weren't quite as one-sided as Nancarrow and the property manager would have them believe. According to Das Williams — and backed up by Paul Casey in the city administrator's office this week — eviction was only one of the options the city presented to Nancarrow this summer. "We laid out a game plan for the owner to pursue which included applying for a coastal development permit and going to the Planning Commission to try and legalize the existing conditions [in the work yard], but the owner, for whatever reason, decided not to do that," explained Casey. Additionally, the city also reportedly offered Nancarrow a possible resolution that involved moving the businesses in the yard to an indoor location, but again she declined. Expressing a strong "disappointment" with the situation, Williams, who said he personally offered to help Nancarrow through the permitting process if she chose that route, added, "This is very much her decision, and it is not at all what we would have preferred." For her part, Nancarrow, through a spokesperson, declined to comment for this story.
In the meantime, the yard is all but vacated, tools have been sold, storage containers removed, and feelings hurt. "After more than 13 years down here, I just wish somebody would tell me the truth. We are all big boys. We can handle it," summed up Ray Duncan, whose popular Ray's Welding company was a staple on 120 Gray. He is now out of business.