Bottles & Barrels
Whole Foods Presents "A Collaboration" Wine
Margerum and Hitching Post Winemakers Team with Market to Make Santa Barbara County Blends
Since opening its doors last October to wary mom-and-pop-loving Santa Barbarans, Whole Foods Market has settled into town quite nicely. Relatively small and relaxed in its cozy upper State Street corner, the chain grocery store has admittedly done a fine job of feeling "local" in lieu of its corporate nametag. And on September 30, Whole Foods made perhaps its grandest gesture to locavores yet, introducing its new "A Collaboration" wine label.
The project marries the market with Santa Barbara County's wine country under the new label, as local winemakers worked closely with Whole Foods to develop the line of wines. Shoppers will find the wines on the shelves of three Southern California locations: the new Huntington Beach store, the Venice store, and, of course, in Santa Barbara.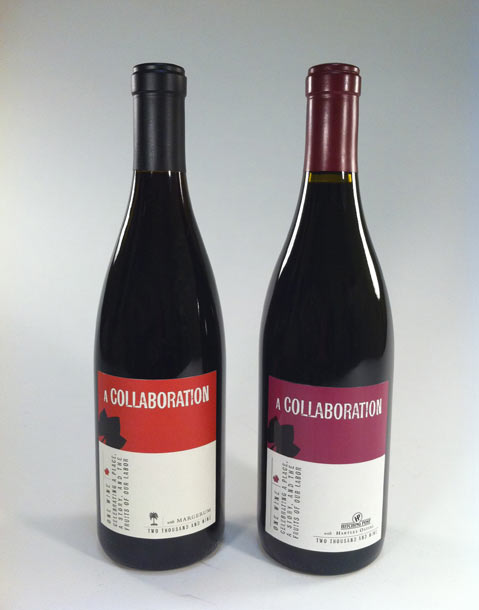 The congenially affordable wines grace the three locations' wine sections thanks to Whole Foods Market specialty coordinator Chris Giuliano. Enthusiastic and personable, Giuliano expressed genuine excitement about Santa Barbara County's wine industry and a thirst to share it with Whole Foods customers in a new way. He came up with "A Collaboration" after asking himself, "How are we going to bring the vineyards back to our store? How are we going to bridge what's going on [in Santa Barbara wine country] and tell those stories here in our stores? What does that story look like on our shelves?"
Enamored by his adventures in the wine region, Giuliano wanted to create Santa Barbara-wine-savvy Whole Foods employees and shoppers, using materials like detailed AVA (American Viticulture Area) maps and winemaker profiles. This part of the project, Giuliano sincerely divulged, "I am so excited about" because "customers can really interact [with the wine department] and get information so that they can understand a little bit more about what we're trying to do."
So far, he has pursued two of his favorite wineries, spending time and working one-on-one with winemakers Doug Margerum of Margerum Wines, and Frank Ostini and Gray Hartley of The Hitching Post Winery. Giuliano has been surprised at how happy and helpful the vintners have been, especially at the chaotic dawning of harvest.
Margerum, whose "A Collaboration" premiered on September 30 as the first of the series, never felt a twinge of apprehension about the project. Tired and amazed at witnessing several restaurants emphasize locally-farmed foods yet pour corporate wines from afar, Margerum admires the corporate chain for its excitement about local wines. "Winemakers here are making wines to go with the cuisine, the temperature, the climate," he remarked. "We're making wines for this area, this is where we live." So he gladly let Giuliano into his winery, allowed him to select what he wanted "down to every single frickin' barrel," and blended it for him.
In many ways, working with Margerum means working with the whole county. Because he buys fruit from various vineyards and works with several wineries, the first "A Collaboration" — which uses six grape varietals from 12 vineyards — represents a wide range of the region's industry.
Similarly, Hitching Post Winery winemakers Ostini and Hartley quickly jumped on "A Collaboration," happy to help the company they've worked with for over a decade. In fact, like Margerum, the two gave Whole Foods ample freedom, ending up with a wine they never would have made on their own. "We're pinot noir producers, but this wine is different — full of flavors, in-your-face, showy," said Ostini. "It's a very young, rich wine." The 75 percent valdiguie (a varietal unfamiliar even to wine know-it-alls), 25 percent ayrah "A Collaboration" blend will show up in stores mid-October. "We're happy to show that we, too, are able to make something different and original," he explained. Plus, Ostini reasoned, "it's very affordable to try."
Talking to Giuliano, Margerum, and Ostini and Hartley reveals that, aside from tons of fruit and labor, an amazing amount of mutual respect has made its way into the first two "A Collaboration" wines. Margerum sees the market as a leader in Southern California's hopefully budding local wine movement. On a smaller scale, he possesses a personal affinity for the chain. "Whole Foods is incredible," Margerum raved. "I have a 13-year-old kid and one of the things we like to do is go to Whole Foods. It's so much fun."
If all continues to run as smoothly as it has so far, Giuliano hopes to create a dozen "A Collaboration" wines per year, enthusiastically pointing out the endless diversity of Santa Barbara County wines. "We feel really committed to our wine-growing and wine-producing partners," Giuliano resolved, "and in order to tell their story, give the wines they make a higher profile, and engage customers in what they're doing, somebody needed to do more than just put it on their shelf."