News
Man Beaten to Death on Walk Home
Recently Released Gator Rollers Accused of Attack on Milpas Street Employee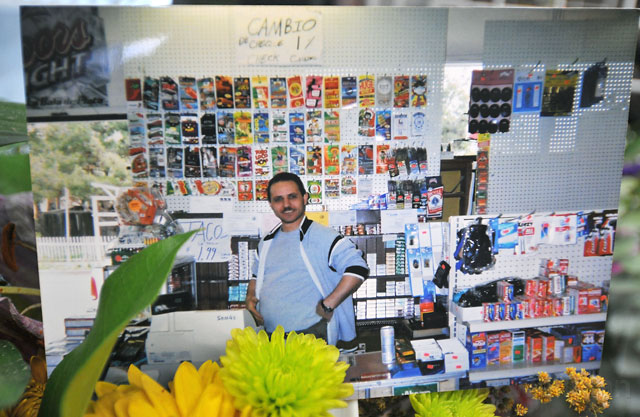 George Ied was walking home in the early morning hours of October 12 when he was brutally attacked and left lying on the sidewalk, unconscious.
Two brothers — both recently released from federal custody — were arrested within the hour. Another man was apprehended later that day, and a fourth three days afterward. All four were charged with attempted murder with a gang enhancement, and a charge of committing a crime to benefit a criminal street gang.
Tragically, on Saturday at around 3:30 a.m., Ied died in Santa Barbara Cottage Hospital. He was 37.
Monday morning, authorities amended the filed attempted murder charges against the four to murder charges, and the accused — Miguel and Ismael Parra, Steven Santana, and Michael Cardenas — all appeared in court Tuesday morning at an arraignment hearing. Their supporters flooded Department 8 for the arraignment, though the hearing ended up being brief. The judge set bail for Miguel Parra at $1 million, and none of the four entered a plea, instead continuing their hearing until November 9. If found guilty of the charges, the men could face life behind bars.
A service for Ied was to be held in the San Fernando Valley on Wednesday. People who knew Ied called him a "really, really sweet, gentle soul." He was a hardworking man, Police Chief Cam Sanchez said, and didn't have family in town. His brother lives in Ventura, friends said, and his parents live in Syria. A memorial has been set up inside Mi Fiesta Liquor on Milpas Street, where Ied was employed.
Police believe he was walking to his home on Salinas Street from work and was on the 1300 block of Punta Gorda Street, only a block away from his home, when he was punched, beaten, and stomped unconscious. Some said he was hit more than 100 times.
Responding officers quickly arrested the Parra brothers, who were allegedly burning clothing in their backyard; their house was not far from the site of the attack. Police determined the two, who allegedly had been drinking, had recently been in a fight. Twelve hours later, Santana was arrested while walking down the street, and Cardenas was arrested Thursday night. Police Chief Sanchez said blood was found on at least one of the suspects, and one was armed with a knife, though he didn't elaborate.
Sanchez said there was no indication the suspects knew or had interacted with the victim in the past. Police spokesperson Lt. Paul McCaffrey said he wouldn't comment on whether there were additional suspects being sought.
All four are alleged to be members of the Eastside gang. The Parra brothers recently got out of federal prison, having served time after being indicted as part of a crackdown — known as Operation Gator Roll — against the Eastside gang. Miguel Parra, 22, received 23 months for pleading guilty to conspiracy to distribute cocaine. He was released on June 17. His older brother, Ismael Parra, 25, was released from custody on September 16 after serving time for a guilty plea to a federal charge of conspiracy under the Racketeer Influenced and Corrupt Organizations (RICO) Act.
Both of the Parras were under federal supervised release, according to Assistant U.S. Attorney Mark Aveis, who prosecuted all of the men from the Gator Roll indictment. The terms of the release prohibited them from engaging in gang-related activity and required that they obey all laws. The two could be brought back in front of a federal judge on charges of violating the terms. Of the 28 men who faced federal indictment as a result of Gator Roll, 11 have been released from custody.
Ismael Parra has two open misdemeanor cases in Superior Court, as well, stemming from charges filed before he was taken into custody during Gator Roll.
Santana, meanwhile has a few minor misdemeanors on his record, while Cardenas, since 2005, has been cited for 13 misdemeanors, several of them for resisting or delaying police officers. He has spent his time in and out of Santa Barbara County Jail as a result of many of those charges. He pleaded no contest to a battery charge in 2008, when he allegedly slapped and grabbed his pregnant girlfriend. He was sentenced to 90 days in jail.
While gang-on-gang violence has been increasingly common on the streets of Santa Barbara in recent years, the allegation that these men attacked a man with no criminal history or gang affiliation was particularly troubling to Chief Sanchez. "They're stepping outside their own box and attacking innocent people," he said. In response, he said at a press conference last week, his department was reorganizing its priorities and ratcheting up its response.