News
Election Results Wrap-Up
Santa Barbara Experiences Limited Bum Tossing; Capps and Williams Victorious; SBCC Incumbents Lose
Santa Barbara voters evidenced only limited appetite for the wholesale political upheaval taking place throughout much of the country, returning Democratic incumbent Lois Capps for a sixth term of office and again supporting Senator Barbara Boxer along with the rest of California. Meanwhile, Santa Barbara voted to send Das Williams to Sacramento, rejected a ban on pot dispensaries within city limits, and, in perhaps the most locally watched race overall, swapped out a number of long-serving incumbents on the Board of Trustees at Santa Barbara City College in favor of three of four challengers. On statewide matters, Santa Barbara voters supported the legalization of marijuana — although Proposition 19 ultimately failed statewide by a slim margin — and also preferred a new governor in the form of Jerry Brown, who also found support across the rest of the state. And those were just some of the many results, the bulk of which are detailed here.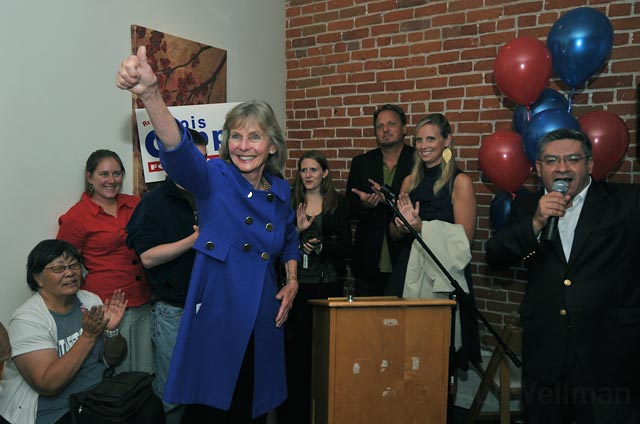 23rd Congressional District: Lois Capps vs. Tom Watson
Capps, a liberal Democrat and strong supporter of health-care reform and the same economic policies that landed fellow Democrats in hot water elsewhere, did encounter stronger opposition than usual — but she still won with 57 percent. That lesser-than-usual margin was due to her Republican opponent, Tom Watson, who marshaled a more spirited attack than Capps has seen in previous campaigns and got 38 percent of the vote. But even with the Tea Party's wind at his back, a professionally run campaign, and a very respectable war chest, Watson could not overcome Capps's enormous advantage in Democratic voter registration. In third place was Independent challenger John Hager, who won 2.8 percent, and Libertarian Darrell Stafford, who eked out 1.6 percent.
For Capps — who not only has won "nicest member of Congress" accolades from her peers in power three times in a row but also is the closest thing to a political machine the South Coast has seen in years — the victory was bittersweet. With Republicans winning at least 60 House seats, they now control a majority there. "I'm willing to work with [Republicans], to reach across the aisle. Obama's still got two more years and he's got the veto pen, so if they want to get anything done, they'll need to work with us, too," said Capps, whose minority status may cost her a seat on the Natural Resources Committee but may lead to elevated seniority on the Energy and Commerce Committee. "The same people who were unemployed before the election are going to be unemployed after the election. No matter what side you're on, we've got to deal with that."
Senator Barbara Boxer, however, will still be in the majority, as Republicans failed to win control of the U.S. Senate. The San Francisco liberal beat back a strong attack from former Hewlett-Packard CEO Carly Fiorina by picking up 52 percent of the vote statewide — but here, voters were less sure, as only 48 percent leaned toward Boxer, with 46 percent opting for Fiorina.
35th State Assembly District: Das Williams vs. Mike Stoker
In Sacramento affairs, Santa Barbara voters were similarly torn, favoring Jerry Brown for governor with 48 percent compared to 46 percent in support of former eBay chief Meg Whitman; statewide, Brown nabbed nearly 53 percent. But more critical for local representation was the surprisingly ferocious race between Santa Barbara City Councilmember Das Williams and recurrent Republican candidate Mike Stoker in the hunt for the 35th Assembly District.
With returns showing a Stoker lead late into the night, the former county supervisor quipped, "I'm doing better than a lot of people in Sacramento [thought I would]," during the Republican party at The Brewhouse, later adding, "We ran the best campaign we could have run. There's nothing else I could have done." His campaign was aided at the last minute by $250,000 from the California Chamber of Commerce, which funded a barrage of hit pieces on Williams in the final days.
But even that couldn't tackle the overwhelming Democratic tide present in the 35th. By night's end, Williams emerged victorious. Once he knew his victory was clinched, Williams praised his staff and volunteers for their efforts. He acknowledged that the race was tougher and tighter than expected, but said forcefully, "I believe we withstood it." He vowed to work hard in Sacramento and make education his top priority.
Marijuana Issues
On the pot legalization front, Prop. 19 won nearly 51 percent support in Santa Barbara — galvanized no doubt by the student vote — but lost statewide with 54 percent saying no. The anti-medical marijuana dispensary initiative Measure T, however, went down to a crushing defeat in the City of Santa Barbara, with nearly 61 percent defeating that idea. One of the measure's main proponents, City Councilmember Dale Francisco, was disappointed. "Prop. 215 has done nothing but spawn lawsuits. It's about recreational drug use," he said. "If it was about medicine, it would be a totally different approach. As a city councilmember, I'm not concerned about the person smoking pot in his backyard — I'm concerned about criminal activity, and the dispensaries attract criminal enterprises."
But Nathaniel Reinke, owner of The Green Well dispensary, saw it differently. "With over 60 percent of the people voting in favor of sensible regulation rather than an outright ban, it shows the clear support that there is for storefront collectives," he said. "It also makes it clear what a waste of valuable city resources this ballot measure was."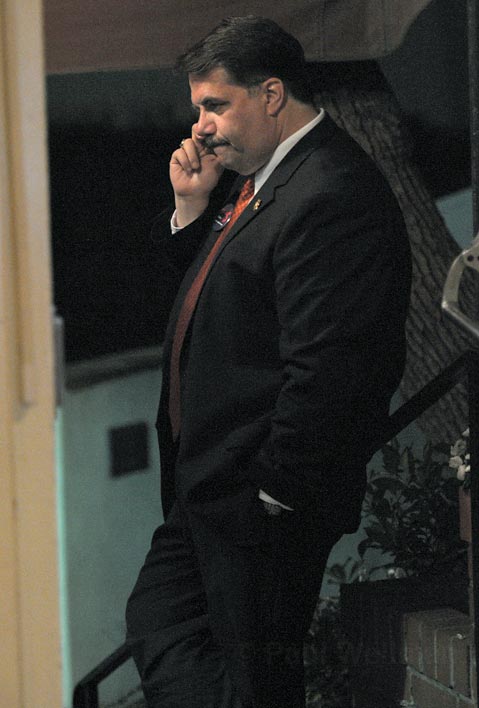 Measure S: New County Jail
This year's vehement anti-tax feelings spelled almost immediate doom for Sheriff Bill Brown's Measure S, which would have raised money with a half-cent sales tax to build a new county jail. Requiring two-thirds support, Measure S wound up attracting nearly two-thirds dissent: About 61 percent of county voters rejected it.
"It's very disappointing," said a downtrodden Brown. "The people have spoken. This is not the way they want to resolve this issue, but the problem will get worse before it gets better." As for the $56 million of state money that the county stood to earn, he said it will be on the table until 2017, but that it will take four years to get the jail built. That means he'd have to get the matching funds by 2013 by creating another ballot measure within that time frame. Brown hasn't ruled out another tax measure in better economic times.
School Issues
Those anti-tax feelings did not hurt Measures Q and R, bonds for capital improvements at Santa Barbara's public schools; both got around 70-percent support. Campaign consultant Brian Robinson chalked that up to a "team effort," explaining, "If it wasn't for the hard work that the teachers do for our kids, these wouldn't have passed."
To the extent that anyone did get the boot from office, it was the long-standing incumbents serving on the Santa Barbara City College Board of Trustees, who, combined, could boast more than 150 years of community service. Of the four running, only one remains: Desmond O'Neill, who came in second place in a two-seat contest to former Santa Barbara mayor Marty Blum. She led the slate of challengers — including election winners Peter Haslund and Lisa Macker and the one losing challenger, Marsha Croninger — who emerged after controversies related to the SBCC budget and Continuing Education program.
"We are all disappointed — obviously, it's nothing I feel happy about," said O'Neill, speaking about the now former trustees Kay Alexander, Joe Dobbs, and Sally Green. "I am sorry that the campaign turned so poisonous. But we are going to have to buckle down, put our differences aside, and work together for the better of the college."
While Blum said she's looking forward to starting work as early as December 3, Macker explained, "We made a difference just by entering the race in the first place, so to see most of us getting through is even sweeter. All we have to do now is keep our promises."
In another strong showing, the young and energized Monique Limón emerged as the top vote-getter for the Santa Barbara School Board, taking about 31 percent of the vote, with incumbent Kate Parker coming in second with 29 percent. "We just might make Santa Barbara history tonight," said Limón, explaining that, for the first time ever, the school board has two Latinas serving (Annette Cordero being the other).
In Goleta at Hollister Brewing Company with the folks supporting Measures Q and R, Parker said she looks forward to tackling some very dramatic issues in the next four years and believes her experience can "keep the momentum going."
Goleta City Council
Also partying at Hollister Brewing was Goleta City Councilmember Roger Aceves, who topped that race for council with about 29 percent. "I'm extremely gratified that they have responded so amazingly," he said of the voters. "Four years ago when I ran, I came in third out of six. I really tried hard in the past four years to prove that I had their best interests in mind."
Incumbent Michael Bennett also won his seat easily with about 27 percent. While watching results come in at Zodo's bowling alley, he explained, "We've had a well-balanced council over the last two years. All residents and stakeholders in the city are represented. I'm hopeful and optimistic that we will continue in that vein." Also at Zodo's was Reyne Stapelmann, who lost in the battle for the third Goleta Council seat to Paula Perotte. "Considering I had the smallest budget, I think I've done incredibly well, and I enjoyed it," said Stapelmann, a planning commissioner. "Whether I am elected or not, I'll still be a part of the City of Goleta."
Though nervous early in the night during her party at Holdren's Grill in Goleta, Perotte was overjoyed by Wednesday morning. But even before being declared victor, Perotte was feeling great due to the "positive energy" she felt from her friends and supporters. "It's wonderful," she said.