Living
What's New Beyond the Malls
Plum Goods and Presidio Motel Have Holiday Gifts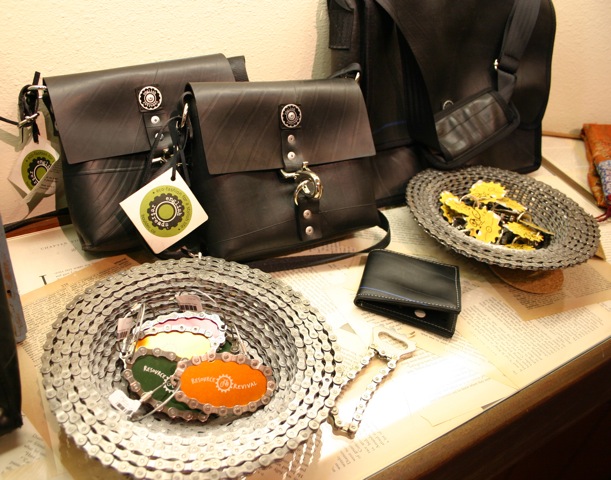 SPOTLIGHT ON: Plum Goods
What is there to say about a store that stocks bags made of recycled tires, old belts repurposed as dog collars, jewelry and original art from some of the finest S.B. has to offer, punk-flavored trivets, and bowls created from cast-off tools and hardware (waaaaant!!) designed by a cowgirl who credits her parents with teaching her how to dumpster dive—a store whose owners refer to themselves as Sanford and Son? Where should I start? Plum Goods (909 State St.), the latest shop to hang its shingle on State Street, is a little den of delight for those with a taste for unique, stylish, inspired treats for the home and the bod. Or anyone with a holiday shopping list to knock out.
After years in PR, marketing, and writing, owner Amy Cooper found herself at Horny Toad, whose focus on three bottom lines—environmental, social, and fiscal—fueled the flames of a long-held dream to open her own shop. And she went for it, securing and designing the space, sourcing the inventory, and employing longtime pal Fabian Ojeda—formerly the visual director at Saks Fifth Avenue—as the manager. All since June. "My friend said to me, 'That's impossible!'" Cooper said. "I'm just glad nobody told me that before!"
The two have joined forces to epic effect, pulling together an incredible selection of one-of-a-kind items—furniture, textiles, glassware, jewelry, cards, books—made by hand, upcycled, fair trade, organic, or just plain awesome, and the design of the space itself is as fabulous as what's on display. Look closely for Ojeda's magic: Cards hang on an old mattress spring found on the side of the road and studded with display shelves fashioned of floorboards from a Victorian house; a stunning lamp hangs front and center made from the horn of an old Victrola.
In addition to its focus on shopping with a soul—and a conscience—Plum's a great space for a party, and they've jumped into the 1st Thursday game, welcoming artist Matti Berglund on December 2. Price points run quite a range, so even if you can't afford the recovered antique desk, you are guaranteed to find something to make you swoon. And here's a word to the wise: Even if you don't plan on giving your purchase to anyone, lie. Every gift is wrapped and topped with a flower made from old magazine ads.
BUBBLES AND BAUBLES: Every StylePhile knows that shopping feels best when combined with cocktails and a charitable cause, and if bright and shiny objects are your thing, you'll love this: The Canary Hotel (31 W. Carrillo St.) is hosting a trunk show featuring Charlotte Bjorlin D'Elia's costume and fine jewelry on December 9, from 5-7 p.m., a portion of the proceeds from which will go to the Teddy Bear Cancer Foundation. Stop by for sipping and nibbling, and to ogle the goods, which offer a taste of American sportswear, a hint of European couture, a twist of rock and roll—and a celeb following that reads like a talking-points memo from TMZ. If you can't make it to the event, you can still check out the eye candy, which will remain on display through the rest of that weekend. Just try not to lick the case.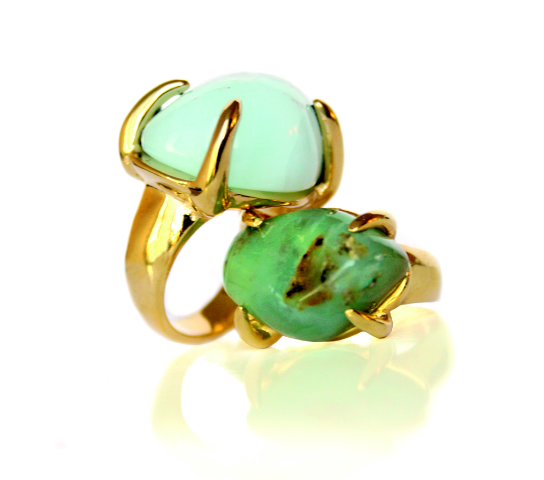 RUB-A-DUB-DUB: What do you get when you combine a husband who's a chiropractor/tennis enthusiast with a wife who's an avid dancer with a talent for perfume mixology? Here's another hint: The husband was frustrated with conventional chiropractic skin products, which used a lot of synthetics but didn't actually do much to alleviate clients' pain, and the wife has a penchant for all things eco and a way with essential oils. If you answered Icy Hot, you couldn't be more wrong. In fact, think of KoreMana, the brainchild of Kevin and Misty Khalili, as the anti-Icy Hot, the un-Bengay. Their flagship product, Xtreme Creme, is an exercise-activated sports rub that's designed to generate relief of muscles and joints during and after your workout. The all-natural cocktail of herbs helps to relieve pain and swelling, reduce inflammation, ease circulation, and maintain flexibility. They spent four years getting the concoction just right, and, since launching in 2007, it's become a favorite of fitness centers, Pilates instructors, tennis pros, and extreme motorbikers. Check their Web site (koremana.com) for where-to-buy info, or stop by the Santa Barbara Athletic Club on December 1 to score a special package deal perfect for the fitness fanatic on your list: three for $20.
SHOP THIS: DECK THE HALLS, SKIP THE MALLS: If the thought of hitting a department store during holiday season is enough to send you face down into a vat of eggnog, take heart, and mark your calendar: On November 27, from 9 a.m.-6 p.m., Renae's Bouquet in Santa Ynez will host a holiday open house and art show offering eclectic, modern gift ideas from area artists—and a fantastic excuse to get outta Dodge … And on December 4, the Presidio Motel will be transformed into a holiday pop-up mall featuring indie designers from 5 p.m.-midnight. There will be a couple of vendors in every room, and the Mercury Lounge will be manning a pop-up bar. Expect music and performances throughout the night, as well as goods from Warbler Records, Golden Path Alchemy, Miss Behavin', Smoke & Mirrors, make.smith, Simone Rubi, Holly McKay, Lime Green Monkey, Collage Philosophy, Bocage New York, and Mary and the Machine. Kat Trajano and Stephanie Mansolf will be making custom decals, and Nancy Neil will have a photo booth (though I can't guarantee whether there'll be a Santa's lap for you to sit on). All holiday shopping should be like this.