Food & Drink
Taffy's
A Santa Barbara Hometown Pizza Joint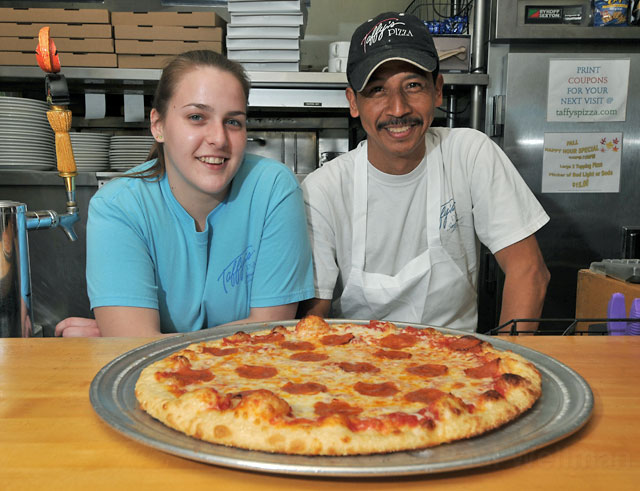 Where: 2026 De La Vina Street, 687-3083, taffyspizza.com.
What: A Santa Barbara pizza tradition, with both indoor and outdoor patio seating, open for lunch and dinner.
How Much: Personal Taffy's special pizza, $9.99; large pesto special with three toppings of your choice, $21.99.
The Dish: Above Mission Street on De La Vina is Taffy's Pizza, established in a converted cottage home in 1973. With a focus on both in-house and delivery pizza, the menu also hits sandwiches, a variety of salads (from the 'Lo Cal' to sausage- and pepperoni-packed Italian), a soup of the day, meat-layered lasagna, and plump steaming pesto breadsticks for dipping ($3.99/dozen). Pizzas are prepared with your choice of whole wheat or white crust. Try the Taffy's Special, topped with pepperoni, Italian sausage, bell pepper, and onion. Lighter options are easy here: Choose from six salads, and add freshly grilled chicken, or try a veggie pizza on whole wheat. Lunch specials and happy hour abound with beer on tap, pitcher service, and a pizza-salad-drink combo. Fill out a customer survey on their Web site and receive Taffy's Coupons.