News
A Kinder, Friendlier Predator?
The Risks and Rewards of Unmanned Aerial Vehicles
I'm of two minds as I drive down the Pacific Coast Highway toward the Naval Air Warfare Center Weapons Division (NAWCWD) at the Point Mugu naval base. The reporter in me is ready to expose the Central Coast's little slice of the military-industrial death machine; the 12-year-old boy in me is stoked to see some airborne techno-porn that is fast, sleek, and highly competent in blowing stuff up.
Specifically, I'm going to interview an engineer named Matthew South who tests unmanned aerial vehicles (UAVs) for use by the Navy. I've been telling my friends for a week that I'm going to get to fly a Predator drone and maybe endanger a few marine species by shooting off its payload of Hellfire missiles into the Pacific Ocean. Although I was joking, I did expect to at least see a UAV.
As it turned out, there were none on the base at the time. And even worse, I learned that South might be more instrumental in helping biologists survey wildlife on the Channel Islands than he is in helping soldiers pick off bearded men in the mountains of Waziristan.
Todd Jacobs, deputy superintendent for operations of the Channel Islands National Marine Sanctuary — a division of the National Oceanic and Atmospheric Administration (NOAA) headquartered in the Santa Barbara harbor — coordinates experiments with UAVs up and down the West Coast. He tells me that South has been pivotal in arranging local experiments. Because unmanned vehicles have not yet been approved to fly in the National Airspace System (NAS), they can only operate in military test ranges. Point Mugu's test range conveniently overlaps the Channel Islands Marine Sanctuary.
When I get to Point Mugu, South shares with me a presentation he has prepared for a fundraiser for Cal State University, Channel Islands, next month. To my chagrin, it is about the potential civilian uses of UAVs. It turns out that all the articles I've read in the preceding week about the CIA's unauthorized drone wars aren't going to be too helpful. Besides the fact that I'm being monitored and recorded by a public affairs officer who suggests that we "stay away from philosophy," the most newsworthy information to be gained here about UAVs might just be that they are making a transition to civilian life.
In fact, the technology has already been put to plenty of nonmilitary use. A Predator drone — made by the San Diego-based company General Atomics — equipped with infrared sensors instead of Hellfire missiles (and called Ikhana instead of Predator) monitors forest fires. It has the advantage of flying into areas too smoke-filled for manned aircraft to navigate. Aided by GPS and GIS technology, it can also provide real-time maps of fires. The NASA-operated vehicle was deployed to monitor the 2007 Zaca Fire, which burned portions of Santa Barbara and Ventura counties.
Jacobs coordinated an experiment in which two large surveillance UAVs made by Northrop Grumman, called Global Hawks, dropped aerial buoys (or "dropsondes," as scientists call them) along the Pineapple Express, a path of "atmospheric rivers," or moisture-filled currents, that reach from Hawai'i to the California coast. Jacobs says that Hawks can carry more of the data-collecting buoys than airplanes while traveling thousands of miles without refueling. They also spare a pilot from a long, monotonous flight.
South suggests that UAVs will potentially be outfitted for tasks such as fisheries protection, surveillance by law enforcement, crop dusting, telecommunications, disaster relief, and search and rescue. The Air Force sent a Global Hawk to Haiti after the earthquake last January.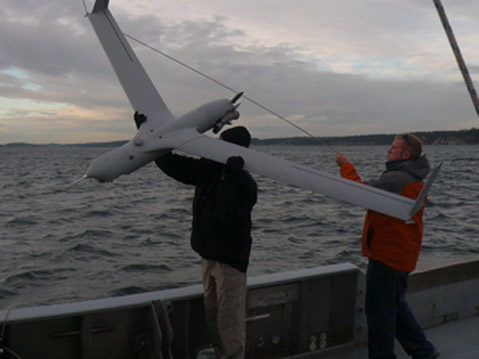 South and Jacobs both say that unmanned vehicles are best employed to do jobs that are "dirty, dull, and dangerous." This perspective paints a rosy picture of UAVs' potential while glossing over their risks. They are still operated by humans, some of whom have reported combat fatigue and PTSD even if they were never in harm's way.
In testimony before Congress this past summer, Nancy Kalinowski, Federal Aviation Administration (FAA) vice president for System Operations Services, said that between 2006 and 2010, UAVs used for surveillance by Customs and Border Protection had an accident rate seven times higher than that of manned aircraft and 353 times that of commercial aviation flights. For this reason and others, the FAA is not rushing to allow UAVs to operate within the NAS, or air-traffic controlled airspace; however, integration of UAVs is an ultimate goal.
And even if the FAA doesn't allow commercial use of UAVs for at least five more years, it can issue waivers for the purposes of law enforcement and national defense. Such states of emergency allow for the executive branch to operate within a legal no-man's land as it did in the wake of the 9/11 terrorist attacks. For instance, the military first started using weaponized UAVs for targeted killings after 9/11. Up until then, they had only been used for surveillance.
P. W. Singer, a senior fellow at the Brookings Institution and author of Wired for War: The Robotics Revolution and 21st Century Conflict, told me in an email that he believes the proliferation of UAVs in civilian life will outstrip the legal framework for dealing with their ramifications just as has happened with militarized UAVs. (There are no clauses in the Hague Conventions that address unpiloted, missile-launching airplanes, cruising through Asia, controlled by operators in a trailer outside of Las Vegas.)
The civilian example Singer offered comes from law enforcement: "I recall a conversation I had with a federal District Court judge who talked about the deep questions of privacy and probable cause raised by a system that carried out unblinking observation from above. A law enforcement agency for instance could easily and even inadvertently gain info that it previously needed a warrant for. He predicted we'd soon have some Supreme Court cases on this as the technology began to be used more and more."
As of this writing, I still haven't seen an actual UAV. It's clearly only a matter of time, however, before we will all see them flitting through our everyday lives, and maybe an even shorter amount of time before they see us.