News
Axles to Grind
Montecito Motors Victims Speak Out; DA Mulls Criminal Charges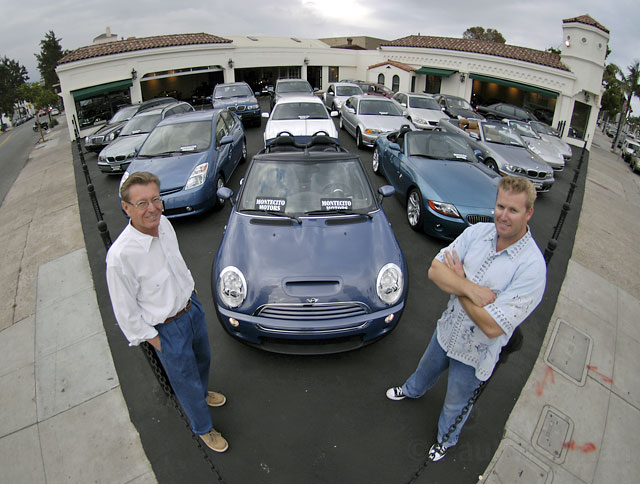 Used car salespersons throughout Santa Barbara let out a collective groan when Montecito Motors closed in early September amid allegations that its owners — father-son team Chet and Adam Taylor — had duped dozens of clients out of hundreds of thousands of dollars. Their scheme reportedly involved selling high-end, pre-owned cars out of their Chapala Street lot on consignment but then allegedly shirking contracts by fraudulently delaying payments, offering partial payments, or failing to disclose sales altogether. "We have a hard time earning respect anyway," said one salesman, shaking his head. "This isn't going to help anything."
When news broke that the Taylors had abruptly closed shop, six disgruntled customers filed police reports with Detective Greg Hons within a week. It's been three months, and Hons just finished talking with the last of 23 more people who claim they were similarly ripped off when their cars were sold without their knowledge and they were never paid. At first, Hons didn't think the case would graduate from the civil to criminal arena because there didn't seem to be malicious intent. But now it seems the Taylors either pocketed or redirected around $750,000 of their customers' money and possibly forged signatures in order to secretly transfer titles, which could lead to embezzlement and grand theft charges. That decision will be up to the District Attorney's Office — which received the full report last week — but prosecution could begin as soon as January.
Motors Operandi
The Independent has spoken with numerous people over the last few months who say they are victims of deceit and manipulation courtesy of the Taylors. While their stories vary, there is a narrative common to all.
According to the victims, the Taylors would talk a great game — complete with firm handshakes and beaming smiles — promising to sell their cars quickly and for a fair price. But once months passed without any action, the victims would start to get curious and press the Taylors to see if there was any buyer interest. Oftentimes, their cars had already been quietly sold. Some were shipped overseas, others driven by unwitting buyers right off the lot. All the while, many of the victims were continuing — and still continue — to make payments on vehicles now driven by someone else because the titles are still legally in their names.
When customers eventually showed up at the downtown lot asking for their cars back, the Taylors would reportedly employ an arsenal of excuses, explaining that the vehicle was being cleaned, test driven, or repaired somewhere else. Once the victims' skepticism grew into distrust, the Taylors would either peddle more explanations — lost paperwork, bounced emails, issues with the DMV and insurance companies, and so on — or just become completely unreachable.
Only when people began filing police reports did the issue come to a head. The Taylors admitted to police that they may have fudged payments here and there, but only because they were trying to catch up when the economy tanked. Their victims, though, see the Taylors as nothing short of white-collar crooks.
It's not clear exactly how the money was spent or funneled, but it's widely speculated the Taylors used the cash they made from selling one person's car to pay another client back. By all accounts, the family is now hurting financially, making it unlikely the victims will ever be made whole.
Chet Taylor's attorney, Josh Webb, said it wasn't his client's intent to defraud anybody, but admitted the salesman may have been a bit negligent in his bookkeeping. "He is quite, quite remorseful that the alleged victims are out of money," Webb said. "Chet is a real good-hearted person. If, hypothetically, he came into a lot of money, the first thing he'd do is pay people back." Webb also emphasized that both Chet and Adam were cooperative with police throughout the initial investigation.
Former deputy DA Josh Lynn, who's representing Adam, said his client is "certainly sorry to see his business fail and customers who he considered friends accuse his family of wrongdoing." He wants to do all he can to work things out with those customers and had no intent to steal from anyone. "[Adam] is a family man and remains crushed by these developments," Lynn said.
Blindsided
Rogers Follansbee knew the Taylors personally, as some of their children went to school together, before his business dealings with them went south. Follansbee said that because he lives most of the year in France, the Taylors had an easier time keeping him out of the loop when the Jaguar and Mercedes he brought to Montecito Motors were bought without him knowing it. Both of the Taylors are as charming as they are friendly, said Follansbee, but they use these character traits to their sinister advantage. "The level of expertise that they had in being able to bamboozle was absolutely uncanny," he summed up. "These are people who could inspire confidence in anyone."
One woman who spoke to The Independent on the condition of anonymity said she had been looking for someone who could store her Thunderbird when the Taylors agreed to find a safe space. When she asked for it back, she got the bad news: Rats, said Chet, had climbed in through the cars' open windows and eaten it from the inside out. It was a total loss, she was told, and insurance wouldn't cover the freak mishap. Only when Montecito Motors was boarded up did she learn that the Thunderbird was sold months prior.
Lisa Nelms's Mercedes was sold within six months, but she didn't learn of the transaction until a year after. She had stopped by the lot to see where things stood, only to be told her car was in the possession of a recent buyer. The fact that she wasn't informed was just an oversight. She was told Adam would call her immediately to clear things up. He never did. Nelms contacted her finance company, to which she was still making car payments, and the company cited a document that surrendered ownership of her car to Montecito Motors. Surprised, because she had never signed such an agreement, Nelms asked for a copy and found that her signature had been forged twice. When she confronted Adam, Nelms said he admitted to them in order to "speed things up."
"Adam and Chet just lied through their teeth," said Nelms, who claimed Adam approached her after the fallout offering to pay cash in return for her not contacting police. Nelms refused and did contact the cops. "I'm just glad they're no longer victimizing people," she said.
Upon being "shocked" to learn his BMW had been sold and delivered this past summer, Mark Heitmann stormed the Montecito Motors office and learned from Adam that the company was having financial problems, that his file had been lost, and that his car was essentially lost. Heitmann, who's now working with BMW experts to track down his car via the GPS system, thought about suing the Taylors, but decided he would probably wind up spending more on lawyer's fees than he'd recoup from the father and son.
"[The Taylors] need to go prison for what they've done," said Heitmann. "Real men in this economy stand up and say, 'We gotta stop doing business.' You don't don't steal from one guy and pay another."