Living
Goats for Life
One Donation Can Save a Rwandan Genocide Survivor
'Tis the season for giving. And for $45, you could change a life.
A Santa Barbara nonprofit, Goats for Life (GFL), helps survivors of the 1994 Rwandan genocide. One goat per household will help a family become self-sufficient and lift themselves from poverty, say organization representatives. Purchased from trusted breeders in Africa, goats can be bred or sold, are inexpensive to maintain, and produce rich fertilizer, which increases output from farming.
The income generated by goats also reportedly helps families with daily expenses and necessities, sends children to school, or buys medicine.
Betsy and David Kain are the founders of Goats for Life (formerly Goats for Gifts), and work hand-in-hand with various organizations in Rwanda and Tanzania, such as the Remera Mbogo Residential High School Orphanage, the Werner Kalka Foundation, Pygmy Survival Alliance, ASPIRE, the Janada L. Batchelor Foundation for Children Inc. (JBFC), and the Humankind Foundation.
This past November, GFL sent money for 50 goats to JBFC, a center for homeless girls in Tanzania, where Santa Barbara's Ashley Hollister is currently working. According to Betsy Kain, this is the first instance that GFL has sent money without visiting the site. Both organizations focus on female empowerment and helping communities become self-sustainable.
The Kains are not present for goat distribution, but they are sure to work with credible agencies. These African agencies, along with community members, cooperatives, and churches, are responsible for choosing which families or individuals should receive goats by determining who is most vulnerable.
"Betsy builds a relationship with those she intends to help, assesses whether they are capable and willing to care for the goats, and by doing so empowers them to work hard and be self-sustaining women in society, pulling them out of their desperate situations," writes Hollister, assistant director of JBFC.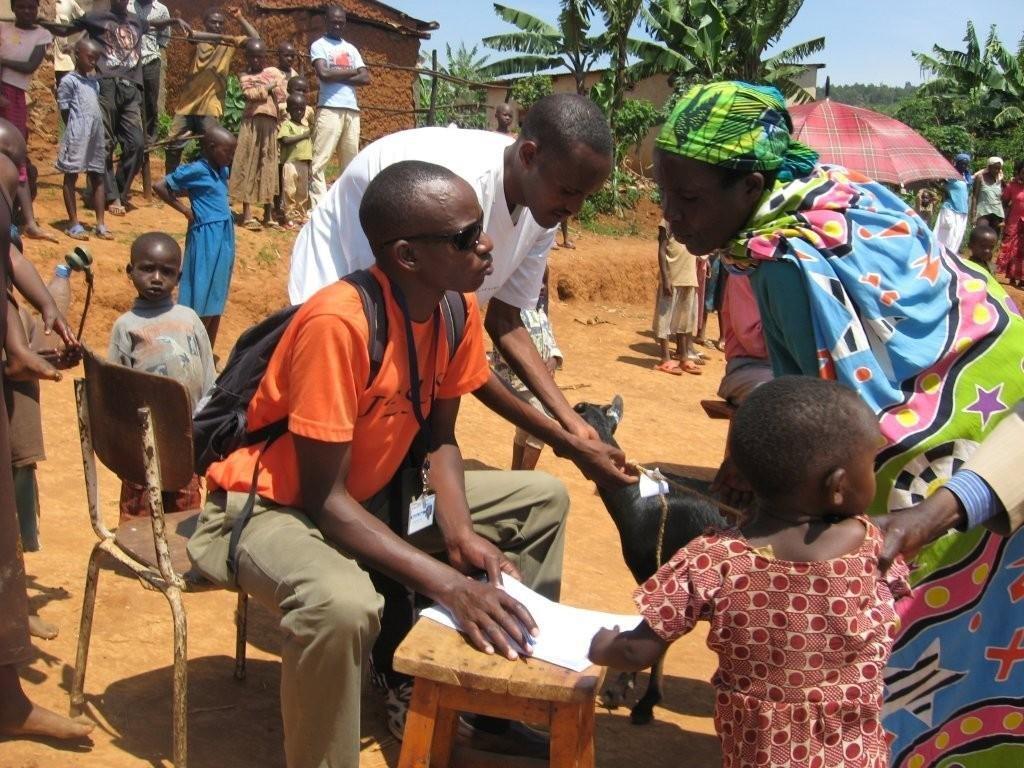 Although most Rwandans know how to care for goats, recipients are required to sign a contract promising to raise them properly. If they cannot read or write, a friend or interpreter will be present to help them, said Kain. However, she is confident that the recipients would not take their goats for granted.
"It would be like killing the goose that lays the golden egg," she says.
A former psychotherapist and social worker, Kain has made five trips to Rwanda, helping survivors cope with what they have endured.
"It always impresses me how these women, who watched their children and husbands tortured and killed, how they can carry on and thank God for what they have," she said.
After some time since her last visit to Rwanda, Kain says she is ready for her next trip.
"My first time there, I had no idea what I was getting into," said Kain. "At first, I was an observer, but now I feel like I belong there," she added.
She is nearly brought to tears when she speaks of her hope that others can follow suit. "It would be a dream to get people over [to Rwanda]," she said.
"I admire these survivors," said Kain. "I'm not the least bit noble, or a savior. I love the work and I'll keep going back as long as I possibly can."
Goats for Life has collected donations to send over 2,550 goats and 20 cows (at $2,000 each) since its inception in 2007. But Kain will tell you that there will never be too many goats for these survivors, who are still striving to raise themselves from poverty.