Columns
A Solid Year of Poodle Radio
Hit Parade
The current version of Poodle Radio, official radio program of the Indy, first broadcast on January 16, 2010. Maybe that's not quite the right word; while the show was indeed cast outward, it wasn't cast all that broadly. The program wouldn't make the leap to KCSB-FM for a few months, so Poodle Radio's re-premiere after an eight-month hiatus went out live only over KJUC-AM, KCSB's training station. Fortunately, since we've uploaded these shows to the web since day one, you can still hear it on Independent.com even if you couldn't find a dorm-room electrical outlet to push your radio up against at the time.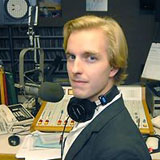 Since I've been doing hosting duty all the while, I've enjoyed Poodle Radio's evolution and, on my better days, even helped that evolution along a bit. I've picked out ten particularly choice segments from the show's archives so far, so if you've been a dedicated Poodle Radio listener, have fun revisiting them. If you haven't been any kind of Poodle Radio listener at all, here's the perfect chance to get an introduction.
On January 30's show, my former co-host Ben Preston and I talked to James Hanley Donelan, classical music critic at the Indy and literature and writing professor at UCSB. In discussing the many opportunities for a classical music aficionado in Santa Barbara, I feel we opened of a window onto the thinking and sensibility of an Indy contributor. I've aimed to replicate that in all the interviews since. (It doesn't hurt that the guy was one of my favorite professors when I was a UCSB undergrad.)
On February 20's show, we brought Indy reporter Chris Meagher into the studio for the first time. He'd just returned from Haiti, reporting on the effects of its disastrous earthquake the month before and the efforts of Santa Barbara-based Direct Relief International to help the nation deal with the aftermath. It's one thing to read a story in the paper about his experiences — and a fascinating thing indeed — but I found it added a whole other dimension to hear (and hold) an actual conversation about it.
On April 6's show, Poodle Radio properly debuted on KCSB. Feeling invigorated and legitimized by the transition to FM — not to mention the introduction of the possibility that people might actually listen live — I had a long-form conversation with Roman Baratiak, Associate Director at UCSB Arts and Lectures. Having often partaken of A&L's film and lecture offerings and having even more often seen Roman riding around the UCSB campus on his bike, it felt only natural to sit down with him and discuss the plans for the then-upcoming season.
On May 18's show, we achieved what I consider to be an ideal setup for the edification and entertainment of Poodle Radio listeners. I sat in the host's seat as usual, but joining me was both the writer of the current cover story and its subject as well.Indy Senior Editor Matt Kettman stopped in to talk about the Islamic Society of Santa Barbara, and Islamic Society of Santa Barbara president Nabil Alshurafa came in to represent the Society itself.
On June 8's show, the KCSB studio had a visit from the writers and subjects of a very different cover story. In this case, Anne Cravens showed up as both writer and subject. Her story dealt with a rattlesnake bite, which itself was dealt out to her eight-year-old son Lucian. So what better way to get a first-person radio perspective than to talk to Lucian as well? Though a kid of few words, Lucian certainly contributed something unusual to the segment.
On July 7's show, Indy writer and frequent Poodle Radio guest D.J. Palladino brought in architect Barton Myers, builder and resident of the impressive glass-and-steel house up on Toro Canyon Road that provided the subject of that week's cover story. Though I do believe the resulting conversation has something interesting for everybody, I personally enjoyed that we got to give a mention to Japan Architect, one of my favorite magazines.
On October 5's show, we aired Poodle Radio's very first field report. Strapping on my mobile production gear, I spent half an hour in the company of Simon Taylor, proprietor of Old Town Goleta's newest literary and artistic oasis, Left Coast Books. Since we were talking about his shop, I imagined it would be best to do that amidst the ambient sounds of the shop, rather than of KCSB's control room.
On October 19's show, we aired Poodle Radio's second field report, this one from downtown S.B.'s newest record store, Warbler Records and Goods. Just as with the report from Left Coast Books, if you want to provide a radio tour, it's best to get right there in the place rather than to describe it from a studio couch. The background sounds of actual vinyl records played over Warbler's actual speaker system came as a bonus.
On November 16's show, I spent the hour with Travers Adler. Who is Travers Adler? He is many things: surfer, journal-writer, singer, guitarist. When Indy reporter and fellow surfer Ethan Stewart took notice of the fascinating eccentricities to be found in Travers's personal notebooks, he made him into a journalist as well. Ethan tapped Travers to write a story for the paper on the first waves of surfing season. Bringing his guitar into the station, Travers talked about the writing process, told us a thing or two about surfing, and played a couple pieces of music in what must be the most laid-back Poodle Radio ever.
On December 21's show, Indy intern Rhys Alvarado brought in the adventuresome subject of his story for the annual Peace on Earth issue, Dr. James Rolfe. A downtown dentist who lives here on a mere $800 per month most of the year, Dr. Rolfe spends the remainder of his time on his Afghanistan Dental Relief project, which sets up mobile dentistry facilities in a country where 90 percent of the population doesn't even own a toothbrush. If you think those are the makings of a compelling story, wait until Dr. Rolfe pulls out the nasty piece of shrapnel from a car bomb that went off on his usual route to work there.
You can tune into Poodle Radio live every Tuesday morning from 8-9 a.m. on KCSB, 91.9 FM in Santa Barbara or on KCSB's webcast at KCSB.org. Questions, comments, or suggestions to do with the show or The KCSBeat? Don't hesitate to send them to colin@independent.com.