Film & TV
The Mechanic
Jason Statham, Ben Foster, and Donald Sutherland star in a film written by Richard Wenk and Lewis John Carlino and directed by Simon West.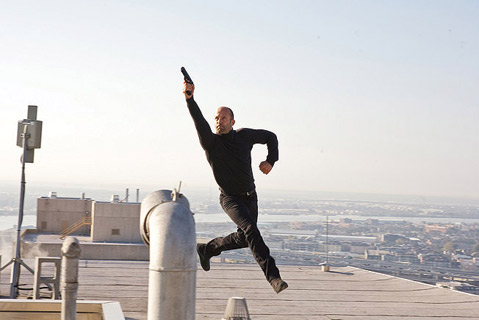 When the original version of The Mechanic, starring a post-Sergio-Leone-grizzled Charles Bronson and pre-tragic-meltdown Jan-Michael Vincent came out, a lot of critics felt moved to make exceptions for it because of its guilty pleasures—its homegrown existentialism pleased even tough moralist Pauline Kael. Bronson and director Michael Winner had yet to create the trashy antihero Death Wish saga, which was, next to Dirty Harry, the lowest low of Hollywood's exploitation-courting years. In fact, critics had to steal the concept of the antihero from literature to assuage their own guilty glee at applauding hit men as protagonists. Nonetheless, Bronson and Vincent had to die in a ritual mutually assured catastrophe to keep the ratings monitors satisfied that gratuitous violence was still considered sort of bad.
There is a proper remake of the Bronson film out there, but it isn't this one. (The true spiritual heir of Winner's film is George Clooney in The American, with its tightly wound storyline, nearly allegorical stylization, and doubly twisted ending that's both romantic and doomed.) All in all, that film is 30 times more satisfying than this cheap derivative.
In Statham's outing as The Mechanic, we're expected to immediately embrace his professional hit man, rather than question his brutal killing ways. Instead, director Simon West reconfigures it as Mission Impossible with a few messy body bags. When Statham takes on his apprentice, it's a weirdly inconsistent bad conscience that motivates the break with a lifelong habit of solitary work—and we don't buy it for a second.
Not that the plot gives you many seconds to think. Everything here is brutal beatings followed by bruising altercations and creepy strangulations. Bad enough, but the final payoff for this wretched remake is also its most immoral moment. Without blinking an eye, The Mechanic offers us a fitting final explosion and then a stupid way out of death. We're supposed to feel good admiring this creepy, mentally sloppy brutalist. How do I know? Because this sissy film allows room for a sequel, whereby the moral problem of professional killing takes a back seat to the unadulterated joy of franchising.