Film & TV
One Kiwi Western Plus Solid Skandis
SBIFF's Good for Nothing, Simply Simon, King's Road, Limbo, and More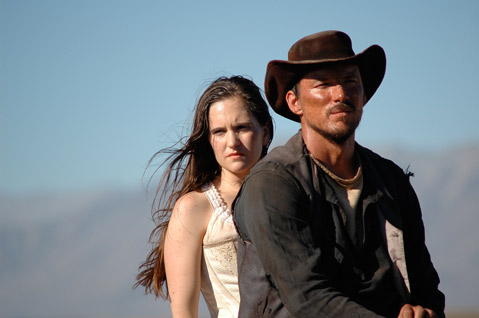 In many ways, the charmingly scrappy new New Zealand-made western Good for Nothing cops to many of the clichés and formulae of the genre that we've come to know and sometimes love. An hombre of few words, this one with an abducted young woman in tow, traipses across the hills and plains of a vast open landscape, with a posse in pursuit. There will be blood, and gunplay, and sneak attacks, and the like.
Of course, the film, which was finished just before Christmas and given its world premiere at SBIFF, takes some sharp left turns away from the genre, as well, starting with the very fact that it was shot, conceived, and proudly made in New Zealand (which actually makes sense, in terms of a barren, unspoilt frontier landscape). Story-wise, the central conceit has to do with against-type twists, including sexual dysfunction, badly-aimed and misfiring guns (so to speak) at inopportune times. It's a strange brew of dryly satirical send-up, sincere homage, indie B movie and sexual archetype shoot 'em up.
In a Q&A session after the packed Tuesday afternoon screening (an extra screening was added for Wednesday afternoon), we got a great back story on this unique project, from the source — writer-director Mike Wallis and his partner in life and cine-crime, actress Inge Rademeyer, plus Cohen Holloway, who plays the dysfunctional semi-anti-hero (called "the Man," in a nod to Clint Eastwood's "the man with no name" in Sergio Leone's yummy campy spaghetti westerns).
Wallis and Rademeyer are a couple and co-workers at Peter Jackson's studio, and were part of the worker bee community behind Lord of the Rings, Avatar, and others. But the creative impulse was calling, and they decided to make a movie rather than buying a house. Marshalling shoestring forces, and shooting the film in six weeks for $60,000 before post-production, they achieved their dream over the course of five years.
Wallis explained that he was inspired by spaghetti westerns, pointing out that the built-in humor "works well with the New Zealand sense of humor, as you see in 'Flight of the Conchords.'" His compromised hero, he says, isn't so far from the "vulnerability of Clint Eastwood, as much as he can be vulnerable."
The actor in the shoes of said vulnerable cowboy, Holloway, supplied the comic relief for the Q&A session, mockingly asserting his virility, out of character. "I took on the role because I thought it said it was an 'important' character," he joked, stirring up laughter in the house.
Perhaps the most fully realized aspect of the film is its wowing musical score, created by well-known composer John Psathas, who was so impressed with the early glimpses of the film that he decided to make this his first film score, which plays a large role in the sensory landscape painting of the movie. No less than the New Zealand Philharmonic lends its symphonic, John Barry-esque sweep to the picture. It's one more point of pleasing confusion on the film's trail between satire and true gritty homage.
SBIFF has always been a fairly equal opportunity global cinema scanner, pulling in films from far and four corners of the world and repeatedly validating the fact that it is really the "IF" factor — international film — that is the festival's central mission. Each year, though, the geo-cultural balance shifts from area to area. While Chinese cinema is oddly underrepresented this year, Quebec, Spain, and Scandinavia are getting more attention, so far.
From Scandinavia, the fare has been especially strong and intriguing, in various ways. The popular Simple Simon, from Sweden, is one of the festivals' quirky comic gems. A different kind of comic flavor, and production intensity, comes through in the Icelandic film King's Road, directed by Valdís Óskarsdóttir (who, it happens, was the editor on the tricky editing job of The Eternal Sunshine of the Spotless Mind). Here, in a single bleak but strangely loveable location, we have a droll slacker tragicomedy — emphasis on the comedy — about residents of a ramshackle trailer park on the outskirts, of life and society, in Iceland, an exotic outskirts of the world. Hints of the country's canary-in-a-coal-mine banking meltdown slip into the script, but mostly the focus is on dysfunctionality of the familial and inter-personal sort and periodic outbursts, but brushed with that dry Icelandic wit and perked up with music by the Sugarcubes and other artful alt-indie music.
Nothing much is funny, per se, in the sleekly-made Norwegian film Limbo, first-time director Maria Sødahl's humble yet captivating film, greatly popular in Norway and nearly making the grade as the country's Oscar submission. A Norwegian family has settled in Trinidad, for the oil drilling engineer father's work, but "settled" isn't the right word, as displacement, alienation, infidelity, and other nagging issues turn the story into a mid-life ennui. As much as men call the shots and pull their families away from a sense of a rooted homeland, this is a story about women, with strong women actors: Line Endahl puts in a masterful performance, one of the fest's best, as the wife-mother grappling with her sense of self, and the masterful Swedish actress Lena Endre seizes the screen every time she appears, right to the bittersweet end.
Limbo lives up to the duality of its title, as occasional festive spirits (including an actual limbo scene) mixes with feeling of being adrift in a world once presumed solid. It also demonstrates the notion that Scandinavian film (i.e. Bergman) can possess a unique ability to make even despair feel warm and, if not cozy, then reassuring by virtue of misery-loving company.