News
Hard Homeless Data
Project Begins to Tally and Categorize Country's Displaced Populations
In the end, waking up at 3:15 a.m. Albuquerque time wasn't that hard. It was Day One of this city's 100K Homes registry week last Monday, and I was caught up in the enthusiasm of the nine Santa Barbara outreach workers, shelter directors, and Housing Authority staff who traveled here last weekend for "boot camp" training. As they were learning how to stage an upcoming registry week in Santa Barbara, I gradually started feeling part of this audacious 100K Homes drive, too, an effort that seeks to house America's most fragile — and costly — homeless people before they die quite literally at our feet.
The storefront office where the 200 or so Albuquerque volunteers congregated before dawn January 31 was controlled chaos. The Santa Barbara group was dispersed onto various teams, and everybody seemed to be hovering over maps and boxes of supplies — including flashlights and clipboards holding the all-important vulnerability-index surveys that would ascertain the precariousness of each interviewee's health. Even Albuquerque's Republican mayor, Richard Berry, and first lady, Maria Berry, were going out with a team to interview. Berry had found $50,000 in scarce city dollars last year to launch the effort.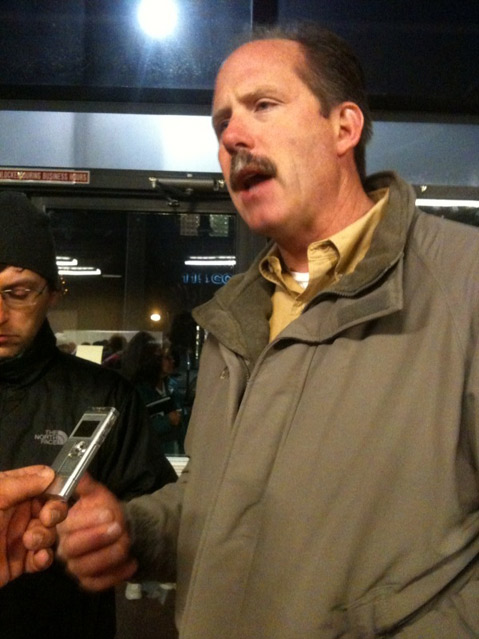 "As a business person myself, and a person who enjoys policy, I try to go out and find out what works and bring it to Albuquerque," said Berry on Sunday at the city's convention center. "These aren't freeloaders. This [effort] is helping people in our community who find themselves in dire circumstances."
Silvia Bernard, executive director of Santa Maria's Good Samaritan Shelter, was on Berry's team, as was the Housing Authority's Management Coordinator Tonie Hood. Maureen Earls of Santa Barbara Clergy Laity United for Economic Justice (CLUE) teamed with a city crisis intervention training (CIT) psychiatrist. The Turner Foundation's Jeff Shaffer, coordinator of South County 100K Homes (also called Santa Barbara Common Ground), was on a team that scoured public parks on the city's outskirts.
The group I followed included Casa Esperanza Executive Director Mike Foley, Suzanne Riordan of Families ACT and two twenty-something volunteers, Sara Clark and Katie Bass. It also included two women who lived in homeless shelters themselves, Roberta Smith and Kathleen Etsitty, and a CIT officer, tangentially connected to law enforcement, named Gabriel Claw.
Every team had an Albuquerque police officer attached to it, for safety we were assured, not to run warrants or issue citations. But this detail was a point of controversy among the Santa Barbara group.
The streets of Albuquerque do not remotely resemble Santa Barbara, but the individuals living on them could easily be our own. Sleeping in nooks and crannies and brazenly in the open, my team found its first subjects across from the city's Rescue Mission. Gabriel pulled the minivan to the curb in front of them. Bass and Clark awakened them with soft voices and both men agreed to take the survey.
Our next stop was Tingley Park, where we encountered only the eerie sound of a dog barking.
We searched an abandoned motel where people are known to squat, stepping over broken glass and plaster to find signs of human habitation but no people. Foley and Smith ventured upstairs, bravely, in pitch blackness to search second-floor rooms but found no one there either.
We split up and had more luck. My group encountered a man walking to breakfast whom the police officer identified as homeless. Sara approached him, and he, too, agreed to sit for the survey.
I did not expect the soft-spoken sixty-ish Native American to be vulnerable. He lived in a shelter halftime. But he admitted having liver disease and hepatitis C and being hospitalized four times in 2010, twice to the emergency room.
Afterward, the Santa Barbara group gathered for breakfast and discussed what they thought worked and what they hoped to do differently when our registry week occurs February 27 through March 2.
Shaffer thought our volunteers should get supplies the day before, to minimize confusion the first morning. Foley hoped Santa Barbara police would accompany teams in plain clothes. Earls thought volunteers should be trained to sensitively engage interviewees. What is set in stone is that Santa Barbara will no longer be turning away from its dying homeless residents.
For more information on the 100K Homes campaign in Santa Barbara, go to homelessinsb.org or commongroundsb.org.