Announcement
Santa Barbara Trust for Historic Preservation Announces New Additions to the Board of Directors
The Santa Barbara Trust for Historic Preservation (SBTHP) is pleased to announce the election of two new community leaders to its board of directors. Joining the board for a three-year term are: Randy Bergstrom and Jim Neuman.
Randy Bergstrom holds a Ph.D. in history from Columbia University. His research interest is in public history and the history of public policy in the U.S. from the 1860s to 1920s. Bergstrom is a professor of History at UCSB, and chair of the Public History program. He serves as editor of the journal, The Public Historian, which is jointly published by UCSB and the National Council on Public History. He advises the History of Public Policy major, and teaches in and directs the Graduate Program in Public History at UCSB, cooperating with the faculty of CSU Sacramento in offering a joint Ph.D. in the field.
Jim Neuman holds a BA and an MBA from the University of California at Berkeley. He is a financial consultant for Pacific Southwest Realty Services. He was the Executive Director of the Santa Barbara Region Economic Community Project, devoted to creating high-wage, low impact jobs. He was also partner in Williams and Neuman Development Company, the founder of the Napa Farmers Market, founder of NapaNet, founder and president of the Home Team. He served on the Board of Directors for the Napa Valley Opera House, Napa Valley College Foundation, Napa Valley Chamber of Commerce, Napa Valley Economic Development Corporation; in Santa Barbara was on the Board of the Community Environmental Council and is the current President of the Padaro Lane Assn.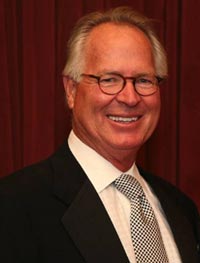 ABOUT the Santa Barbara Trust for Historic Preservation (SBTHP) – The Santa Barbara Trust for Historic Preservation (SBTHP) works to protect, preserve, restore, reconstruct, and interpret historic sites in Santa Barbara County. Founded in 1963 by Dr. Pearl Chase and other concerned community leaders, SBTHP operates El Presidio de Santa Bárbara State Historic Park—Santa Barbara's 18th century birthplace—under a unique agreement with California State Parks and recently purchased the neighboring building that housed Jimmy's Oriental Gardens, providing an opportunity to interpret the history of Santa Barbara's Asian American community in the Presidio Neighborhood. SBTHP owns and operates Casa de la Guerra, the 1820s home of Presidio Comandante José de la Guerra and his family—the restored home is now a museum featuring original furnishings and rotating exhibits. Recently, SBTHP signed an agreement with State Parks to manage and develop the Santa Inés Mission Mills, located near the town of Solvang, as a future California State Park. With the help of continuing education programs and exhibits, SBTHP strives to encourage community involvement and foster an appreciation for Santa Barbara County's distinct history. Learn more at www.sbthp.org.