Living
Hiatal Hernia
Dr. Selinsky Bodyworks a Student's Post-Bike Accident Insides
How are you feeling bodywise? "Amazing!" is the common exclamation from recipients of bodywork sessions with Dr. Phil Selinsky. The shiatsu class at Santa Barbara Body Therapy Institute (SBBTI) got a demonstration of this yesterday when Phil went to work on student Carolynn Kraskouskas.
Kraskouskas and her bike took a tumble three years ago. The bike's handlebars jammed deep into her abdominal muscles and stomach and bounced her body facedown along the pavement several yards. The skin and muscles on her face were torn away, revealing some of the zygomatic and orbital bones beneath. In addition, her stomach was torn from its position below her diaphragm.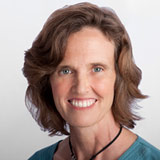 Kraskouskas, a talented bodyworker/naturopath in her own right (she was voted best bodyworker two years in a row by the San Francisco Bay Guardian), took the healing of her face into her own hands, and applied craniosacral therapy, homemade poultices, and manawa to treat her injury. Manawa is an Australian plant in the tea tree family that is great for fresh road burn.
Three years later there was not a trace of the trauma in her skin and facial muscles; however, her body had gone from size six to size 14. She had lost the capacity to take a full deep breath. She also had experienced frequent digestive disturbance and numerous body aches and pains. Kraskouskas had been seeking weekly professional support for her body for the last three years; hence, she jumped at the opportunity to be the recipient of Selinsky's muscle testing demonstration at SBBTI.
Without knowing her health history, Selinsky's hands went immediately to her atlas and axis. He announced that she must be having some digestive challenges, since the axis and atlas were subluxated, impinging on the vagus nerve. The vagus nerve is the cranial nerve that sends parasympathetic messages to the heart, lungs, stomach, and large intestine. The parasympathetic nervous system is a branch of the autonomic nervous system that allows us to rest, digest, and repair our tissues. When the vagus nerve is impinged, messages cannot communicate adequately with digestive organs, and the whole body suffers from the lack of digestion, nutrient absorption, and, sufficient elimination.
Selinsky went on to test the integrity of her pectoralis major clavicular muscle (the indicator muscle for the stomach) to see if it was strong. What he found was that the muscle tested weak when placed in circuit with the stomach organ. He deduced that the stomach was not in its proper position under the diaphragm; instead, it partially protruded through the hiatus in the diaphragm and into in her thoracic cavity. Selinsky then skillfully placed his hand over her stomach and tugged it back into place below the diaphragm.
Kraskouskas reported strong tingling and warmth in her forehead and chest. When asked if her breath felt any different, her response was, "Not yet." Selinsky then explained that her psoas muscle was in chronic contraction, bound up with her diaphragm muscle due to its fascial relationship with the psoas attachment site at her lumbar spine, preventing her from taking a full deep breath. He next applied direct contact to the origin and insertion of her psoas muscle, opening the circuit that powers the psoas and kidneys, which was previously short-circuited. Once the circuit was completed, the injury began to self-heal.
Years of deep contraction and holding patterns within the muscles spontaneously released. As Kraskouskas allowed her body to surrender into the current of energy, her whole body began to move spontaneously in a fascial unwinding of tension patterns in her neck, back, legs, and torso. Following the session, Kraskouskas reported that she could at last take a deep breath, that she had a flush of warmth throughout her body, and that her mind felt especially sharp and clear. Selinsky informed her that the connective tissue that attaches her esophagus to her stomach had stretched considerably, and that it needed her cooperation to heal and return to its normal size.
To keep the stomach down, she was advised to drink a full glass of water on an empty stomach each morning, then to drop forcefully from the balls of her feet onto her heels. To facilitate the healing of the herniated hiatus in the diaphragm, he recommended no inversions, stomach crunches, or meals close to bedtime, each of which could force the stomach back through her diaphragm.
In the two weeks following her session, Kraskouskas reported that she had lost 6 pounds. She immediately gained new power in her legs that translated into a new way of walking. Her previous bench press went from 140 pounds to 180 pounds overnight. Her capacity to digest protein and extract nutrients has increased significantly. She had a week of deep lymphatic cleansing and her libido has increased markedly. Needless to say, Kraskouskas has been delighted with the results of Selinsky's treatment. "His work has made me look at self-healing and healing others as a whole new undiscovered frontier," she said.
Pulling the stomach organ fully into its proper location in the abdominal cavity is not a typical procedure of a bodywork session, but when it is needed, it can truly change a person's life. After learning the technique from Selinsky, I have used the procedure with students and clients and have always been rewarded with dramatic results, such as resolution of asthma, intestinal blockages, back spasms, and indigestion. A displaced stomach is one of those conditions that is often missed and that can go untreated for years, cause a host of physical symptoms, and undermine health.
One way to resolve this condition is to see an experienced practitioner. Having experienced the procedure myself when I was first a student of Dr. Phil Selinsky many years ago, I can unequivocally say that getting one's stomach pulled back in place is a huge relief that can make a world of difference in one's health and wellbeing.
Find Dr. Phil Selinsky at thehumanmachine.com or 390-2524. Contact Carolynn Kraskouskas at bewholeagain@yahoo.com, or (415) 846-3640.