Capitol Letters
No More Mr. Nice Guv
Brown Launches Public Campaign for Budget Plan as Private Talks with GOP Collapse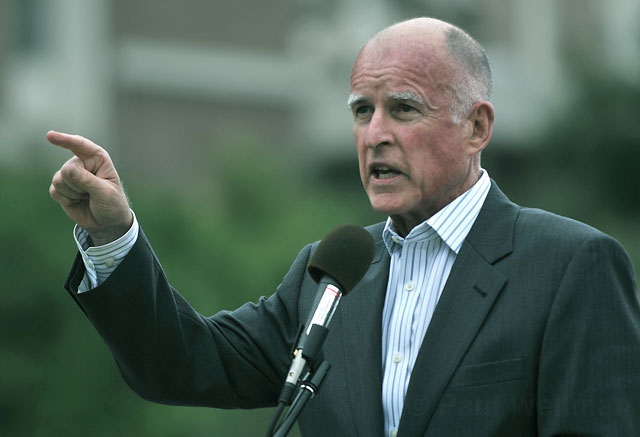 Bob Dutton, the State Senate's Republican leader, got his feelings hurt while negotiating with Governor Jerry Brown about California's huge budget deficit.
"Frankly, I was yelled at more than I was talked to," the Rancho Cucamonga legislator complained to reporters last week, after budget talks between GOP lawmakers and the Democratic governor fell apart. "And mostly by Mrs. Brown, not even Governor Brown."
At a time when California faces monumental economic problems, Dutton's self-absorbed lament at allegedly being dissed by Anne Gust Brown, the governor's spouse and most trusted adviser, drew guffaws and eye-rolls around the Capitol. As a political matter, however, the personal and hostile tone of the comment was significant as a measure of the failure of Brown's intensive effort to forge a bipartisan compromise to ease the state's finances.
After two months of behind-the-scenes talks with key Republicans, which had narrowed the differences to a few key issues — pension reform, a ceiling on spending, and relaxing regulations on business — the governor declared an impasse after Dutton suddenly introduced a new, 53-point agenda of items he wanted resolved in exchange for the handful of GOP votes needed to put Brown's budget plan before voters. Among other things, Dutton demanded restored funding for county fairs and off-road vehicle parks, and moving the presidential primary from June to March.
"Each and every Republican legislator I've spoken to believes that voters should not have this right to vote unless I agree to an ever-changing list of collateral demands," Brown responded.
"Let me be clear: I support pension reform, regulatory reform, and a spending cap and offered specific and detailed proposals for each of these during our discussions," he added. "While we made significant progress on these reform issues, the Republicans continued to insist on including demands that would materially undermine any semblance of a balanced budget."
The collapse of the talks left Brown and his allies no clear exit strategy.
Brown previously succeeded in slashing the $26.6-billion deficit nearly in half, by convincing reluctant Democrats to go along with $11.2 billion in cuts to existing programs, many of which serve the poor, elderly, and disabled. The second part of his strategy, however, called for a vote in June to extend $12 billion in temporary tax increases, which otherwise expire on July 1; however, a two-thirds vote is needed to put the measure on the ballot, an amount which requires two GOP votes in each house of the Legislature.
As a practical matter, this leaves few options, none of them attractive:
• An all-cuts budget, which would require another $12 billion in program reductions, many of them for education; many Democrats, and even some Republicans, would be unlikely to support such a plan.
• A June vote on a tax measure, which would be moved to the ballot by a Democrat-only majority vote. Such a move is legally questionable, however, and Brown has said he would not support it.
• A November ballot-initiative war. Labor and other liberal interests are eyeing a batch of new tax increases, most likely on the wealthy, corporations, and oil companies; conservative groups have already threatened to qualify competing initiatives to reduce pensions and other benefits for public employees.
Faced with these unhappy scenarios, Brown is trying to move the budget debate out of Sacramento's back rooms and into the public eye. His office announced that he would travel around the state, focusing on the districts of key Republicans, in an effort to build political pressure to support his call for a decisive election to extend temporary tax hikes now in place.
Republican incumbents are being squeezed by the Tea Party, right-wing state party activists, and other anti-government advocacy groups, who have threatened political retribution if lawmakers vote to move the tax plan onto the ballot. Brown is now betting that a populist appeal for an up-or-down vote on his proposal can counter that effort and push a few Republicans to his side.
"They certainly seemed like they were open to a balanced approach," Brown told Riverside's Press-Enterprise about a group of GOP lawmakers who had negotiated with him until the state Republican party passed a resolution condemning their efforts. "As they got closer, the fear of the Tea Party and the other anti-tax zealots made it virtually impossible."
"It's very important that people know what the stakes are," Brown added. "I feel a moral obligation to communicate the consequences. I feel people should go into this with their eyes wide open."