Voices
The Gaviota's Future Is in Our Hands
Help Wanted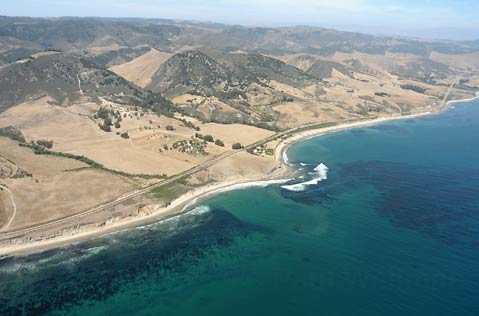 The future of the Gaviota Coast is up to each of us. Santa Barbara County began a much-needed public-planning process in November, 2009, which is when the Gaviota Coast Planning Advisory Committee (GavPAC) began meeting twice a month to deliberate a policy framework. One goal of the GavPAC is to recommend what policies and "tools" are necessary to protect the character and values of the Gaviota Coast's public and private land for the foreseeable future. The GavPAC's recommendations will be used by the county planners who are updating the General Plan and the Local Coastal Plan for the Gaviota Coast.
We need to support this process by becoming more familiar with the issues and concerns associated with the Gaviota coast. We need a comprehensive, integrative plan for the Gaviota – one that can protect the rural landscape, small family farmers and soils, coastal creeks and watersheds, and the nearshore marine environment used by fishers and coastal residents. The GavPAC process represents this generation's opportunity to put in place important policy measures that can support the following general goals:
•Protecting Native Plant and Animal Species
•Restoring Water Quality and Watersheds
•Enhancing Farm Lands and Gaviota's rural heritage
•Protecting open and natural lands
•Minimizing impacts from climate change on human health and ecosystems
•Lessening impacts from land-use and population growth
•Preserving Important Historic and Pre-historic Sites
The Gaviota Coast is the largest intact remnant of our coastal heritage. It should not be governed as just another stretch of southern California. The Gaviota includes a history of Chumash habitation dating back 8,000 years or more, is home to a vibrant agricultural community, and is one of the world's top 15 threatened hot spots for biodiversity. It is home to 1,400 plant and animal species, 24 of them threatened or endangered and another 60 considered rare and of special concern. The Gaviota coast includes 34 coastal watersheds, which include some of the last remaining healthy habitat for southern steelhead trout and other threatened and endangered species. There are well over 195 bird species that depend on coastal and nearshore habitats in this region.
A National Park Service feasibility study concluded that the "resources in the area are nationally significant" and recommended development of a local, community-based program as a "means of protecting the area's resources."
On Thursday night, April 28, the community will have a chance to hear from diverse speakers who have devoted time and energy to protecting the natural, cultural, and agricultural significance of the Gaviota coast. This forum, at the Santa Barbara Natural History Museum, is a chance for you to become more acquainted with the system of relationships that exists between the mountains, coastal watersheds, cultural heritage and marine environment of this coastal area. Come to learn about all things Gaviota and about how to get involved in this once-in-a-lifetime opportunity to shape the future of a gem that we all enjoy.
This is our shared opportunity to act in the spirit of what Wallace Stegner referred to as a "geography with a heart" – to work across our differences to support a long-lasting, community-based effort that can protect this crown jewel of coastal California.
4•1•1
The public forum on Thursday, April 28, 7-9 p.m. at the Santa Barbara Natural History Museum's Fleischmann Auditorium, is free and open to the public.