Living
Student-Started Environmental Education Group Wins 100K
UCSB Junior Plans to Take His Innovative Program Nationwide
Every week, more than 60 college students enter elementary school classrooms in the Santa Barbara area to talk to kids about fun environmental topics. This is Environmental Education for the Next Generation, or EENG.
EENG's run so far has been short (it started under two years ago), but its growth and success have been impressive. According to Ryland King, founder and head director, the organization was officially founded as a nonprofit in fall 2009. Since then, EENG has expanded from a team of five instructors in one classroom at Adams Elementary School to over 60 instructors in 24 classrooms at 12 schools from Goleta down to Carpinteria. Furthermore, the first week in April, EENG launched a new chapter up in San Louis Obispo.
Suddenly, King has $100,000 from winning the Dockers "Wear the Pants" contest to expand EENG's scope drastically. Plans are three-fold: Money will go toward reasonable stipends for directors (who, until now, have been unpaid volunteers), classroom and instructor supplies, and expansion statewide and eventually nationwide.
Both EENG's inception and its entrance into the Dockers "Wear the Pants" contest on Facebook were unlikely but auspicious. King, who said that a lifelong love for surfing and being outdoors "brought me that appreciation for the environment which instilled in me the mission to give back and care for it," actually got into teaching by mistake. In 2008, he came from the small beach town of Pacifica to attend UCSB. In search of UCSB's Environmental Affairs Board meeting during the first week of his freshman year, he got lost and wound up running into the then-vice president of the student body Zekee Selos (class of '09). "After talking for like two minutes, he asked me if I wanted to take on an internship with the student government. It was totally random," admitted King. He thought it over and went for it.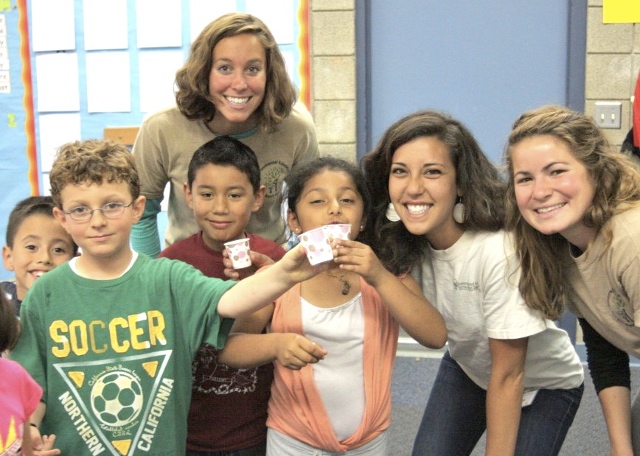 "I was given $1,000 to put into any community project," he said. So he ended up creating a very basic curriculum binder — an early version of the ones EENG instructors use today — rounded up four students (all freshmen and sophomores), and contacted area schools, asking whether they would be interested in allowing UCSB students into their classrooms. "After reaching out to 10 to 12 schools, I finally got one school to accept," he said. It was Adams Elementary, and the results were immediately positive. "They absolutely loved having the college students come in. My goal became to expand throughout Santa Barbara," King recalled.
And so they did. A team of seven directors (including King) now runs EENG, and the team of over 60 volunteer instructors reaches over 300 elementary school students a week. The structure of EENG's curriculum is such that each instructor (who chooses a nature name — Wildflower, Cloudrider Monarch, and Tumbleweed are examples) is assigned a nature team of five students through one UCSB quarter. Beginning week two of each academic quarter, nature teams meet and engage in interactive discussions, activities, and experiments surrounding the lesson of the day. "Beyond getting fun, informative, educational information, the kids get a role-model relationship with their instructor, a college-aged individual who is inspirational and at an institute of higher education," said King.
King (whose nature name is Bark) said his favorite lesson is "The Importance of Bees." "It gets the kids to appreciate a minuscule yet very important insect that many of them are scared to death of. Often when you take the kids outside, you get to see an actual bee and delve further into the topic," he said. "The first grade program is about environmental science, and the second grade program is about sustainability." Examples of other lessons include "Predator and Prey," "Habitats," "Water Conservation," "Sprouting Seeds," "Composting," and "The Water Cycle," which features a self-explanatory song-dance element dubbed "The Water Cycle Boogie."
One day in February, two instructors, Kai Hinson and Sean Anderson (who go by Sandpiper and Dandelion, respectively, in their nature teams) had a conversation that would forever change EENG's fate. After a day of classes at UCSB, they went to The Study Hall, an Isla Vista bar, for some drinks. Anderson explained what happened next: "You see, we don't have a TV in our home. So we were drinking away, talking about our lives and our futures, and we were mesmerized for a moment in the lull of the conversation by what came onto the television screen. It said, 'Do you want to win $100,000 to do what you love? We wanna give people $100,000 to pursue their passion.' And we were like, 'What!? We're passionate!' and one of us thought, hey, we should enter EENG into the competition!"
The next day, King met with Hannah Wright, EENG's director of education, to work on lesson plans in the house that she happens to share with instructors Hinson and Anderson. Hinson, one of EENG's three assistant directors ("the director of awesome," she insists), explained that after meeting with Wright, "Ryland was starving and delirious. I made him a tuna fish sandwich and we gave him some beer and we started talking." Hinson and Anderson told King about the Dockers contest, and, as confirmed by King, he left it up to them.
Of the contest's preliminary round, King recalled, "I didn't take it seriously. I basically thought this thing was a joke." According to Anderson, King told him and Hinson something along the lines of "if you wanna do it, that's cool with me." So the team entered EENG into the competition. "We worked for like four hours entering in and updating the Facebook pages," remembered Hinson. Anderson concluded, "Enter phase one: GOING VIRAL."
The Dockers "Wear the Pants" contest was a series of three rounds. In the first, the contest would narrow the field from around 3,300 to 50 finalists, all through votes on Facebook. The crew at EENG pushed family and friends to vote on Facebook (votes could be as frequent as once a day per person). To King's surprise, EENG emerged victorious from round one.
"I was surprised that we made it to the round of 50," King said. "So many people had worked so hard and put in so much energy, I said, we're gonna make it to the top five. And we're gonna win it." In the second stage of the competition, the faces of each competing plan presented themselves to Dockers, who picked five finalists before opening the contest up to Facebook voting once again. "I had to write a grant, film a video, and beyond that I spent a lot of my spring break reformatting the curriculum, editing the lead instructor guide, editing the regional director guide, going through the different parts of the organization," recalled King.
It worked; Dockers picked EENG along with four other finalists to win the $100,000. King cited "authentic personal communication" as the key to EENG's victory in the third and final stage of the contest. He also said that the Isla Vista and UCSB community is perfect for instilling passion about a project like EENG and securing votes. At 9 p.m. Sunday, May 1 (midnight on the East Coast), the competition closed, and EENG officially won with over 2,000 votes more than the other finalists.
While in the process of finishing up curriculum for this quarter, EENG is seriously discussing future plans for expansion. The recently launched chapter in San Luis Obispo is proving successful and, according to King, the next will launch in San Francisco next fall. After that will come Santa Cruz, San Diego, and Los Angeles. Each city will have a regional director, and the hub will continue to be Santa Barbara. "I'm planning to expand statewide in the next five years and take it nationwide within the next 10," said King, before boldly adding, "and I am confident that we can do that." King's senior year at UCSB remains ahead of him, during which he will continue to plan for post-graduation expansion of EENG while expanding the program locally.
To prove his aptitude for environmental knowledge, King jokingly (but accurately) compared EENG to a plant, whose seeds are continually graduating from UCSB every year and going to different parts of California and the country. King will even pay them to bring EENG with them (made possible, of course, by the Dockers contest). For the first time, directors, who King estimates work about 15 hours a week, "can be paid to give back to their community instead of flipping burgers."
It seems that voters knew best when they chose EENG for the $100,000. Elementary students up and down the coast can expect "The Importance of Bees" to invade their classrooms any day now. Of the victory, Hinson (instructor Sandpiper) said, "I knew we were going to win all along. I just had this feeling that no one else would be as awesome. And it's easy to say now, but I was right."