Food & Drink
Brophy Bros., Where All of Santa Barbara Goes
The Harborside Institution Celebrates Its 25th Year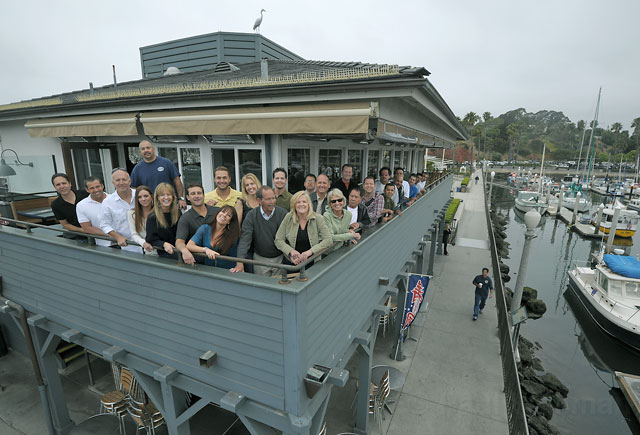 In 1986, the Billboard top song of the year was Dionne and Friends doing "That's What Friends Are For." Cheers, in its fourth season, became a top-10 hit on TV. Meanwhile, here in Santa Barbara, the Bennett family opened Brophy Bros., and we got our own place for friends. "We've had billionaires sitting next to hobos, real billionaires not just millionaires," said John Bennett. "That's Brophy Bros. We were never limited to one demographic. That's why if we ever have a new server acting uppity, I tell her, 'Get rid of the attitude—there's nothing cool about slopping chowder.'"
Not that they have to worry about new servers very often—Bennett estimates 25 percent of the staff has worked there for more than a dozen years. "We have minimal turnover for the restaurant business," said 21-year employee Scott Hail, who started out as a bartender while a student at UCSB and is now general manager. "Everyone loves working here, and the atmosphere that the ownership has created makes it a blast. We have dozens and dozens of locals that are here four, five, and even seven days a week. I have met so many wonderful people. It's like going to party or family reunion every time you go to work."
The Bennetts carefully cultivated that atmosphere at their prime location overlooking the marina. "We never advertised, because from a business standpoint, we feel we can give that money to the customers, buy them a drink or an appetizer, and it goes farther than an ad," Bennett asserted. "Make 'em feel special, man." He started singing "Love for Sale" to drive the point home and then added, "The word-of-mouth rewarded us with a loyal local clientele, and over time, we became a tourist destination."
Matriarch Sue Bennett claims the family, which has its roots back East, "always had a dream of opening a fish joint." They bought what was then John Dory's and more of a diner and created Brophy Bros., a name chosen for sounding Irish. Or, as John quips, "It sounded better than Bennett Bros.—that sounds like a tire shop." The funny part was they played the role of a New England seafood shack so well that people got confused; Sue claimed, "People would say to us, 'We liked the one in Boston better,' or, 'We got a free drink at the one there,'" when there is no Brophy Bros. back east (the Ventura location has been open since 2008). What was crucial, according to John, was that "the fishermen were a huge part of this business. They legitimized it. We were a fish house."
No dish is more emblematic of Brophy's than its award-winning clam chowder, which has had the same recipe all along. "Some people say the chowder has changed," John related, "but it's made by the exact same cook, Sergio, who made it 25 years ago." He even said he could give the recipe out; "you can always divulge the recipe—just leave a few things out. The real secret is in the thickening: Use a roux and not cornstarch."
As for changes that have happened in the restaurant's quarter-century of existence, most haven't been food-related, from using computers to do the books to handing out pagers for people waiting to get into the no-reservations hot spot. "I fought that like crazy," Sue said, "but I had to step into the 20th century." John also admitted, "Shrimp scampi is cheaper today than it was 25 years ago because the shrimp is cheaper," since it is now caught, deveined, and frozen all at sea.
Brophy Bros. has also gone green during the past four years, taking part in Santa Barbara's Sustainable Seafood Program and the Foodscsraps Collection Program, while also, according to John, "putting our fryer oil into our car and running biodiesel. It's difficult to always comply with sustainable seafood at our price point, but I think we're pretty darn close." A few years back, they even gave up using red snapper for their fish and chips. "Snapper hatcheries were getting destroyed from net-dragging to catch shrimp," John said, "so we moved to basa, which is domestically farmed."
The Bennetts certainly are in it for the long haul, having just signed another 25-year lease and having recently bought the neighboring Minnow Café, too. "It's been a wonderful ride," Sue said. "I am so grateful—who would believe that this little place could be the success it is?" John went even further, effusing, "It's stupid how grateful we are. Every morning we go, 'Wow.'"
4•1•1
Meander to the marina and enjoy Brophy Bros. Restaurant & Clam Bar (119 Harbor Wy., 966-4418, brophybros.com; and also 1559 Spinnaker Dr., Ventura, 639-0865).