News
Friends and Family Remember I.V. Murder Victim
Say Vincent Velasquez Had Big Heart and Never Went Looking For Trouble
Vincent Velasquez was a confident, selfless, good-hearted man who loved his family, respected others, and liked to give his friends a hard time.
Velasquez, a 26-year-old who died early Sunday morning after being stabbed in an altercation in Isla Vista, was always willing to help out. That's why he joined the Navy a year or so after graduating from Santa Barbara High School. It's why he moved up to the Bay Area to become a barber, and why he returned home to Santa Barbara to take care of his grandmother.
And it's why he was recently taking online classes through Hancock College in hopes of becoming a firefighter. "His heart was always open," said his longtime friend Octavio Avila. "He was full of life."
Velasquez had lived on East Yananoli Street since at least junior high. Those who knew him said he was a sports fan who liked the Chicago Bulls and San Francisco 49ers and was a gifted athlete known for his morning runs with his three dogs — "Our three kids," his longtime girlfriend, Vanessa Solis, called them — down Milpas Street. After a stint in the Navy that took him from San Diego and Italy to the Persian Gulf and Spain, Velasquez followed in his grandfather's footsteps to become a barber. "He was a leader, that's for sure, and we loved to follow him," Avila said. "I owe my life as it is now to him."
He'd feed friends who were hungry, give clothes to people who needed them, and, of course, give a haircut to whomever came calling. He came across one friend from elementary school whom he saw living on the street, and invited him to stay at his home, gave him money and food, and helped his old friend get back on his feet. "He wasn't above anybody; he wasn't below anybody," said barbershop owner Matt Sanchez, who has known Velasquez's family for years and said Velasquez was never involved in gangs. "He was a good kid from a good family," said Sanchez. He was a smartass to his friends, but only because he loved them.
When Brigitte Mendoza's older brother — one of Velasquez's best friends — passed away a few years ago, he stepped in and became like a father to the daughter of Mendoza's late brother, as he was to all his friends' kids. "Everybody loved him," Mendoza said. "He was good to everybody."
Friends say he never went out looking for trouble, but trouble seemed to find him. It appears that was the tragic case Saturday night in Isla Vista. The night was like most any other: loud with Isla Vista outsiders and UCSB students alike, until the early hours of the morning. Scuffles break out from time to time, and this time was no different.
While authorities haven't said much about what happened in the 6600 block of Abrego Road, detectives believe the incident began as a verbal exchange that "quickly escalated into a physical altercation and eventual stabbing," said Sheriff's spokesperson Drew Sugars.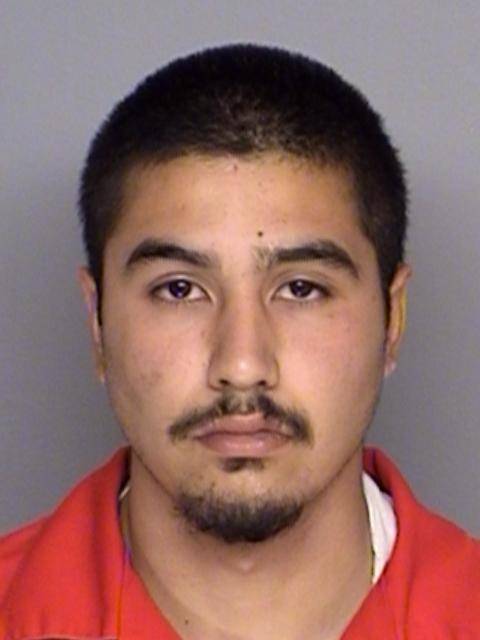 [UPDATE: On Tuesday afternoon, May 17, detectives arrested a suspect in connection with Velasquez's murder, said Sugars. Goleta resident Benjamin Vargas, 20, is currently being held at County Jail, though no charges have been filed against him yet.]
According to some, Velasquez was walking to his car but the suspect kept pursuing him, trying to instigate something. The manager of the French Quarter Apartments at 6645 Abrego said she heard the dispute. "I thought it was just another fight in I.V.," said the manager. "I thought to call the Foot Patrol, but usually by the time they get to a fight, it's broken up anyway, so I let it go."
It doesn't appear the Sheriff's Department has any solid leads on a suspect in the case. It was dark and hard to see, and the suspect quickly took off running. Many residents in the area — mostly UCSB students — were still out and about at the time of the stabbing, but came home to a street filled with patrol cars and white tents.
In the most recent release of information Monday afternoon, the Sheriff's Department described the suspect as a Hispanic male adult in his twenties, 5'7″ to 5'9″ tall, short hair, around 185 pounds, with some facial hair, wearing a long-sleeve, button-up, checkered shirt and dark pants. Detectives are also looking for a heavyset Hispanic female with dark colored hair, said to be accompanying the suspect.
Behind them they left a man and a community of friends and family mourning his loss. "He was no angel, but he was the closest thing to it," Avila said.
Anyone with information about the case should call investigators at (805) 681-4150 or an anonymous tipline at (805) 681-4171. To find out more about Vincent Velasquez and to help with efforts to raise money for a memorial service, visit vincentmemorial.blogspot.com.
Friends and relatives have also organized a number of fundraising events. They are as follows:
– Benefit concert on Thursday, May 19, from 7 to 9 p.m. at the Press Room bar
– Car wash and bake sale on Saturday, May 21, beginning at 8 a.m. at the New Friendship Church at 912 Cota Street
– Car wash and BBQ on Sunday, May 22, from 9 a.m. to 3 p.m. at the Eastside Boys and Girls Club at 632 East Canon Perdido Street
– Dance Fundraiser on Friday, May 27, beginning at 7 p.m. at the Eagles Lodge at 923 Bath Street. Music by DJ Biz. Tickets $15 per person and $25 per couple