Courts & Crime
I.V. Murder Suspect Pleads Not Guilty
Defense Attorney Says Private Investigation Will Prove Client's Innocence
Benjamin Vargas — accused of stabbing and killing Vincent Velasquez in Isla Vista on May 15 — pleaded not guilty to one count of first degree murder today in Santa Barbara Superior Court.
Vargas, 20, appeared in handcuffs behind a wall of protective glass as his private defense attorney, Ron Bamieh, stood in front of him in an attempt to block media photographers' view. Bamieh, based out of Ventura, ran unsuccessfully for District Attorney of that county in 2002.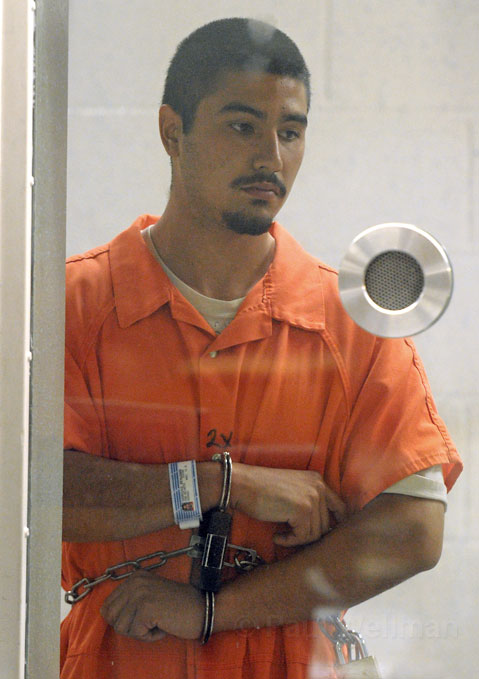 During today's arraignment, Judge Donna Geck set bail for Vargas at $1 million. He will appear in court again on June 2 for a preliminary hearing setting. Outside the courtroom, Deputy District Attorney Hans Almgren explained a first-degree murder conviction carries a 25 years to life prison sentence.
A search of Vargas's record revealed he has never been found guilty of a serious crime, but was recently cited for driving with less than an ounce of marijuana in his car.
Bamieh said he is anxious to read the DA's full case against his client, but at this point is convinced of Vargas's innocence. He said his firm hired its own private investigator — reportedly working 16-hour days — to gather evidence. Bamieh said he's curious to see how the two investigations match up. "We're looking forward to our day in court," he stated.
Vargas was arrested Tuesday evening and booked into County Jail. According to Sheriff's Department spokesperson Drew Sugars, Vargas and Velasquez got into an argument last Sunday at around 12:30 a.m. on the 6600 block of Abgrego Road. Authorities allege that Vargas stabbed the victim a number of times, who was then driven to the hospital by friends but pronounced dead upon arrival.
The viewing for Vincent Velasquez will be Tuesday from 3-6 p.m. and the mass will be Wednesday at 10 a.m. at Holy Cross Church, 1740 Cliff Drive.