Living
Bombs to Bodywork
Former Veterans turn local healers though the benefits of the GI Bill
How are you doing bodywise? "Wonderful! I feel like I am floating on cloud nine." These are the words of appreciation from Angelina Clark, recipient of a TuiNa bodywork session by navy veteran Cameron Atkins. Atkins worked her back, shoulders, and arms with a series of flowing strokes, compressions, joint articulations, and acupressure holding points to enhance blood and energy flow.
Atkins is one of many vets who has received training through the GI Bill to become a certified massage therapist. His former career in the military included one and a half years in the weapons department, moving bombs on an aircraft carrier stationed in Japan, as well as two and a half years working in the combat systems department doing computer and network maintenance. Six years later, he is now reeducating under the GI Bill for a career as a massage therapist and permaculturist.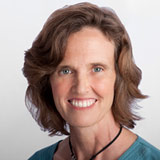 Atkins has been taking his skills back to those who serve the veteran community by offering seated massage to the staff at the Santa Maria VA Outpatient Clinic as well as at the Marian Medical Center. He gives massage at the Santa Barbara Body Therapy Institute student clinic and is setting up his own private practice. He is now in the process of setting up a healing center with permaculture gardens, healing foods, lifestyle education, and bodywork. Atkins is the beneficiary of the pre-9/11 benefits (and, soon, post-9/11 GI benefits) that provide stipends for education and housing.
"Learning massage has changed my life! It's helping me to release my pain body patterns and ways of being that no longer serve my highest good," said Atkins. "In the military, one can lose their innocence and learn to bear pain. We were in situations where we had to shut down our normal reactions to outside stimuli, just 'suck it up,' and repress any emotion or injury that we might be feeling."
Atkins continued by explaining, "Coming back from war, reconnecting with real human experience and caring for other people has been my best medicine. What I've gotten most from massage school is being able to care for myself. It's taught me to pay attention to what I need, so that I can serve and help others."
Another veteran turned massage therapist is Tony Torrez, who trained in massage three years ago through the GI Bill after serving in the U.S. Marine Corps as a helicopter electrician stationed at Camp Pendleton and in Iraq. In Iraq, mortar missiles were frequently launched into his base. "One never knew where the blasts were coming from; if you survived the blast, you might not survive the shrapnel," he remembered. "The military can be a stressful environment."
Resolving post-traumatic stress syndrome was a major interest of Torrez when he got into massage therapy. Giving and receiving massage was key for Torrez in resetting his nervous system for civilian life. "Aggressiveness is one way to go through life, but going through [the Body Therapy Institute], I learned to be more relaxed in my work, accomplishing my mission through grace. Massage work has agreed with me. Instead of act now and think later, it's about caring for your fellow brother and sister, to get on that deeper level of nurturing people," Torrez said. "I feel that that is a great gift to work with each client. The work is satisfying. I give to them, and they give back through their feedback and well-being. That enriches my soul. It's very gratifying to see that I am able to make a difference in their lives."
Torrez specializes in Swedish, deep-tissue, trigger points, and sports massage in a private practice part-time. He also works as a security guard for the Veterans Hospital.
And then there's Anna Dato. She retrained eight years ago through the GI Bill as a massage therapist after five years in the military working with aircraft avionics. Avionics is communications navigations – read: the secret black box everyone hears about in plane crashes – as well as weapons release and computers. She spent time stationed in Tennessee, Florida, California, Washington, and Japan. After her 200-hour certification at the Santa Barbara Body Therapy Institute, she went to work for a local chiropractor and, one year later, established herself in a private practice. She is now the owner and operator of BodyThrive Therapeutic, a massage and exercise center in Ventura.
"When I work with people, I find out what is going on with their body," said Dato. "I coach them through exercises and stretches for overall strengthening, enhancing range of motion, and [improving] motor skills. I teach people to have more optimal alignment. I integrate a variety of techniques to fit the needs of the client: trigger point, myofascial release, Swedish, craniosacral, polarity and lymphatic drainage techniques. One of my priorities is educating my clients so that they can take care of themselves. The goal is to shift from pain to joy and ease."
On her military training, Dato said, "I really developed a great sense of patriotism serving my country. With massage I am also serving, but it is on a person-by-person basis. In our society we can tend to feel entitled, but the way community works is with a sharing partnership. We are here to take care of each other. We are as healthy as the weakest link. We are one global organism."
Veterans seeking a massage career and who would like to receive bodywork as part of their training may apply for GI Bill tuition reimbursement and expenses through the Department of Veteran Affairs. Once gaining approval, they can then apply for enrollment with a Vet-approved school such as the Santa Barbara Body Therapy Institute. For more information contact the Department of Veteran Affairs at (888) 442-4551 or va.gov. You can also find information at the Santa Barbara Body Therapy Institute at 966-5802 or sbbti.com.
To speak with Atkins, Torrez, or Dato about their experiences or to seek their services, reach Atkins at cameron.atkins113@gmail.com; Torrez at Phoenixdown24.7@gmail.com; and Dato at www.bodythrive.massagetherapy.com.