News
Working Bicycles
Can a Cargo Bike Replace an F-350 Super Duty Truck?
If you are like me, you are intrigued by the national bicycling renaissance and its manifestations right here in Santa Barbara. Accordingly, I'm putting my fingers to the keyboard to document this pedal-powered movement, its oddities and inspirations.
Speaking of which, this week's column is about what happens when a cargo bike replaces the F-350 work truck. Sound like an episode of Portlandia?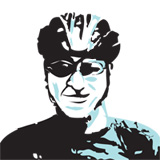 As a matter of fact, our northern neighbor boasts such a bike-powered business boom that it needs its own trade association. Santa Bar-bicyclists aren't slouches either, though. We boast just enough bike-freighters, people-movers, and cycling contractors to cause our own share of double takes. While, for some, using a bike for work would be a, let's say, radical departure from convention, for others it's all in a day's work.
We have bike-powered delivery services, pedicabs, a mobile bike shop, the UCSB Route Riders, who use bike trailers for recycling pickups on campus; and carpenters and artists using bikes to transport their work, tools, and supplies. Wouldn't it be easier to just use a truck to get to a job site or deliver goods? In some cases it might be, but in others, a well-outfitted bike is often the right tool for the job. Keep an eye out as you drive, walk, or bike around Santa Barbara, and you'll notice the locals using bikes to power their businesses.
Let's take a look at some of these pedal-powered enterprises.
Construction Circuit: Byron Beck can't transport the heavy tools, wood, and scaffolding for his business, Solid Rock Construction and Fine Carpentry, by bike. However, he does ride to job sites for meetings with suppliers, clients, and architects, where, Beck says, "I have to change into long pants and hard shoes before I step on the construction site, for safety reasons. I am constantly getting funny looks from the construction workers on the different sites when I arrive, on a bike." On his bike he can carry small tools, nails, glues, screws, and even large rolls of plans in side bags or front and rear racks. Cycling makes it easy to get around town and maneuver through job sites, while most trucks and cars have to park far from the action during the construction process.
"Ting-a-ling … ting-a-ling": The pedicab bells on State Street invite weary tourists and locals to take a load off and let someone pedal them to their next destination. Since 2002, bike taxis have been permitted on the streets of Santa Barbara as an alternative to taxicabs. Jim Heaton and his wife, Brittany Odermann, run Santa Barbara Pedicab, concentrating on short trips that are not efficient for traditional taxis. It's a cost-effective and environmentally friendly way to get from place to place downtown without adding more exhaust-belching taxis to already crowded streets. The drivers for their 10 cabs are some of the fittest riders in Santa Barbara and include students, retirees, and people between jobs. Heaton and Odermann are looking to expand their brand by providing more cabs for weddings and other special events, tours like the "Urban Wine Trail," and advertising opportunities on the pedicabs.
Trash on Wheels: Pedicab riders easily carry three to four passengers, so here's a question for you: "Would it be worth it to carry the same weight of discarded recyclables?" If you spend time on the UCSB campus, you'll quickly learn that the answer is YES! While dodging students on cruisers zipping by, you'll also notice riders on three-wheeled bikes with a low seat pulling a double-wagon trailer. These are the UCSB Route Riders. They are riding around campus collecting newspapers, glass, and beverage cans from 92 Big Bertha recycling stations. Brooke Holland, Associated Students recycling coordinator says, "One of my favorite things about this organization is that we try to be as low-impact as possible, using bicycles, electric vehicles; using a simple rake rather than a leaf blower. All these small things make a world of difference." Starting in 1994 with only two recycling maintenance workers, the Route Riders have increased to 12 riders sharing five bikes. They contribute to the success of the student-led, student-funded recycling program, not only because the bikes are economical (operated as they are by people power rather than, say, fossil fuel), but because they are the most visual aspect of the student-funded and student-led recycling program.
Peace of Art: Robert Caiza, the artist also known as Secreto de Paz Designs, transports his eco-friendly jewelry (handmade from Ecuadorian tagua seed), display cases, table, and tools on a longtail Xrtacycle. Every Sunday you'll see him riding down State Street to the East Beach Arts and Crafts Show. Robert is planning on building an aluminum frame that can be part of the bike so he doesn't have to carry a table and the bike will become part of the display.
Mobile Mechanic: Finally, the Santa Barbara Bicycle Coalition's Bici Centro community bike shop serves our diverse cycling community with a mobile mechanic. Shop managers surmised that it was hard for many members of the Hispanic community, especially those working long hours at manual labor jobs, to make it over to the weekly Open Shops to repair their bikes. In response, Bici Centro volunteers built a mobile shop which a mechanic rides to Westside and Eastside neighborhoods to help people repair flats, adjust brakes, replace cables, and make other minor repairs.
Santa Barbara may be new to the game, but it is exciting to see so many businesses parking the truck and loading up the cargo bike. Bicycles can be the least expensive and most effective tool for the job for moving freight, trash, art, or people. Pedal on!