News
Landing in Luanda
Getting Used to Life in Western Kenya
What better way to recharge the soul and wrap your mind around a solo trip to Eastern Africa than a bit of siesta in Catalonia? My six days in Barcelona were filled with superfluous Gaudi sites, navigating the medieval, narrow walkways of the city, getting cultured by the Picasso and Miro museums, and, of course, enjoying oversized goblets of sangria. Barcelona was everything it needed to be: a city for sights, a hot spot for entertainment, and most importantly, a place for me to gather my thoughts before I traveled into Luanda, Kenya.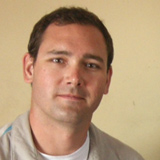 After soaking up the rays on the Mediterranean on my last day in Barcelona, I packed my belongings and tried to imagine what Luanda had in store for me. I heard tales of outdoor bucket showers, toilet-less latrines (use your imagination), unidentified animals scurrying in the roof crawl space of my lodging, and a myriad of deadly diseases, microbes, reptiles, insects, and animals. The unknown factors within Kenya weighed heavy on my mind. However, time was ticking, my tickets were purchased, and soon I was en route to a remote region of Western Kenya.
I flew from Barcelona to the recently unsettled Cairo. I boarded smoothly, only to be delayed by a luggage issue. I was sure I would miss my connection in Nairobi to Kisumu, and that I would be stuck in Nairobi…a city with a bad reputation for robbery, hence the nickname "Nairobbery." Everything worked out, and I made my connection from Nairobi to Kisumu without worry. I found myself on the ground in Kisumu by early morning the next day, and in the company of my friend and colleague Benson Oswago.
Since our initial meeting in Santa Barbara over five years ago, Benson received a promotion from special education teacher to Educational Assessment Resource Coordinator (EARC) for the Mbita District. This means he helps make the decision about how resources are allocated in the Mbita District. Aside from his role as an educator, he is also an extremely influential community leader in the Mbita region. He is a preacher, a coordinator of international partnerships, an advocate for families, and an amazing agent of change for his village. He believes progress in his community is brought forth through education, clean water, and access to healthcare, all of which Benson has had a hand in developing in his village. He even built a school so more children in his village have access to a quality education. Benson is a big deal.
We snaked our way from Kisumu to Luanda in a borrowed car through streets packed with vendors, motor bikes, and women with their wares balanced precariously on their heads. We were on paved roads, dirt roads, and everything in between. The countryside looked uniquely African, like nothing I had ever seen before. There were glowing green hills dotted with dramatically windswept trees. Haphazardly pieced-together villages appeared out of nowhere full of people hawking melons, pineapple, and other goods. I knew my trip would be filled with images like this. Things were definitely foreign, but somehow strangely appropriate and comfortable.
As we reached Luanda on the shores of Lake Victoria, Benson asked me if I minded attending a local church service. Despite looking bedraggled from a long day of travel, and probably reeking of something fierce, I figured this would be an amazing opportunity. I was right. As we approached the congregation, the church was little more than a large tent with some weathered tarp and metal poles holding it together. The church members were seated in plastic chairs, and some locals near the back of the service immediately scurried to provide us with seats. The children became very excited at the sight of a white person, and began giggling and saying, "M'zungu, m'zungu, how are you?" Benson assured me "m'zungu" simply meant white person, and it was nothing derogatory.
Immediately, I noticed the sermon went from the local Luo language to English. Benson said they do this for any English-speaking visitor so they can be included in the service. Benson also mentioned that I was to say a few words about our project in front of the church. He would translate. My heart began pounding, and I became hyper-aware of my jetlagged appearance.
Regardless of my trepidation, Benson and I were welcomed to the front of the church. Children pointed, smiled, and said, "m'zungu, mzungu." One child even said, "Mwindi, how are you?" This child apparently thought I was Asian. At the front of a Kenyan church, thousands of miles away from home, I found myself explaining our project, and being very warmly greeted by the locals. I would speak a few sentences, and Benson would translate my words into Luo. It was a surreal experience, one you see on the National Geographic Channel.
We left the church shortly after our address, and we visited another service on the way to my new housing. This church was Benson's church. Again, people hurried to provide us with seats, and Benson informed me we would speak in front of this congregation as well. We were similarly welcomed, and Benson informed me that in order for me to be welcomed in the community, having spiritual approval from the locals was going to be an important factor in our success. It also did not hurt to have one of the most influential men in the region introducing me.
I thought the service was coming to a close after our speech, but I found out it was time for song. The local village chief's wife started the singing at the back of the church, and shortly a half circle of chorus members joined her at the altar. The music was mellifluous and distinctly African. I felt as if I were transported to a live version of Bela Fleck's African music documentary Lay Down Your Heart. I asked Benson if we could record some songs, and give them to them to the chorus members. Benson announced this prospect to the church, and people immediately began cheering. We have tentative plans to record next Saturday.
After an inspiring couple of services, we made our way to my new home for the next three weeks. My house happened to be next to Benson's, and has incredible views of Lake Victoria, and came with its own menagerie of goats, chickens, roosters, dogs, and insects. It has a corrugated metal latrine with a 5"x 5" hole in the floor, and a similarly corrugated outdoor shower sans roof with a sheet draped for privacy. Light is provided by personal headlamps, flashlights, and a paraffin lantern primarily used for cooking in the dark. Cooking is done on the floor with a small charcoal stove, and showers are taken with a cup and water in an oversized bowl. At times, the local children are lined up in the distance watching the "m'zungu" shower and giggling. It is an uncomfortable, yet funny experience. Life here is simple, but somehow perfect. I would not want to spend my time in Luanda any other way.
Once settled in my room with my mosquito net hung over my bed, Benson's nephew Collins walked me around our immediate neighborhood of Luanda. We saw donkeys braying and hauling water from the local well, children secretly following the "m'zungu," and a breathtaking sunset over Lake Victoria.
As darkness fell, Benson's cousin Lilyann, who has the charge of caring for me during my stay, made me a tasty meal of stewed cabbage, potatoes, and rice. With a full belly, and my mind struggling to process all of the important scenes I witnessed in my first partial day in Luanda, I promptly passed out with a grin on my face.