News
Courthouse "Spirit" Lives On
More than $700,000 Later, New Fountain Is Finished and Unveiled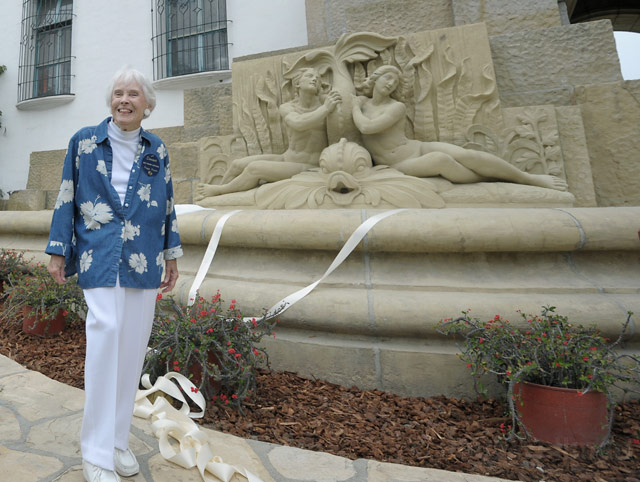 "It's gorgeous!" Peggy Hayes exclaimed with a beaming smile as she pulled the drape off the just-reinvented "Spirit of the Ocean" fountain in front of the Santa Barbara County Courthouse. Robert Ooley, county architect and member of the Courthouse Legacy Foundation, reminded the approximately 50 attendees that Hayes (as a member of the Docent Council that helps preserve the courthouse) had personally protected and restored the fountain for nearly 30 years.
The sculpture depicts a mythical sea man and woman grasping the body of a great, finned fish, which spurts water into a blue-tiled pool. The sandstone fountain was originally made by a Venetian artist in 1928, but apparently wasn't built to last; 50 years after its construction, the water had started to corrode the sculpture. "I poked my finger in a hole in the statue and felt wet sand," Hayes recalled. But after decades of constant repairs and replacements to the old statue, and five years of planning, funding, and sculpting the new one, Santa Barbara got to see its courthouse façade brightened on an otherwise cloudy Friday afternoon.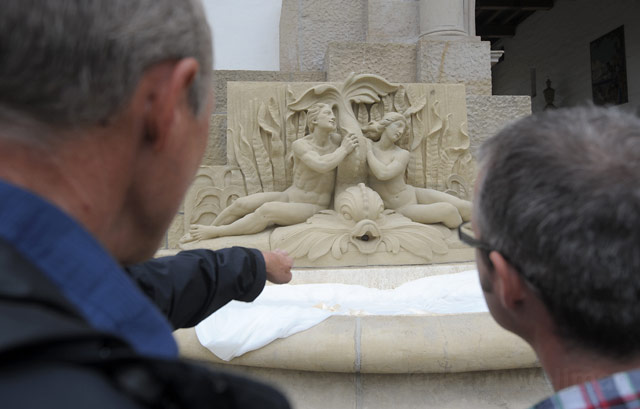 The project was an enormous collaboration in several dimensions, including both public and private donors contributing handsomely toward funding the project — which reportedly cost over $700,000 — and the team of artists creating the beautiful replica with their diverse set of sculpture-related specialties. Ooley was pleased to say that the fountain piece is the largest stone-carved public sculpture in Southern California. City Councilmember Bendy White was thrilled to see the statue restored as well. "I wish we could do this all over the city," he said, looking in admiration at the "Spirit of the Ocean."
Santa Barbara's Slippery Rock Ranch donated 190 tons of sandstone in an act of charity that saved an estimated $150,000 in costs. "That's just the way Santa Barbara is," said Ooley about area philanthropy. "I'm happy I'll be able to drive by and look at it every day," said Blake Rankin, a young artist who worked on the sculpting team. The central task of the project was re-creating the fountain with strict attentiveness to historical accuracy. "We needed to be as faithfully original as possible," Rankin confirmed.
The courthouse has seen some impressive and time-intensive renovations in recent years thanks to the dedication of organizations like the Docent Council for the Courthouse and the Courthouse Legacy Foundation CLF. "Driving past at 25 miles per hour, the courthouse looks great. But get out of your car and look closer and you notice that almost every element of the courthouse needs work," Ooley said. Even the fountain requires new tiles, which should arrive mid August. If undertaken, most of the bigger projects would be quite costly. Revamping the Mural Room alone would come at a price of around $1 million, the county architect noted.