Living
Agility Dog Show at Elings Park
Hosted by Santa Barbara Flyers Dog Sports Club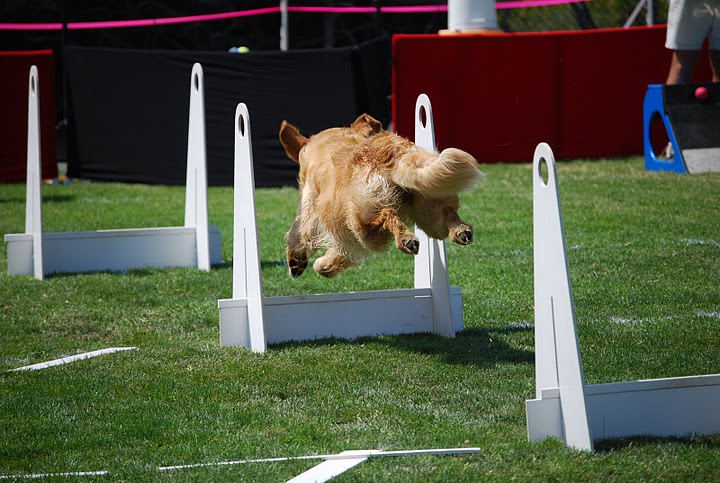 More than 120 dog and handler teams from all over the state will arrive in town this weekend to participate in the Agility Dog Trial at Elings Park hosted by the Santa Barbara Flyers Dog Sports Club.
"This is the second consecutive year that we have held this event in Santa Barbara," said Karen Van Hoy, the club's captain. "We plan to make it an annual affair and are delighted by the number of teams participating. We hope many local dog lovers will come out and observe the action."
Agility has become a highly popular element in dog sports around the world. Obedience instructor Janet Bourque called the sport "addictive." Dogs and their handlers work as a team as they complete a course made up of 15 to 20 challenging obstacles such as hurdles, tunnels, weave poles, and a seesaw. The United States Dog Agility Association and the American Kennel Club decide the obstacles' sizes and dimensions.
Teams compete at one of three levels — starters, advanced, and masters. Each feature five classes — jumpers, standard, snooker, gamblers, and pairs. Whenever a handler feels ready to let his or her dog compete, they must begin at the starters level. In order to reach the advanced level and subsequently the masters level, the dog and handler team must win a title in each class. They do so by first competing in the jumper's class until they have won three legs, which can take "three tries or 20," said Bourque, who's competing with 18-month-old miniature poodle Bosco. When the team takes three legs in each class, they win yet another title that lets them advance to the next level.
"We don't win anything except the title. We do not get paid — we pay for the privilege," said Bourque.
When a team has reached the top level, the masters compete against one another. The rules are the same no matter the breed of dog. The smallest dogs, however, do get a little more time to finish the course, and they only have to jump over 12-inch obstacles, while the biggest dogs have to jump 24 inches. Medium-sized pups need to clear either 20 or 16 inches.
In order to participate in trials, a dog must master basic obedience skills. The Santa Barbara Flyers Dog Sports Club offers classes in obedience and agility at $120 per class. Most often a dog will only have to take the obedience class once whereas the agility class is a series of six courses. But once you get started, Bourque said, you can't stop. "Agility is an expensive sport, but people are willing to pay up to $500 for a weekend seminar."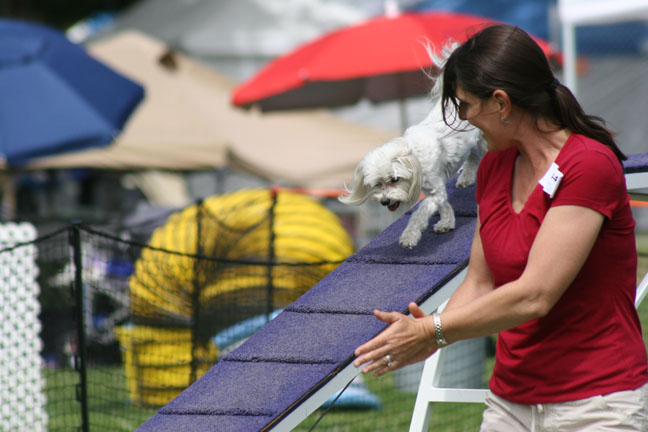 Although all manner of breeds can participate in agility trials, some have proved to be more qualified than others. Border collies, Australian shepherds, even papillon dogs — also known as butterfly dogs — do well. However, it's impossible to predict how each dog will respond when put on the obstacle course. "It's always funny when a dog gets distracted and goes and sits on someone's lap, or the dog poops right as it gets in the ring," laughed Bourque. "We've also seen dogs, especially on warmer days, go into the tunnel and stay in there."
The prize for competing is anywhere between $14 and $25 per class and dog. Members of the Flyers Club get discounts.
This particular trial is sponsored by the United States Dog Agility Association and starts Saturday, August 13, at 8:30 a.m. and will run until midafternoon. The club's annual fundraising raffle, which includes all sorts of pet-related items, will take place Sunday. Entry for observers is free. For more information about the Santa Barbara Flyers Dog Sport Club, go to its Web site.