News
Harding School's Test Scores Take Off
Makes Big Leap in Erasing Old Image of Underperforming Campus
Sally Kingston, principal of Harding University Partnership School, said, "I cried the entire day," when the Westside elementary school's Academic Performance Index (API) score was released. That score reflected a 57-point increase from 687 to 744. (800 is considered proficient.) According to her, only 155 schools out of more than 5,000 in the state of California increased their scores by 50-plus points.
She dedicated Friday afternoon to celebrating that success with a "STAR Celebration" (named for the Standardized Testing and Reporting exams, which make up elementary school API scores) including student and teacher performances as well as drop-ins by high-profile visitors such as the entire school board and Santa Barbara Unified School District Superintendent Dave Cash.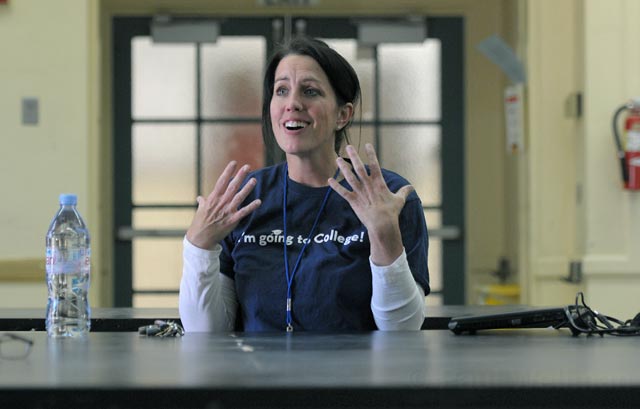 Kingston was convinced that the educational environment at Harding had already improved greatly by last year, but said the entire faculty was "organizationally depressed" when their students' scores did not reflect their increased learning. Adding to the depression was the fact that two other area elementary schools — McKinley and Franklin — showed marked improvement. McKinley was only the second South Coast school (besides Isla Vista Elementary) to have dug itself out of Program Improvement (PI), a status garnered by two consecutive years below Adequate Yearly Performance (AYP).
After four years in PI, a school must undertake one of four prescribed reforms, which Harding did in the shape of a complete redesign. It has partnered with UCSB's Gevirtz School of Education to become a veritable living experiment in educational innovation. The number of initiatives and reforms going on at the school are so mind-dizzyingly various that it's hard to nail down what, exactly, accounts for the drastic improvement in Harding's students' scores.
Dr. Jane Conoley, dean of the Gevirtz School, breaks down the contributors into four categories. First, and possibly most simply, is that teachers made a concerted effort to focus on test-taking skills, starting with basic tasks such as filling in bubble sheets. They also explained to students the importance of the tests, and fired up their competitive juices by challenging them to increase their scores.
After the STAR celebration ended, a group of 6th-grade girls reflected on the tools that helped them improve their results. Wendy, an aspiring teacher, said she learned to "underline key words" in test questions. Anna, a future pediatrician, said, "I was reading, reading, reading during the summer." Saraji and her friend Stephanie, who hope to be cosmetologists and/or teachers, explained the "ridiculous strategy," in which patently wrong answers are removed from multiple-choice options.
The second contributor to Harding's success, said Conoley, is the implementation of an International Baccalaureate (IB) program. Superintendent David Cash seconded the value of IB, which, among other goals, emphasizes a global perspective, student inquiry, and the teaching of a second language. Cash introduced an IB "school-within-a-school" to Dos Pueblos High School when he was the principal there. He said its three greatest strengths are focuses on critical thinking, interdisciplinary studies, and the whole child.
In an IB classroom, students are encouraged to explore subjects on their own and to ask questions. "It's not just teaching to the test," said Dr. William Copeland, a 40-year veteran education professor at UCSB and a member of the Harding advisory committee. He stressed that the new curriculum was not a one-size-fits-all approach that can be imported from one school to the next. "It doesn't come in a box," he said. "What it means is invented at each school site differently according to the needs of that site."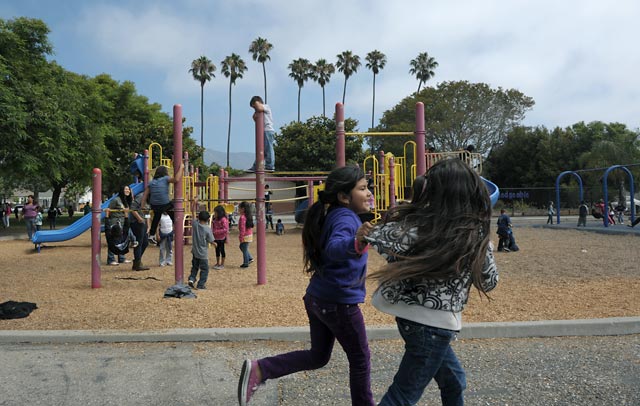 Jennifer Lindsay, a 6th-grade teacher who has helped rewrite the school's curriculum, said changes started making their way into the classroom about three years ago. She offered the example of an economics and trading unit in which 4th graders opened up their own store — called Kidsmart — and sold school supplies and other knickknacks like bracelets. They donated their profits to the Make-A-Wish Foundation. Harding officially became an IB candidate school last year and is applying for full certification this year.
Conoley credits professional development in math and science as the third element of Harding's success. For instance, Bill Jacobs, a math instructor at UCSB, runs a summer program for both teachers and "preprofessional" student-teachers. (He also holds a math camp for students.)
The final piece of the puzzle, according to Conoley, is the contribution of UCSB students. Between undergrads who tutor special-needs children in literacy, graduate student-teachers, and PhD candidates, the Harding campus is swarming with young eager beavers, "making sure that not one single child falls through the cracks," said Assistant Superintendent Robin Sawaske. Copeland compares Harding to a teaching hospital.
The partnership with UCSB, however, has enabled the school to educate parents as well as students. Collie Conoley, Jane's husband and also an education professor, has instituted a Family Strength Center with two of his doctoral students, Nelly Gonzalez and Marla Pontrelli. They offer coaching sessions for guardians who wish to improve their parenting.
"Typically, parents who are poor [and 90 percent of Harding's students come from economically disadvantaged families] use avoidant goals," said Conoley. "They focus on what they don't want to have happen." That is because in their own daily lives they are worrying about what could go wrong: losing a job, not having enough to eat, running out of money.
The coaching — which, according to Collie Conoley, yields observable results after four sessions — encourages parents to "focus on what they do enjoy about their family and what they want for their children."
It is important to cultivate these habits while children are still young because adolescents listen to their peers as opposed to authority figures. To that end, Harding, in partnership with Westside Thrive — a coalition of area foundations targeting children from birth to age five — is reaching out to neighborhood children before they even get to elementary school. Their campus hosts four preschool classes in order to adequately prepare students for kindergarten and offers workshops for new parents as well.
So far, the numbers suggest that the reforms at Harding have made the biggest impact on its younger students. The strongest test scores were achieved by 2nd, 3rd, and 4th graders. Susan Rakov, the mother of a 4th grader at Harding and a 7th grader who attended Harding, noted, "You can see that the kids who only had Sally [Kingston as their principal] made huge leaps."
While this year's batch of test scores can be read as an affirmation of student success, their greatest significance may lie in helping to erase Harding's hard-to-shake image as a poor-performing school victimized by white flight. According to Copeland, Harding's biggest challenge is overcoming negative perceptions in the community of a school populated by Spanish-speaking immigrants with no traditional ideals of achievement or community participation.
Poor test scores only reinforce those perceptions. "A lot of people make assumptions based on test scores," said Cathi Speake, mother of two students at Harding and a teacher herself at La Colina Junior High School.
Such assumptions, said Kingston, often feed preconceived prejudices, referring to Harding's largely Latino population. "I worry that in our community some people feel like they belong more than others." That is an attitude she hopes to change.
How to accurately assess the learning that takes place in a classroom is a subject for academic discussion, but, like it or not, standardized test scores are the most visible signifier of a school's success, one that parents often use to judge the schools they consider sending their children to.
To those parents who have already bought into Harding, the scores justify their decision and give them hope that other Westside families will follow suit. "People need to want to go to a school," said Brian Robinson, father of a kindergartner and president of the Harding School Foundation. Test scores give them something concrete to hang onto.
"For me," said Kingston, "it's a public affirmation of what I see every day."
Copeland agrees that whatever the negative perceptions of Harding may be, they are not what he sees either. "Go to a parents meeting and see for yourself. They come in force from all around the neighborhood, pushing strollers. They sit down and they participate. They ask lots of questions. They are very eager."
Harding is beginning to look like a place that fosters community, as opposed to scaring members of the community away. Dr. Kingston's greatest asset may be her ability to shepherd resources, human and otherwise, for the common goal of educating children. By the number of adults who turned out to celebrate Harding's improved API score — including UCSB faculty and students, parents, school district officials, and representatives from nonprofits — it was clear that Harding's ascent has been aided greatly by a community effort. When it comes to bringing that community together, said Cash, "Sally's just such a perfect principal."