Living
The Bar Method
Isometric Exercise Leads to a Long, Lean Body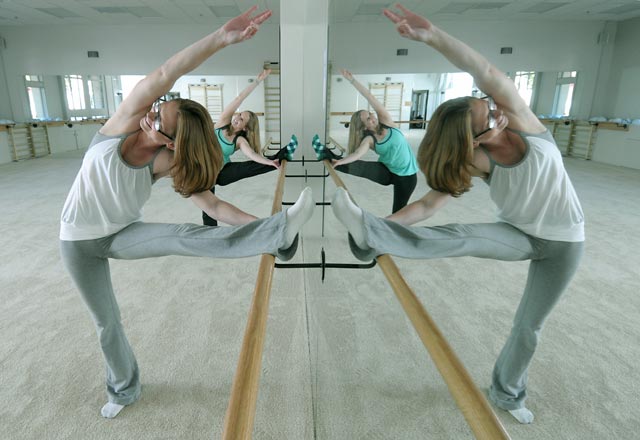 "Move down an inch, and up an inch," directed Jodi Conroy, instructor and owner of the Santa Barbara Bar Method studio, which opened on Chapala Street last February. Standing on my toes like I was "wearing a pair of eight-inch heels," knees bent, I followed the instructions. I could feel every muscle in my thighs being taxed until finally, my legs began to shake. That was a good thing — the goal in fact, of this exercise.
Created in 2001 by Burr Leonard, Bar Method is a mix of isometric moves, core training, and stretching that produces elongated muscles, stamina, and a lean look. It's like ballet warm-up that never actually gets to the dancing. And it is addicting.
Just ask Conroy. In 2006, she was living in the Bay Area, teaching hard-of-hearing students in the San Francisco School District, getting her master's degree in Deaf Education, and feeling absolutely miserable physically. For years, she'd struggled with exhaustion and migraines; doctors were unable to diagnose her symptoms. Fed up with feeling poorly, Conroy decided to reincorporate exercise into her life — something that had fallen by the wayside. A friend suggested she attend a Bar Method class, and the rest, as they say, is history.
"I was immediately hooked," Conroy said. "I felt like I was accomplishing something. I left the class and felt like my body was already changing. You get so deep into the muscle; I found it to be amazing." She began attending classes six days a week, and after six months, she had lost 18 pounds, had energy, and felt physically better than she had in years. "I was a little obsessive," Conroy admitted, laughing. "When you start feeling so good after feeling so bad, you just want to keep doing it." Eventually, Leonard asked Conroy if she'd be interested in training as an instructor; soon she was teaching 17 classes a week.
During this time, Conroy had married her high school sweetheart, Quinn, and the two were wanting to move back to their hometown of Agoura. "We were thinking about starting a family, and raising a family in San Francisco is not ideal." she said. "I talked to Burr and Carl [Diehl, Burr's husband and business partner] about opening a franchise and what it entailed. I was 26 and thought why not try something and take a risk, because once I have kids I'm not going to want to be risky anymore," she continued. "I did the demographic research and there was nothing like Bar Method in Agoura."
Conroy wrote up a business plan, found some investors, and then signed a franchise agreement. "We moved back to Agoura and opened in October 2008, right when the economy took the biggest crash ever," she laughed. "It was such a tough go. … We told ourselves if we can get through the worse economy since the Depression, we will be okay."
With the Agoura business holding it's own, the Conroys decided to move to Santa Barbara, a place they'd always loved. So, in 2010, Jodi and Quinn opened a second studio here in town. Since then, they've been furiously growing their clientele, mostly through word of mouth.
The studio is clean and pleasant, and the instructors are personable and funny and do an excellent job of supporting each student and motivating them to work hard. "Bar Method isn't static; you can always improve — as an instructor, as a client," explained Conroy. It's challenging — physically and mentally — but everyone can work to their own level. "I'm so thankful for finding Bar Method," Conroy concedes. "It did change my life."