Theater
Measure for Measure at UCSB
Shakespeare's Vienna Play Considers Mercy, Justice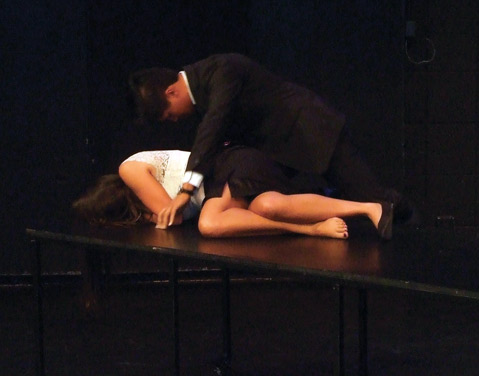 "Measure for Measure is about what happens when a society is out of control," says Irwin Appel, the UCSB Department of Theater professor who is directing this weekend's Naked Shakes production of the Shakespeare play. "It shows what can happen to leaders whose appetites run wild." "Like former New York governor Eliot Spitzer?" I ask, and Appel answers, "Yes, and former President Bill Clinton!" Thus another exciting conversation with Professor Appel, one of Santa Barbara's several accomplished directors of Shakespeare, and, as of 2011, its most prolific, having given us an outstanding, fully staged Hamlet in June. His Naked Shakes program is in its sixth year of existence, and is focused on presenting UCSB BFA students in low-budget, highly skilled productions of Shakespeare that emphasize the actors and the words.
Measure for Measure is free and will run on two separate weekends at the UCSB Studio Theater, with the first run beginning Thursday, September 8, and Friday, September 9, at 7 p.m. and Saturday, September 10, at 2 p.m. The players will then take a week off, only to return for another three performances, which will mark the beginning of the fall term at UCSB. Those shows are on Friday, September 23 at 7 p.m. and Saturday, September 24, at 2 and 7 p.m.
Here, in the words of Professor Appel, are three reasons to see Measure for Measure:
1. Powerful Men Behaving in Strange Ways: The play puts two powerful men, Angelo and the Duke, through some surprising and unexpected turns. "Nobody's ready for the Duke," says Appel. "His choices, the difficult language that he speaks — all of this conspires to shock his cohorts in the final act."
2. Great Poetry Spoken by Trained Actors: Claudio's speech begging Isabella, his sister, to save his life by sleeping with Angelo is one of Shakespeare's finest monologues. "When Claudio imagines his own death and what comes after death, there's this tremendous clarity, as in some of Hamlet's speeches, but there's no hope for redemption. It's extraordinary," says Appel.
3. Great Roles for Women: "I'm always on the lookout for ways to give our female BFA candidates the chance to shine," says Appel, "and Measure for Measure has two of Shakespeare's best women's roles in Isabella and Mariana, plus we have changed the gender for some of the supporting characters to create even more opportunities for them. There are five men in the show and 11 women."